7 Quick Fixes for Common Bathroom Issues
Wouldn't it be great if you could handle all your own bathroom repair work? It'd save you a ton of money, but only if you know what you're doing.
You don't want to be one of those homeowners who makes matters worse and more expensive to take care of. For this reason, it's advised that you seek professional help when you clearly don't know what the problem is or what to do about it.
On the other hand, educate yourself as much as possible, so you can have the skillset to handle common issues. In this guide, we'll show you how to do just that.
Let's look at some of the quick fixes for common bathroom design problems.
1. Ventilation in Your Bathroom Isn't So Great
Poor ventilation is an issue when you need to minimize odors, humidity and moisture. When your bathroom remains humid for too long after a shower, it can lead to mold and mildew growth.
The issue here is your ventilation system. Check to see if your bathroom fan still works or needs replacing. If the installation of the fan is improper, then you're better off calling a professional. Other options are to clean the vent and fan to allow better air flow.
If you notice there are residue drips and stains on your walls and other bathroom surfaces, then this means there's too much humidity and not enough ventilation.
2. Mold Growth Issues
Like we already mentioned, humid bathrooms can lead to moldy bathrooms. Both mold and mildew can become a grave concern if you don't fix your ventilation issues.
Allowing fungi to fester in your bathroom can agitate allergies and lead to upper respiratory tract problems. Mold is best handled immediately to prevent respiratory irritations. You should contact a pro to assess and remove the mold to reduce the risks.
If you wait too long, it'll spread and then you'll have thousands of dollars to pay in removal and remodeling.
3. Shower Head that Leaks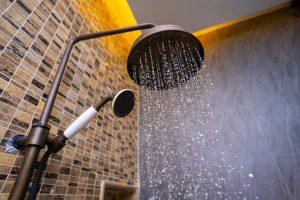 The amount of money you'll end up spending on your water bill due to your leaky shower head just isn't worth it. This isn't a problem you want to overlook or underestimate. Besides raising your water bill costs, it'll also increase your risks of mold.
In most cases, all you must do to fix a leaky shower head is to replace the gasket or the entire head. It's not hard to diagnose this problem either.
4. Faucet Leaks Water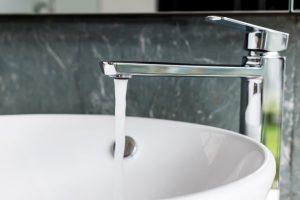 Here's another nuisance many homeowners must deal with. Unfortunately, a lot of people ignore faucet leaks for a very long time. However, this is an easy fix if you take the time to handle it.
Just shut off the water and remove the faucet. You can either try replacing all the parts or take it to a hardware shop to see if they can diagnose the faulty part. From there, you can fix the problematic parts or replace the entire faucet.
5. Drains Are Draining Slowly
There are many reasons why your drains may not function properly. Debris and hair becoming lodged in the plumbing is one of the most common causes of slow drainage.
In some cases, all you must do is flush the drain with hot water or drainage products. Another option is to use a drain snake to fish out the debris. If both methods fail, then you'll have to take apart the pipes to find the debris.
If you wait too long, the drain may become completely clogged. At this point, you'll have to really get your hands dirty or hire a professional to do it for you.
6. Water Pressure is Weak
Weak water pressure is annoying, especially when your shower head is the culprit. You want to be able to take a shower with a strong stream of water, so you can remove sweat, dirt and grime.
If you shower head is giving you weak pressure lately, it may be due to a buildup of limescale. Descaling solutions are ideal for removing the buildup.
Otherwise, you can invest in a shower head replacement.
7. The Toilet Keeps Running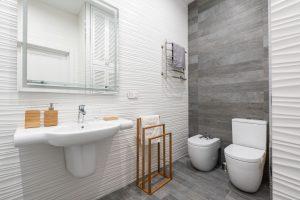 One of the most annoying bathroom problems you can have is a running toilet. It's the last thing you want to hear in the middle of the night when you're trying to rest. The good news is it's typically easy to remedy.
Try looking into the tank to see if the flapper chain is stuck. Also, check to see if your water is too high for the float. Replacing the chain and making other simple adjustments is all that's required to fix this issue.
Remodeling the Fixtures in Your Bathroom
One way to avoid common bathroom problems is to update your bathroom with new fixtures. And not just any fixtures, but quality fixtures. This is exactly what you'll find at GBC Kitchen and Bath.
We have a line of bathroom products you can use to transform your guest or master bathrooms. This includes tile, hardwood and laminate flooring; sinks and faucets; bathroom vanities; stone countertops and steam showers.
AT GBC Kitchen and Bath, we have everything you need to update your bathroom with prestige. You can even visit our local showroom to handpick the products and materials you want to use.
All our contractors are licensed, bonded and insured. We specialize in providing great customer service and quality installations.
Free estimates are also available to our customers and prospects. Get in touch with us today to get your free quote!