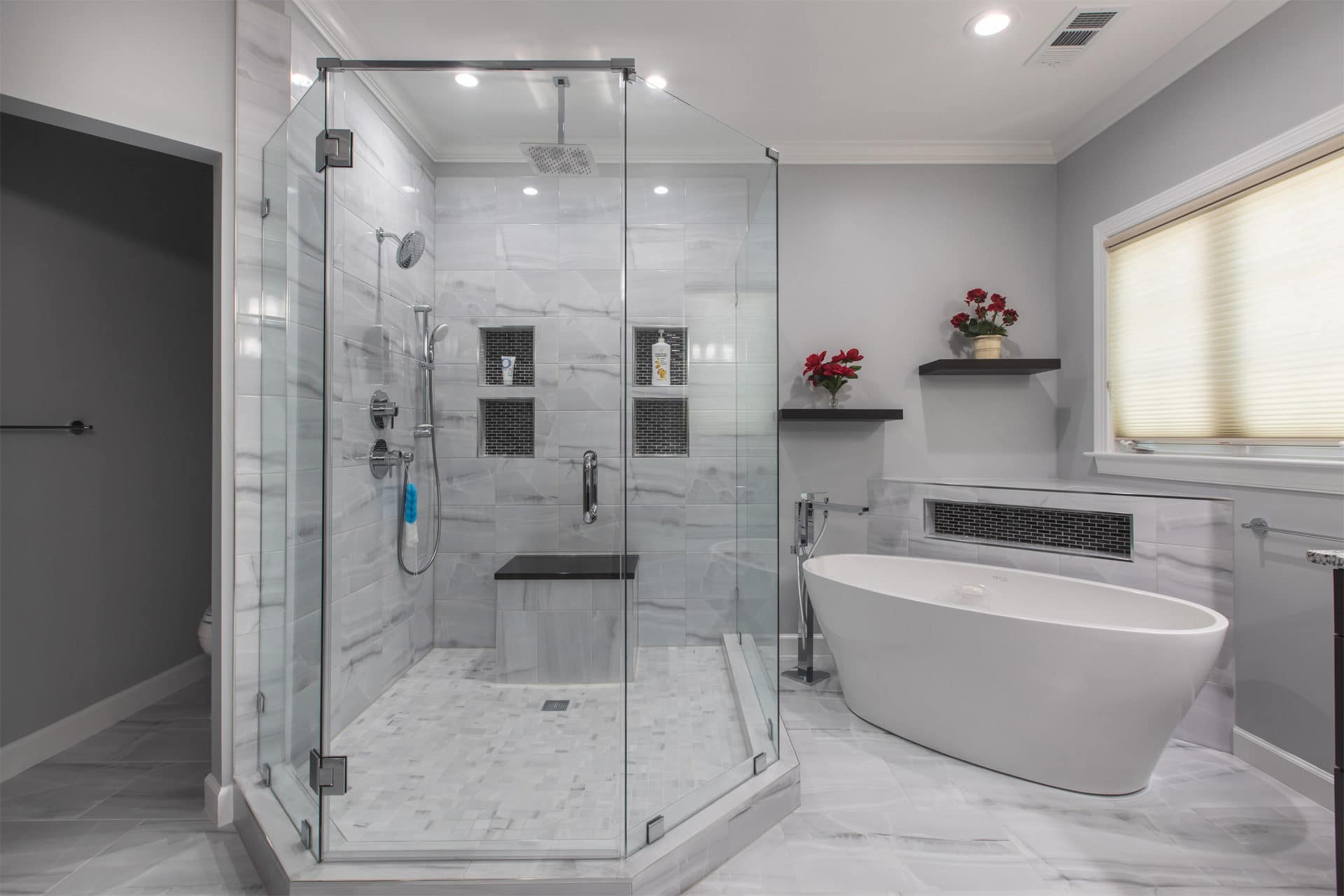 Bathroom walls seem to be a bit difficult to decorate since it is a splash zone. While living rooms, hallways, and bedrooms are completely dry areas, bathrooms are humid and have moisture. Also, while choosing the best bathroom walls, there are other things you might need to take care of, such as leaks, mold, water damage, and more. Besides, in bathrooms, water comes from all directions. 
Although most homeowners immediately choose tiles because it is water-resistant and inexpensive, there are a lot more options you can consider. Here are some bathroom wall options for your bathroom remodeling project. Just like tiles, they are easy to clean, water-resistant, and stylish. Further, consider these best bathroom wall options if you are looking for the quickest way to transform your bath. 
Beadboard
Beadboard is one of the best bathroom walls that provide coverage for the lower half of your bathroom layout. Further, you can paint them with glossy or semi-gloss, which will help to protect them against moisture,
Beadboard gives your bathroom a classic look that perfectly suits traditional interior styles. 
For easier installation, you should purchase beadboard panels that are 8 feet long and 4 feet high. Should you install them lengthwise, they will lay down quickly with construction glue and finish nails. 
Paint
The best paint to cover bathroom walls is high-gloss and semi-gloss. However, you need to paint with a satin finish because it is pretty durable and can withstand a moist bathroom. 
Moreover, painting your walls with a neutral color can make it easy to spot mold, mildew, and stains. It would be wise to prepare yourself for routinely wiping down painted walls as needed to keep them clean and fresh. 
You will always have to vent your bathroom after a shower to reduce moisture and encourage air circulation. Most interior bathroom paints last for 4 to 5 years.
Wood Paneling
Wood paneling is a tasteful and one of the most long-lasting bathroom walls used from the floor to the ceiling. Generally, people choose to use beadboard or wainscotting to cover half of the bathroom wall.
Nevertheless, you can extend the height of how much of your walls are covered with wood paneling if your bathroom has low ceilings. Wood paneling is an excellent choice for contemporary or country-style bathrooms that can last up to a decade or longer. 
Wallpaper
The art of covering bathroom walls with beautiful wallpaper has been in practice for centuries. Nonetheless, wallpaper is better on accent walls when installed in a bathroom instead of fully covering the bathroom. 
Due to the high amount of moisture in a bathroom, wallpaper can peel off from the walls. In a low-moisture environment, wallpaper can easily last for years, and it can be scrubbed clean. 
You can have your wallpaper professionally installed with mold-proof paper or apply a varnish to add moisture resistance. 
Vinyl
Vinyl tile is relatively cheaper than high-end ceramic or porcelain and is easy to install when in a peel-and-stick version. Besides, you can use vinyl tile with designs that mimic marble, wood and give a modern makeover to your bathroom.
Further, it can last for around 8 to 10 years. But the only drawback is vinyl is not suitable for walls around the shower but you can use it in dry areas.
Tileboard
At first glance, the tileboard looks like ceramic tile. Tileboard comes in large panels that let you install 32 square feet of wall covering that looks like tile in just a few minutes. 
Better tileboard looks closer to real ceramic or porcelain tiles, and the wear surface is coated to repel moisture. Easy to install and inexpensive, tileboard is best used for a guest or basement bathroom due to its economic appearance. 
Tileboard is a bargain bathroom wall option that fixes wall problems adds little long-term value to your home. The only downside to tileboard is that it rapidly swells up and cannot recover its original dimensions if water reaches its back. 
One way to avoid this problem is to keep all seams and edges caulked with bathroom-grade silicone caulk. 
Stone
Homeowners have been using stone for their home's interior and exterior walls for centuries, as it adds a touch of elegance and timeless beauty. Still, depending on the type of stone you use, the material can be expensive, heavy, and high maintenance. 
Especially in a bathroom, you should take care to seal stone tiles. Moreover, they are porous and slippery when wet. 
Laminate
Laminate is a synthetic composite that has been treated to resist moisture. Most people love using laminate for flooring or walls as it comes in various styles that mimic more expensive materials. 
Although laminate is cheap and easy to install, you should wipe it down to prevent moisture buildup and buckling. 
Glass Blocks
Glass blocks are a bit outdated but valuable for an exterior wall in a bathroom. Homeowners like using glass blocks, usually thick, durable, and difficult to see because they let natural light maintain some privacy. 
Professionals must do the installation of glass blocks to prevent problems. 
Bottomline
There are plenty of bathroom wall options to give your bathroom a look and feel that matches your aesthetic taste. Further, the layout of your bathroom will help you select the best bathroom wall, depending on if it is for an accent wall or the entire interior. 
It would help if you also considered how the level of ventilation and moisture produced in a bathroom could impact the materials on your walls. Also, certain wall coverings are more porous than others and may need request cleaning and sealing.