Ceramic vs Vinyl: Which is Better for Your Bathroom Remodel?
It's time to start shopping around for tiles to use in your upcoming bathroom remodel – what will you choose? There are many different materials to sift through, which can make the whole ordeal confusing, if not frustrating.
If you've narrowed your search down to ceramic and vinyl, or have yet to consider the two, then this guide is for you. We'll delve deeper into the two and their pros and cons.
You'll find that in most areas of the home, there are many contenders when it comes to flooring materials. However, for the bathroom, the contenders are ceramic and vinyl. Both are water-resistant, making them the ideal material for a bathroom setting.
But let's take a closer look at why you should consider these two types of tile for your bathroom remodel.
Installation: Which is Easier?
When it comes to the ease of installation, vinyl tile and planks take the cake. It's the one you want to go with if you want something that reduces the time frame and cost.
Ceramic and porcelain tile, on the other hand, requires a "wet" installation. All this means is grout and mortar must be applied. This isn't a horrible thing if you're looking for the grout and tile look.
It's best if done by a professional so that the tile is cut perfectly and applied properly. Vinyl is "dry" installed since it doesn't need mortar and grout. You can find some vinyl that looks like luxury materials, such as stone.
The dry installation places the tile lower than the tile, which is best in basement-type settings where there is a low ceiling.
Appearance: Which Looks Better?
Beauty is in the eye of the beholder, which makes this a bit more difficult to determine. However, when it comes to most people, ceramic tends to be the top pick for homeowners.
Every tile has its good and bad looks and styles. For instance, if you choose the ugliest ceramic tile and compare it to the highest-quality vinyl tile, vinyl would obvious win.
However, if you take a high-quality vinyl tile and a high-quality ceramic tile, ceramic will win. Another reason ceramic has better visual appeal is because there aren't as many quality vinyl tile brands out there.
Yet, you can find plenty of quality brands making porcelain and ceramic tile. There are so many options to choose from that are aesthetically appealing.
Shipping and Transporting Ceramic and Vinyl
Vinyl is a lighter-weight tile, which makes it easier and cheaper for transport and shipping. Ceramic, on the other hand, will weigh about 45 pounds for 15 sq ft of tile coverage. Vinyl covering the same area would weigh one-third that at around 13 pounds.
Both can be transported via a truck, SUV or even a car.
Installation: Which is Faster?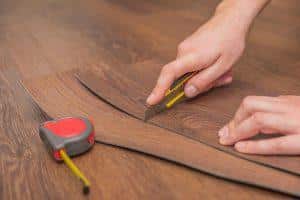 Hands down, vinyl is quicker to install because of the dry installation process. And because of this, you can use the floors much faster than you would ceramic tile.
Say you have a bathroom that's 120 sq. ft, you could lay down vinyl plank in around 3 hours. This doesn't include the removal of the toilet or re-installation.
With ceramic tile, you'd be screwing down the cement boards by the third hour. However, if you don't need cement board, then you can bypass this and by the third hour you'll be finishing laying down some of the rows of thinnest.
At this point, you'd need an additional day or two to lay down the remaining rows and allow the grout and mortar to solidify. If you're trying to install your own floors, then vinyl is the best way to go.
But if you're looking for better quality, then ceramic is best and should be installed by a contractor.
Moisture Resistance: Which is Best?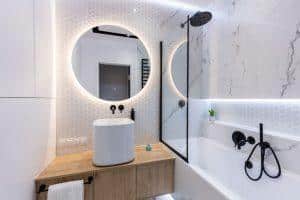 When it comes to water resistance, both vinyl and ceramic are on equal grounds. Vinyl planks are 100% water-resistant. Porcelain tile has a water absorption rate less than 0.5%. During rigorous testing, porcelain absorbs small amounts of water, but isn't noticeable unless you allow a flood of water to sit there for a very long time.
It's also important that the grout be installed properly on ceramic tile so that water doesn't seep inside. Another reason to hire a pro to lay down your ceramic tile floors.
Resale Value: Which Offers More?
When it comes time to resell your property, which bathroom remodel will yield a higher ROI – one with ceramic or vinyl floors?
Ceramic and porcelain tiles win in this case because they're higher quality and last longer. Home buyers tend to like ceramic tile over plank vinyl any day. Maybe it's because tile has a greater feeling of solidity and permanence than vinyl offers.
You can expect to get a higher return on investment for ceramic and it'll be easier to sell your home with tile features.
Hiring a Contractor for Bathroom Remodeling
It's always a good idea to have a licensed professional helping you with your bathroom remodeling projects. At GBC Kitchen and Bath, we not only perform the installations for your bathroom remodel, but we also supply the materials.
We carry products from leading brands in the business. This includes our flooring materials, which include ceramic, porcelain, glass, stone and hardwood. The brands we partner with include MS International Inc, Haines, and Atlas Marble & Tile.
You can stop by our local showroom to hand select the tile floors you want for your bathroom renovation. Our experts will give you a free estimate based on an in-home consultation. We will take measurements of your bathroom to ensure you get a more accurate quote.
If you're looking for quality flooring and installation services for your bathroom, then give GBC Kitchen and Bath a call today!