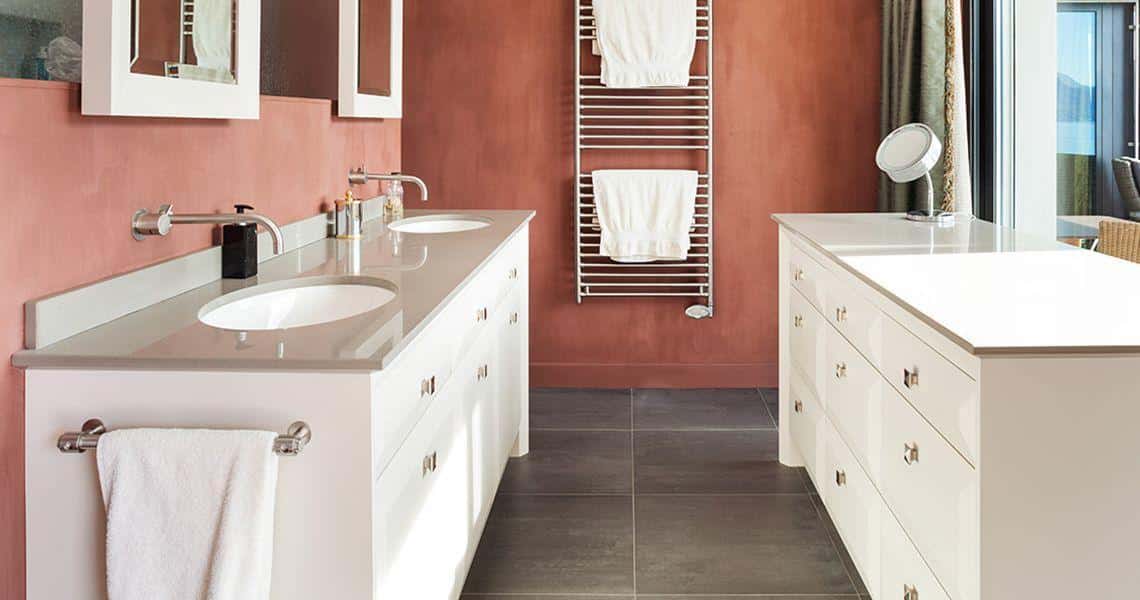 Jack and Jill Bathrooms: Understanding and Updating Them
If you have a Jack and Jill bathroom, one that sits between two bedrooms, you likely have a larger home or family. These bathrooms are usually perfect for siblings, as the kids can have this bathroom to themselves, and other bathrooms in the home, such as the master or guest bathrooms, can remain a bit more hassle-free. All families have hectic morning routines as they get ready for school and work, and a Jack and Jill bathroom design can help to alleviate some of those hassles.
Jack and Jill Bathrooms Give Everyone a Space of Their Own
One of the main benefits of a Jack and Jill bathroom is the added space that it brings to the home. Though it would be nice for all of your family members in the home to have their own bathroom, this is an expensive proposition. A Jack and Jill bathroom, however, is a solution that gives the family members a fighting chance to get into the bathroom when they want. A Jack and Jill bathroom can give privacy when necessary, but when household needs require it, these bathrooms also can easily accommodate the morning rush.
Jack and Jill Bathrooms Offer Convenience
For parents, a Jack and Jill bathroom can be a lifesaver. These rooms are very efficient, and they offer many conveniences. Kids learn to share, they learn how to adhere to a schedule, cuts down on bickering and it can save money and space in the home. However, to get these benefits, the bathroom must be designed and utilized with convenience and efficiency in mind.
Separate Sinks are a Must
If there is more than one person sharing a Jack and Jill bathroom, which is typically the point of this design, it is very important to have two sinks. This will give kids a sense of having their own space, and you will likely find that they work out which sink is "theirs" and which sink is for their sibling(s) to use. If you have several children using the bathroom, your kids might even separate the sinks into a "girls" sink and a "boys" sink. It is also possible that you can simply install an extra sink in the bedrooms in addition to the sinks in the bathroom. This way, a kid can brush their teeth, hair and get ready for school while the other child is showering.
Don't Forget to Ensure Privacy
Even though a Jack and Jill bathroom will allow for privacy, you also don't want to give your children a dormitory experience before they go off to college. Since this is the case, you only want to have one shower, one toilet, and one bathtub. This way, if one of the kids is using one of these items, they don't have to worry about someone else using them at the same time.
Make Sure To Add Locks
Since there are at least two entrances to a Jack and Jill bathroom, and sometimes even three, it is important that all of the doors have a lock on them. However, it is important that the kids learn to make sure they actually use the locks if they want to ensure their privacy. There is usually a bit of an awkward period where someone gets locked out or someone gets barged in on, but once it happens one or two times, the odds that it will happen again are slim to none.
Work With a Professional Designer
Since this is a permanent addition to your home, it is important that you work with a professional designer and contractor when updating a bathroom to a Jack and Jill style or redesigning one that already exists. There are a number of things you will have to think of when updating or installing a Jack and Jill bathroom, including what happens to the room when the kids move out of the house. A professional contractor will have a number of ideas on how you can remedy this situation as the years come to pass, and what is a bathroom today can easily turn into something even greater in the future.
A Jack and Jill bathroom is one of many bathroom designs. These are perfect bathrooms for large families, and if you are considering the addition of one, this is a large project that you can likely not do on your own. Work with a professional bathroom renovation expert in order to focus on the right design and concept for this room. If the kids are old enough, it also is a good idea to bring them in on the planning process and ask for their feedback. After all, they will be the ones using this room, and when they see their ideas brought to light, they will feel a special sense of ownership to the room.