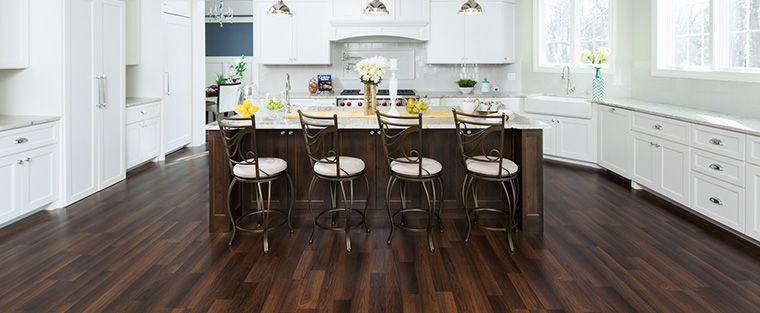 Kitchen Renovations: 5 Things You Need to Know About Laminate Floors
Selecting the best floor material for your kitchen comes down to key factors. For instance, the budget you have, the foot traffic of your kitchen and the style you want to go for.
There are many beautiful flooring options you can choose for your kitchen renovation. However, it'll take careful research to determine what's the best choice for your home.
And that's exactly what we plan to do in this guide – layout all the things you need to know about laminate before installing it as your kitchen flooring.
Let's get right into it!
The Argument About Laminate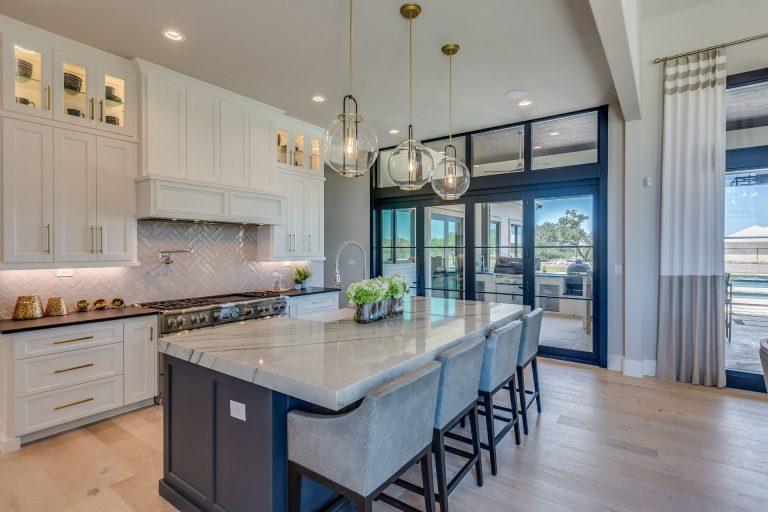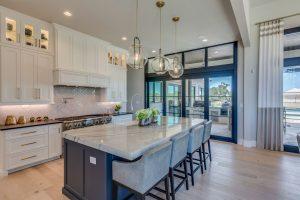 Before we go into the facts about laminate floors, it's important for us to go over the arguments surrounding it. Some believe it's not a good option for the kitchen because of issues revolving around moisture, which can harm it.
Then those that are for installing laminate in the kitchen say it's a great choice for kitchen because moisture is something you can control.
When it comes to wear, those against it say it isn't that durable since it only has a fiberboard as the surface cushioning the material from abrasion. However, those for it say that the thin surface is surprisingly durable.
And as for maintenance, those against laminate say that static is an issue and that replacing a laminate plank is the only way to restore it after it's been worn down. Others say static is controllable. However, if replacement is required, it's rather easy, since it's floating versus being attached to subflooring.
It all comes down to your own preferences, which you will have by the end of this article. Let's review the five things you need to know about laminate, so you can make up your own mind.
1. Water Damage and Laminate Kitchen Floors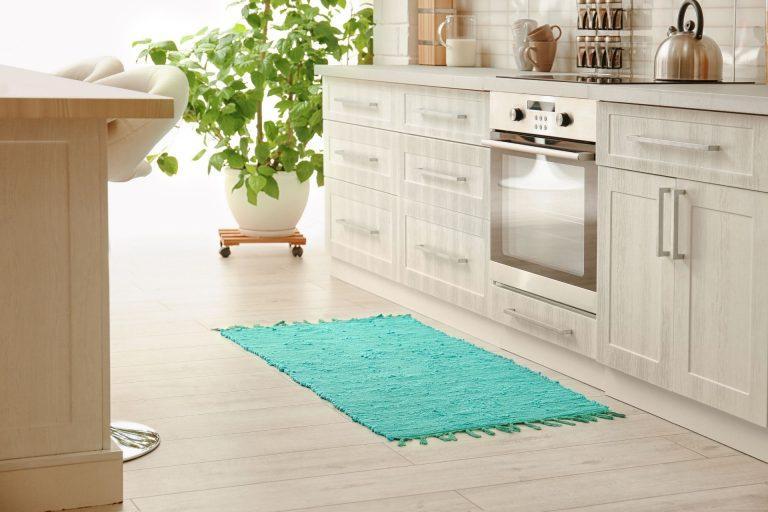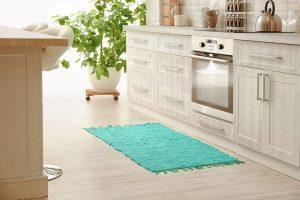 This is very important since the kitchen is known for liquid spills. And as with any floor, moisture tends to be a bad thing, especially when not wiped up quickly enough. Even water-resistant materials like ceramic tiles have limits to water absorption.
However, if you compare laminate to another material, it would be on the level of solid and engineered hardwood.
There's no way around it – your laminate kitchen floor will eventually get wet. This may occur through daily use or a catastrophic event such as flooding. Either way, the floor must be quickly dried, or it will perish.
2. Sealing is Required for Laminate Kitchen Floors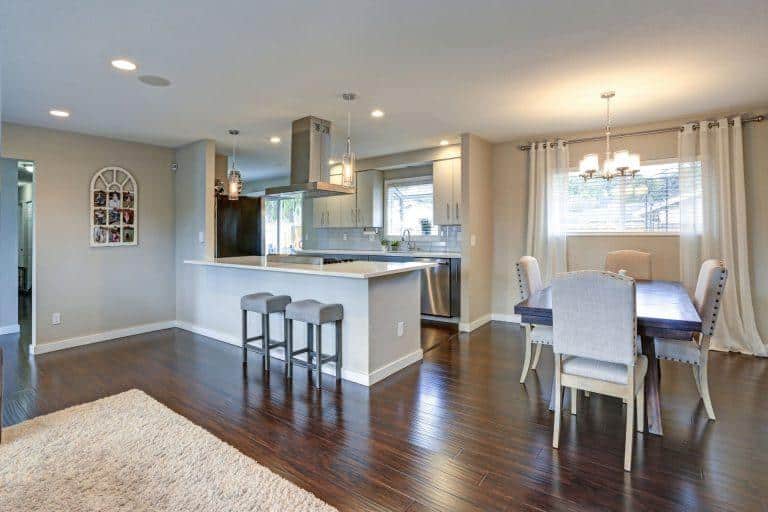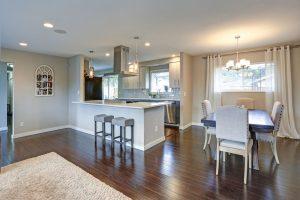 You want your laminate floors to last if possible. And therefore, it's recommended that you seal the surface not just once, but regularly.
Do note that laminate floors have a weak area – the corners. The surface is sealed, and the bottom is coated, but the edges are raw, which leaves them susceptible to moisture.
Therefore, it's important to hire a professional that will install the tile tightly, so that the seams are practically non-existent. The perimeter of the tile is covered by either quarter-round or baseboards, which will prevent moisture from reaching the core.
3. There's Some Water Resistance in the Core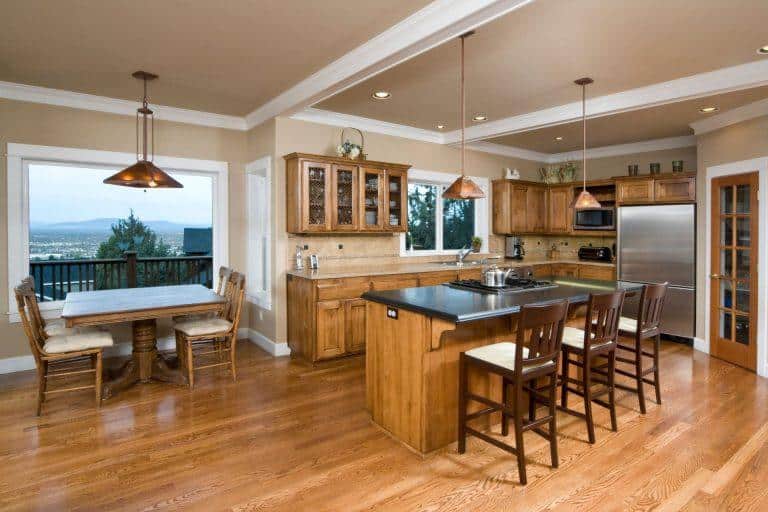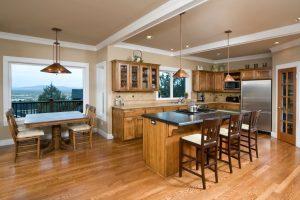 The naysayers against laminate floors claim this material is nothing more than a pressed board and not really wood. So, in a sense, it's fake wood. However, this fact can be a major pro.
Laminate is crafted using dried wood pulp and other lignocellulosic fibers, which are combined with synthetic resin to bond everything. And this is what gives laminate more stability. For this, the core of laminate can maintain its shape when there's water involved.
You can expect laminate to resist water for up to two hours if it is cut and the core soaks in the water.
4. Laminate is Scratch-Resistant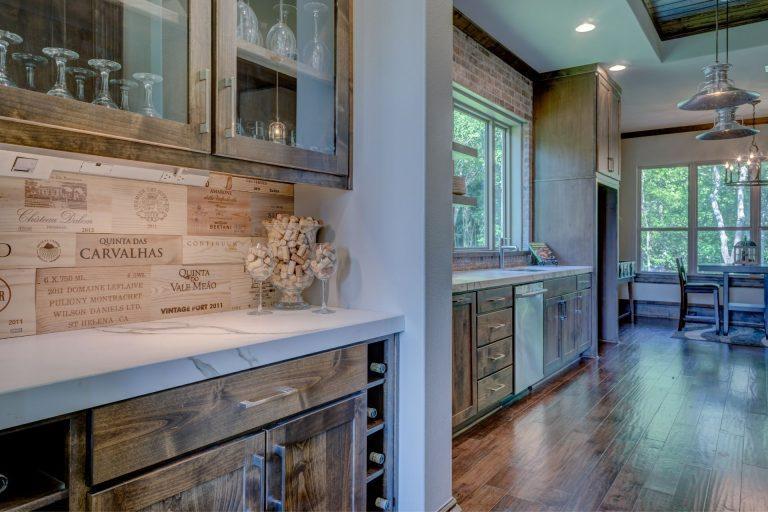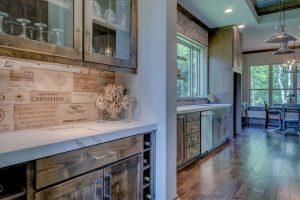 You can think of laminate as a sandwich – it consists of the core substrate, image layer and wear layer. The wear layer, which is a clear melamine is good for only one purpose – protecting the fragile image layer from wear and tear.
There are different laminate ratings that determine durability. If you want the toughest, aim for one with a AC-4 rating.
5. Laminate Has a Short Lifespan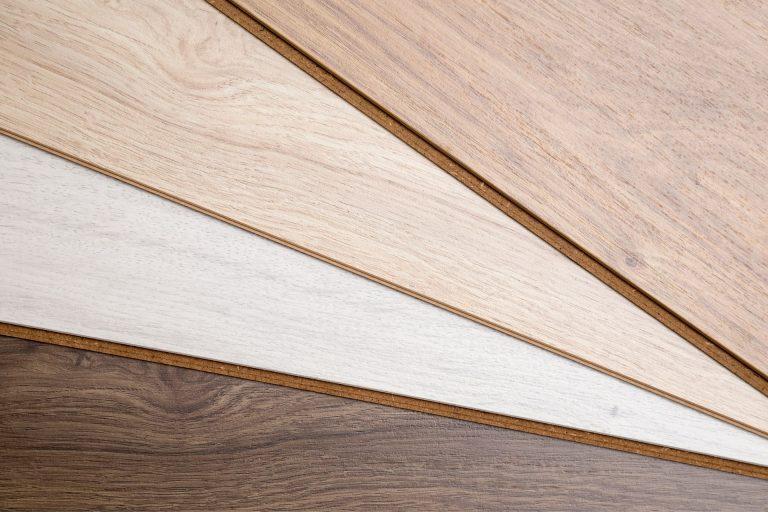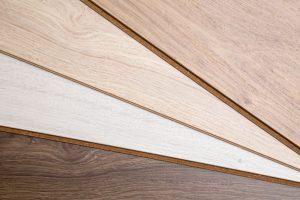 Now, this fact can be both a pro and a con. The ability to easily replace a section of the floor that's damaged makes this floor very easy to maintain over the course of years. This is because the floor is floating rather than attached to the substrate.
When replacing the section, make sure you purchase from the same supplier, so that it matches perfectly.
Finding Quality Laminate Flooring
At GBC Kitchen and Bath, we have a great selection of laminate floors. We carry laminate products from leading brands in the industry, which includes Armstrong and Bruce.
Every flooring product comes backed with a manufacturer warranty as well. The professionals at GBC Kitchen and Bath are all licensed, bonded and insured. For many years, we've helped homeowners with their kitchen renovations.
We have a local showroom our customers and prospects can visit to see our products firsthand. This allows you to see exactly which product you want for the job.
Compared to big box stores, you can expect a very fast turnaround for the delivery. You also won't find any competitors that offer better quality or better prices than what we have.
With us, you're getting the best of both worlds – quality at a great price. We are a local company that takes pride in uplifting its community through bathroom and kitchen renovations.
If you're looking to redo the floors in your kitchen with laminate or another material, then give us a call today!