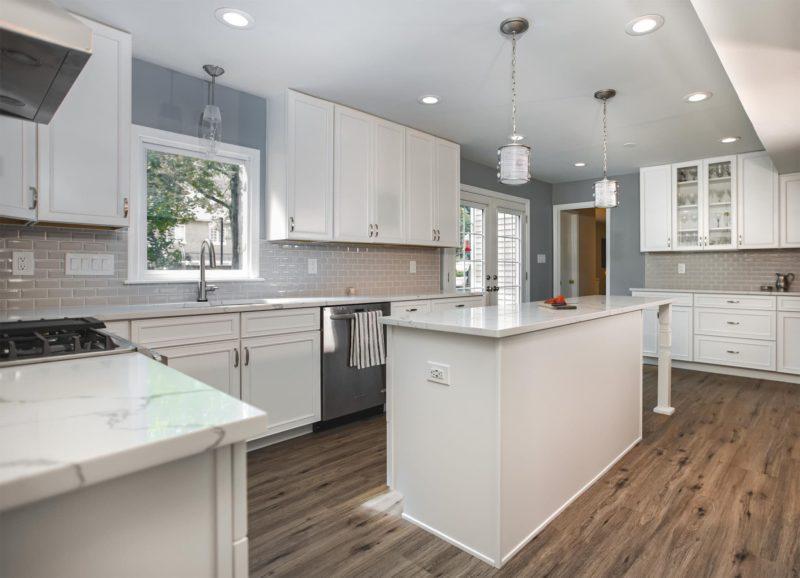 Modern kitchen design is in high demand by homeowners because they reflect the current kitchen design trends. Further, they are technologically advanced, eco-friendly, and have a sleek style. However, most people think that they might have to compromise on functionality while remodeling their kitchen.
Lucky for us, we no longer have to worry about making the tough choice between aesthetic appeal and functionality while remodeling a kitchen – modern kitchen ideas embody both with ease and grace.
What is a Modern Kitchen?
The modern kitchen design follows the trends and incorporates modern architecture. This style of architecture started back in the 1970s and has evolved over time. The kitchen is usually open to other rooms in the house, such as the dining and living room. Further, large windows allow a large amount of natural light into the space and are among the top home updates that you can make
A contemporary home can acquire aspects from a variety of styles which can make it difficult to pinpoint. Nevertheless, a minimalist approach is evident. Contemporary homes have a 'less is more' approach. Besides, each piece or element has a reason for being there. It is not just to fill space, there is more focus on them, and they need to stand out while being interesting on their own merits.
This extends to the kitchen as well, which looks more spacious because there are no distractions from the room.
Clean and Sleek Design
Although the modern kitchen borrows streamlined surfaces from the contemporary design movement, it is often cozier and more livable than standard kitchens. Clean lines and simple design are the primary themes of a modern kitchen.
Modern kitchen style uses glass, smooth finishes, and light woods within the space. Similarly, you can also use natural stone like granite or marble. Moreover, containers are used to store gadgets or other small kitchen equipment to prevent visible clutter.
Horizontal lines in the layout of cabinets, counters, flooring, and backsplash are a part of modern design. Some also use geometric patterns to create interest. Angles, squares, curves, diamonds, globes, and rectangles are accents that you can use in furniture, windows, wall decor, counters, and lighting.
Elements of a Modern Kitchen Design
Homeowners drawn towards a modern kitchen should include the following into their remodeling plans:
Cabinets
In general, cabinets in modern kitchens have a sleek, more angular design with little ornamentation. Moreover, they are functional and streamlined.
There are two types of cabinet doors usually used in contemporary kitchens: shaker and flat-front. Interestingly, both have simple lines. Shaker cabinets have five pieces of flat panels that create a frame and are often made up of maple, oak, or hickory. On the other hand, flat front cabinets are solid and don't have any frame. Further, you use a single piece of wood that you either paint or cover with wood veneer.
Generally, the minimalist look of flat-front cabinets works well with modern kitchen designs. Contrasting cabinet colors with backsplashes, countertops, and flooring make up for an interesting kitchen.
Contrasts are often used in modern kitchen cabinets, for instance, grey wall cabinets with white base cabinets.
Countertops
Kitchen countertops are streamlines and often made of quartz or granite. Homeowners often choose granite of it requires low maintenance and looks luxurious.
In contrast to granite, quartz is non-porous, so it does not require resealing. Nowadays, more and more homeowners are gravitating towards quartz during remodeling their modern kitchens.
Both granite and quartz come in a wide range of colors and patterns to match any color scheme. For an upscale kitchen remodel, you can install lava stone. It provides a super smooth surface along with a glossy finish. 
Hardware
Long brass handles are popular in different styles of kitchen, including modern, because they work great with different designs and color schemes. Homeowners looking for a little more attractive design might consider brass V-shaped pulls.
Although dark kitchen hardware is not new, a flat or matte finish is undoubtedly new for modern kitchen designs. When paired with white or light cabinets, this finish provides a dramatic look.
Color Palette
A modern kitchen uses neutral colors and fabrics but adds bold color accents or accessories. However, the bold color should complement the neutral colors. 
Typical colors include beige, white, grey, and black. Around s60 percent of the modern kitchen should be one of these dominant colors, 30 percent a secondary, and only 10 percent a complementary accent color. The walls of the kitchens are unadorned, so they do not clutter the room. Furthermore, clutter in the form of patterns and textures is also minimum.
All-white kitchens are often chosen by homeowners and go really well with different materials such as wood, tile, granite, and any other accent colors. For small kitchen remodels, choosing a white palette with beige details help the space feel larger. Similarly, you only use bold colors carefully and minimally.
Furniture
If the kitchen has an eat-in area, the furniture has neat lines but with soft and rounded edges to balance the rest of the house. However, you do not normally use patterns in a modern kitchen design. Instead, neutral linens or cotton can be textured during the kitchen remodel. Similarly, the furniture is a combination of shapes and you need to approach it accordingly.
Stools at the kitchen island are uncomplicated and sleek. You can also make them of metal and fabric. Besides, a chair with an X-back or bent-wood mixes well with any furniture that might be in the kitchen, such as an eat-in space. 
Lighting
An abundance of light is essential in any kitchen. Generally, large windows are interspersed throughout the area to let in as much natural light as possible. Moreover, there are plenty of kitchen lighting options available that will work in a modern kitchen. Modern kitchen lighting across the island is stylish with clean, uncluttered lines. 
In addition, recessed lighting and pendants over the island are two options that fit the style.