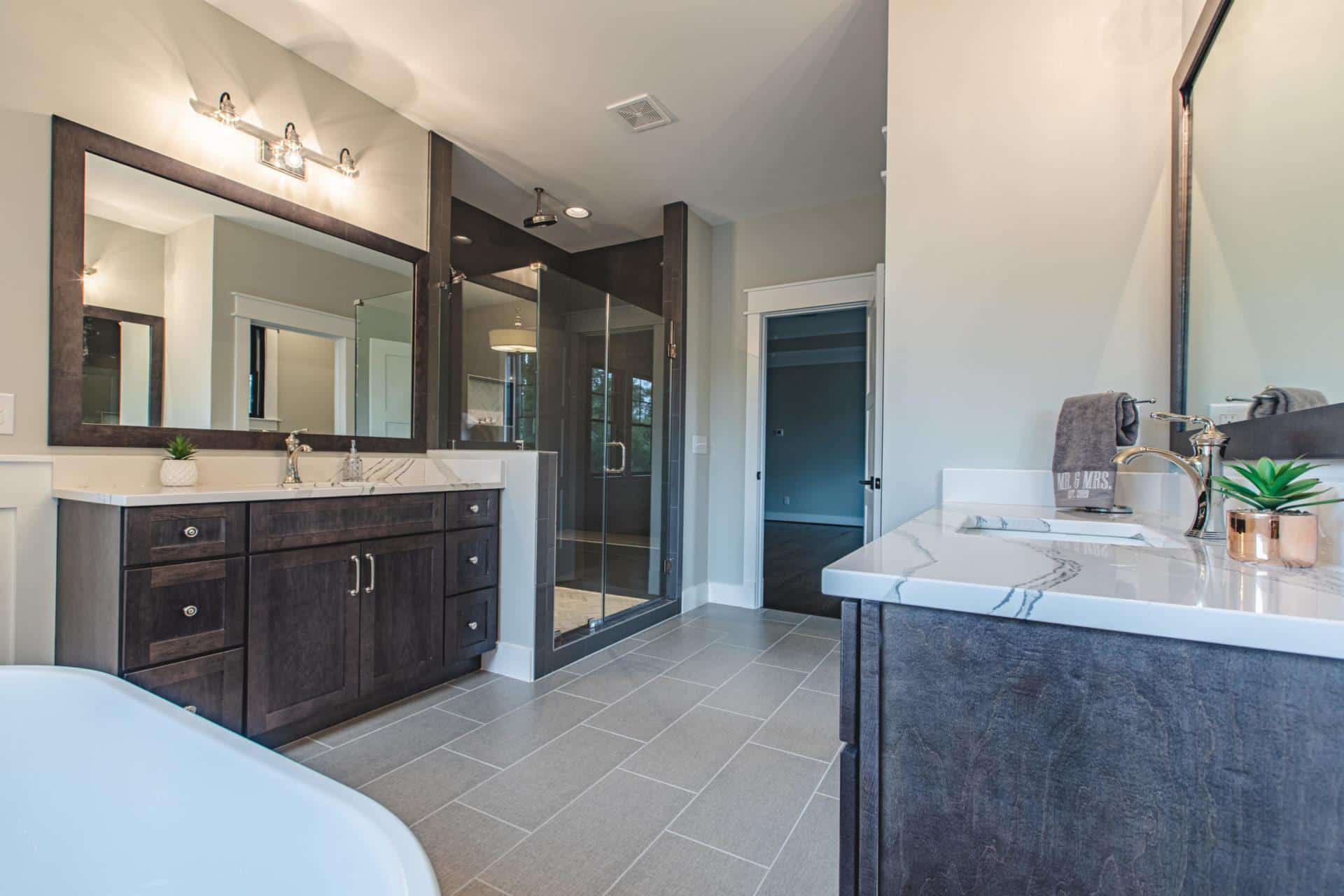 Ideally, in all of our heads, the perfect bathroom is huge; vast amounts of space, enormous bathtub, natural light, pendant, and hardware, all present in your own luxurious shrine. But in reality, most of us have pretty small footprints for our bathroom. The simplest way to create an illusion of height and space is through small bathroom flooring ideas. 
Renovating and designing a bathroom is a lot of work. Since you probably want to get the last detail right, you need to give yourself plenty of time in selecting the best small bathroom flooring, too. 
Why Does the Right Flooring Matter?
Bathroom floors, especially small spaces, need looking after more thoroughly than other parts of your home due to the damp atmosphere. It is the second most important room and sees more traffic, too. It leads to more culmination of bacteria and virus, and the flooring takes more beating than other parts of the bathroom. When selecting flooring, ensure your floors can stand up to years of wear and tear. 
Whatever flooring choices you settle on, you should not forget the environment of the bathroom. More often than not, you'll be walking barefoot in the bathroom, so choosing a flooring that is comfortable underfoot is just as important as it looks. Here are a couple of small bathroom flooring ideas to give your space the illusion of grandeur and ferocity. 
Small Bathroom Flooring Ideas: Things To Consider
1. Durability 
One of the most important things to consider while looking for floors is durability. From scratches to dents from dropping hair tools, we all know accidents can happen. So when they do, be sure to select a flooring product with a generous wear layer to protect from damage. 
2. Properties 
Along with the kitchen and laundry, the bathroom is the wettest room. So selecting water-resistant and slip-proof floors is a smart step to protect your subflooring in the event of a plumbing leak. 
Lastly, flooring is an investment that you add to your home's value and peace of mind. 
3. Cost
Final bathroom remodel costs can vary based on materials selected and installation difficulty. But even those on a shoestring budget have plenty of options when it comes to small bathroom flooring ideas. 
4. Colors
You can make a small bathroom appear enormous with the right kind of floor. Most people have to deal with relatively small bathrooms. There's just no getting around it. However, there are many ways to make a small bathroom look a lot larger. One of the best ways to do so is to choose the color of your flooring with care. 
A light color floor is a simplest yet dramatic way to give your small bathroom a more spacious feel. Use similar tones for the walls to create an illusion of a lot more space. 
You can find a visual relief by sticking to one solid color but using different shades to create a monochromatic look. You can choose white and gray, blue color schemes, beige undertones, etc., to energize and brighten up the room. 
5. Size
When it comes down to choosing the right size, don't over complicate the tiny space by selecting small tiles and busy patterns. You can easily fool the eye into believing your space is larger by installing large, elongated floor tiles. Less intricate designs mean a more spacious appearance. Pair large marble or porcelain floor tiles with wall tiles to create a larger-than-life look. 
Small Bathroom Flooring Options
Has your small bathroom flooring seen better days? Do you still have the same flooring for the past decade? If so, it's probably about time that you put a bit of life back in your bathroom and invest in some new floor coverings. 
Tiles
Tile is among many great small bathroom flooring ideas. It is water-resistant, slip-resistant, stain, and chip-resistant, too. Tile flooring is the staple for small bathroom floors. It is available in a variety of materials like porcelain, ceramic, glass, and natural stone. Tile is as versatile as it's beautiful. 
Today, long elongated tiles are trendy for a small bathroom. Though tile is available in solid colors, stone, or marbled look, it is also available in various size and shape formats.
Many tile manufacturers have complete lines of tiles with coordinated mosaics and trims for a polished, cohesive look. It is best to select a floor tile that has texture for added safety and slip-resistance. 
Stained Concrete
The recent industrial decor trend brought a renewed appreciation for stained concrete flooring. Perfectly suited for a small bathroom, you can stain or texture-stamp the concrete areas for a customized look. 
You can transform it to look like marble, leather, stone, or wood planks. Like tile, concrete flooring has its benefits too. It is water-resistant, heat, dent, and chip-resistant. It also offers lower price points on our list. 
Wood
Traditional and timeless, wood floorings are a warm and classic flooring option for your small bathroom. It is better suited to medium traffic areas, but hardwood flooring brings an element of nature indoors. 
While hardwood floors are neither water-resistant nor waterproof, solid engineered hardwood flooring is still a durable option. You can Refinish it as needed to remove scratches and defects. 
Vinyl
If you like the look of wood, but your wallet is weary, vinyl and laminate plank flooring mimics "wood-type appearance" for less green ($$). Glued down vinyl plank flooring is suitable for bathrooms and heavy traffic areas. But make sure to not install it on top of high-moisture subfloors such as a below-grade concrete pad or basement level bathroom. 
Because of their interlocking installation method, rigid core vinyl and laminate plank are available in water-resistant, waterproof options. They are also prone to high humidity areas. 
There you have it, the best small bathroom floor idea is going to be one that is durable, hardworking, one that can take on the daily grind, and you can clean it in no-time.