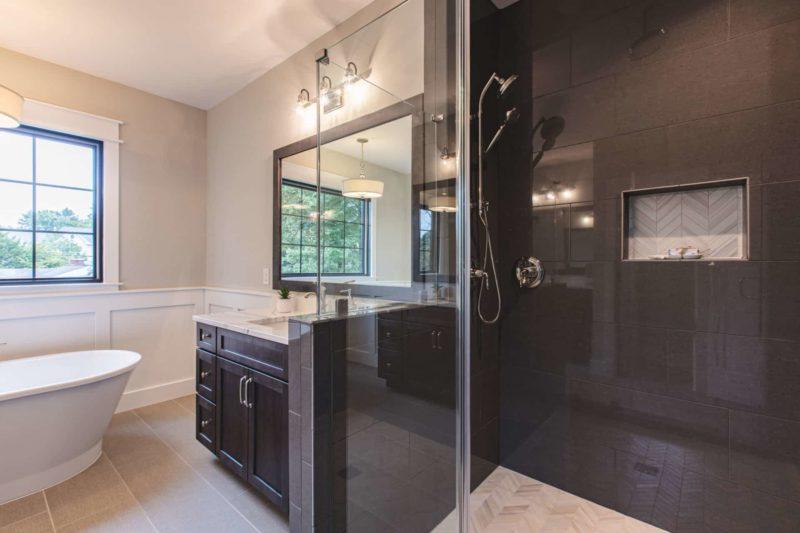 You must assess the small bathroom remodel costs to the minutest detail before you start the project. The budget that you have to allocate can vary greatly depending on the scope of the work and the size of your bathroom.
Similarly, labor will be an essential part of your budget, and the rest will depend on your material choices. Having a general idea of ​​the bathroom remodel cost before starting your remodeling project can save you from making bathroom remodeling mistakes.
Moreover, you should remember that bathroom remodeling is an investment. It directly affects the resale value of the house. An intricately designed bathroom can drive the price of the property a long way up. In general, you should know that you can recoup up to 70% of its value if you ever sell your house.
The Average Cost for Remodeling a Small Bathroom
A turnkey bathroom remodel can range from $ 1,500 to over $ 25,000. It all depends on your requirements and your total budget. But on average, you can count in about $6,500 for a complete small bathroom remodel.
Small bathroom remodel costs depend on several factors like the design and range of the new equipment, possible replacement of the tiling, painting, and the state of the plumbing.
The main factor is the size of the bathroom. If we are talking about a small 5 x 7 square feet bathroom with a toilet, tub shower, and a small vanity, the average remodel budget will be the lowest, around $6000 as stated above.
If we calculate the per square foot cost of the small bathroom remodel, the average will come out to be $130/sq.ft. On the lower side, the price per square foot is around $70, and they can go as high as $600.
Tiling Cost
For tiles, the price is often between $20 and $80 per square foot. Prices also depend on the type of tile, such as the cement tile, imitation parquet, slab, mosaic, etc. 
If you hire a bathroom remodeling contractor near you, you will also have to consider the cost of laying the tiles, between $10 and $30 per square meter. However, the cost can also vary based on the design you choose.
For instance, to bring a trendy and modern touch, you can also opt for exotic wood such as teak, bamboo, or wenge. This type of coverage is, however, more expensive. It is necessary to envisage a budget of $60 to $120 per square foot, but it can also go as high as $ 200 per square foot, excluding the installation cost.
Plumbing Cost
A vital factor to consider for a small bathroom remodel is the change in plumbing configuration. While there are several aspects like demolition that you can DIY, plumbing will require the help of a professional. A plumber charges around $80 an hour. You must also add into it the transportation and hardware cost. A complete change of plumbing like pipe fittings and fixture installation will cause the small bathroom remodel costs to increase drastically.
Let's take an example. If the total cost of your bathroom remodel is $20,000, you can easily expect the plumbing to take up to 10% of the budget. The cost of hiring a plumber for a complete overhaul will amount to $2000.
Similarly, the plumbing elements you choose will also influence the cost of renovating a bathroom. There are bathtubs between $400 and $2,000. For designing the perfect shower, you must also add a surplus to the budget. We are talking about $3,000 to $6,000 to have an elegant shower remodel with glass panels.
Similarly, there are both luxury and budget bathroom upgrades available for your sink. For low-end options, you should expect a minimum of $300 to $500. However, if you want to splurge on your bathroom sink or toilet, you can easily pay anywhere above $1,000.
Electricals Cost
If you are redoing the plumbing, you might have to consider the electrical cost too. Wiring, labor, and other electrical material costs can quickly add up around $ 1000. 
Since your bathroom is such a small space where a single wall can have a lot of electrical work behind it, you might have to spend more based on your requirement and scope of the overhaul.
Material Cost
Another factor that will influence the small bathroom remodel costs is the choice of materials. There are an array of materials available with varying price tags, right from affordable bathroom updates to luxury ones.
For instance, a single piece of 1×1 square foot high-end ceramic tile, for example, can easily cost around $35. For a wall with 10 x 8 square feet dimensions, we reach an amount of $2800 only for a single wall. You also have to remember that grout, glue, finishing moldings, and installation are not included in this estimate. Similarly, flooring options for your home are also not cheap in any way and can easily add up to the costs of around $10 to $15 per square foot.
Labor Cost
The most significant portion of a small bathroom remodel costs is the labor, representing 50% of the total expenditure. 
An addition to the labor cost will be the fees of an interior designer. While this is optional, many homeowners still hire interior designers to guide them through all the stages of the remodeling project to save time and money. The fees can vary between 5% and 10% of the total price of your bathroom remodel
Save on Small Bathroom Remodel Costs
Demolishing the bathroom yourself is one of the best ways to save on small bathroom remodel costs. According to Hometown Demolition, you can expect to save around $350 to $950 if you can demolish yourself.
Another way to save small bathroom remodel costs is to consider keeping the original bathtub if it is still there. Instead of replacing the bathtub, you can reglaze and. Further, it will cost around $400 to $450, which is on par with the national average of $550. 
You also need to assess your needs as much as possible. Don't gut the entire bathroom if you don't need to. Suppose the tile is in good shape; you can leave it and move further. Similarly, if the tub looks good, don't rip it for a custom shower. 
Tips for Remodeling a Small Bathroom
Here are some other tips to keep in mind as you begin your small bathroom remodel.
1. Try to Choose a Vanity that Prioritizes Storage
As the name suggests, small bathrooms are small, so adding functionality is crucial. You can find some models with a drawer on the bottom and two doors above. If you go for pedestal sinks to make the room feel bigger, you sacrifice storage. Therefore, ask yourself, if you were the buyer, what would you prefer?
2. Ditch the Bathtub or Shower Combo For a Statement Shower
In case your budget allows, creating a standout, spacious shower can make buyers overlook the small size of the bathroom. But what about the bathtub? According to experts, not having one in the primary bath typically won't prevent buyers as long as you have a bathtub somewhere in the house. 
3. Don't Choose a Small Tile
You may naturally gravitate toward small tiles for a small bathroom, but remember, smaller tile makes it feel more cramped up. At the same time, larger tile makes the room feel longer than it is. You can opt for a 12×24 tile to create the feeling of expansiveness in a small space. Further, you can go with an even larger tile size of 14×25 as well. 
How Long Does it Take to Remodel a Small Bathroom?
Doing a major bathroom remodel or putting in an entirely new bathroom can take a long time. On average, homeowners report waiting around 3 to 5 weeks for their small bathroom remodeling project. 
Besides the overall scope of work, the time frame will depend on how busy your contractor is and how he schedules his jobs. It would help if you asked this question before you hire a contractor. If you expect the contractor to come and work every day, you need to look for a company that can provide this kind of service. 
Small Bathroom Remodel ROI
When planning about how much you want to spend in order to update your bathroom, you need to consider the return on investment regarding this project. This is especially important if you want to sell your house shortly, or are currently prepping your home for sale. 
Of course, remodeling an old bathroom is one of the most desirable projects around the house. This is because it helps attract buyers and significantly boosts house value. 
In a hot housing market, a new bathroom can recoup over 100 percent of your investment. On average, a typical small bathroom remodel offers around 75 to 80 percent of return on investment. 
However, there's a catch! Your gorgeous bathroom won't pay off if you completed it instead of other more important projects such as heating plumbing, roofing, HVAC, siding, etc.
If you have checked all these items, and on top, you managed to make your bathroom look spectacular, then for sure, prospective buyers will be pleased. 
Factors to Keep in Mind During A Small Bathroom Remodel
Each small bathroom remodel project is unique and depends on many factors. For instance, the size of the bathroom, the type and quality of the fixtures like the shower, bathtub, etc influence the small bathroom remodel costs. Similarly, the choice of materials and quality of the fixtures is also decisive in establishing a precise and detailed budget for each project.
While it's important to understand the different aspects of small bathroom remodel costs, you should also be aware of how you spend your budget. There are many variables in a bathroom remodel project, and any of them could go awry and push the spending above your budget.
Consequently, you must allocate funds of around 20% of the total expenditure to tackle any unforeseen situation that may arise during the bathroom remodeling process.