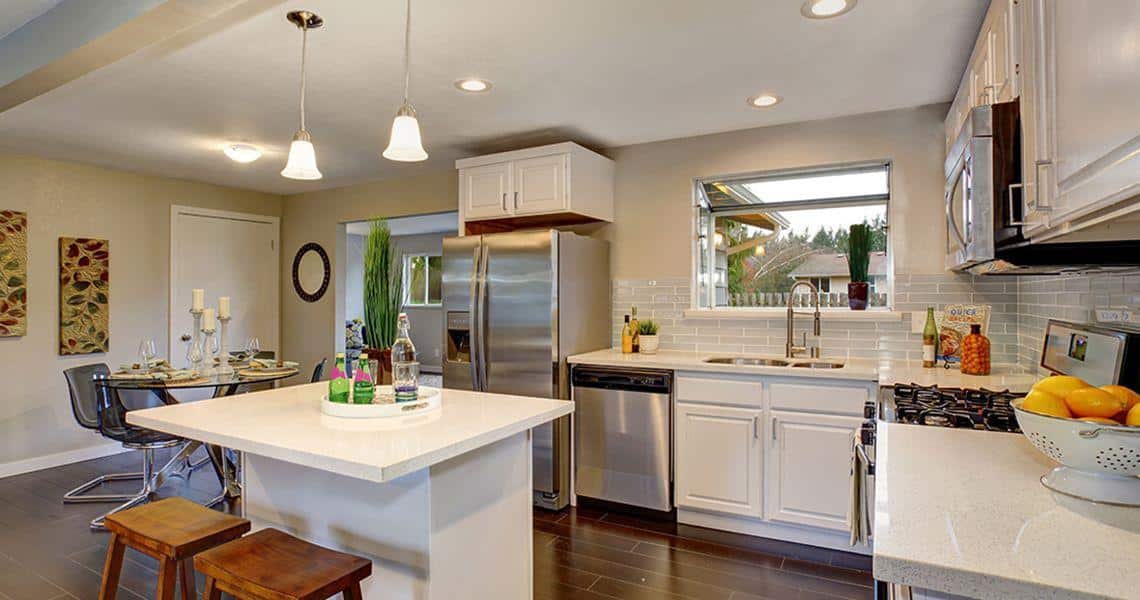 The True Value of a Kitchen or Bathroom Remodel
Most homeowners choose to upgrade the kitchens or bathrooms in order to add value to their home. They also may be interested in selling their homes in the future. After several years, even the highest quality bath or kitchen decor can begin to look dated. Materials begin to age, decor is no longer trendy, or the homeowner decides they simply want a change. If you have found yourself in this situation, you probably want to consider a makeover for your kitchen or bath, perhaps even both.
It doesn't matter if you are planning a kitchen or bathroom remodel; you will have to think of features such as lighting, plumbing, hardware and countertops. You may look at all of these things and simply see dollar signs, and yes, this type or remodel will be an investment. However, when considering this type of remodel, it is much more important to think in terms of value than cost. Data from 2014 indicates that a high-quality remodeling job can almost pay for itself when considering the resale value a homeowner gets from it. However, it is important to note that some remodeling jobs will bring more value than others.
Here are a few of the most common:
Small Bathroom Remodel
A small bathroom is usually less expensive than a full bathroom, but it is still an investment for most homeowners. Though you can certainly find ways to change the decor of your small bathroom on a budget. You won't get as much value of it. For example, putting a coat of paint on the walls, adding some new hardware on the cabinets and installing a new lighting feature will improve the look of your small bathroom, but it will not add a lot of value.
However, if you are hiring a contractor to install new tile, replace the plumbing features, improving the look of a bathtub tile surround or adding paint or wallpaper. It is a larger investment, but you will get much more value out of it. Data from the Remodeling Cost vs. Value Report from 2014 states that the average cost of a project like this would be roughly $20,000, but the average homeowner can recoup about $19,800 in resale value.
Master Bathroom Remodel
A master bath remodel is another option that a homeowner has when considering improving the value of their home, and if you are considering this, you may be wondering how it compares to a small bathroom remodel. In this case, in addition to improving the design elements of the bathroom, you may consider enlarging the floor, if possible.
Most homeowners add from 35 to 100 square feet, which they use to add more features. For instance, this space can be used to house a whirlpool tub, a vanity with a granite or marble top, or even custom cabinetry. You may also consider adding a trendy new glass shower enclosure or a toilet in its own private area. As you may realize, this type of project is a larger investment, and on average, will cost about $60,000. However, there is an approximate 83 percent return on the initial investment, so most homeowners see this type of remodel as well worth their time and money.
Kitchen Remodel
The kitchen is also a focus for many homeowners who wish to improve the look and value of their homes. Homeowners also tend to upgrade their appliances to energy-efficient models, which ultimately helps them save money on their energy costs. A project like this costs about $65,000, on average. But the homeowner will usually see around an 85 percent return on this investment.
Upscale Kitchen Remodel
An upscale kitchen remodel typically is the most expensive home remodeling project due to the luxurious materials. That are often used in this type of remodel. You may also want to consider adding extra storage into a kitchen during an upscale kitchen remodel. Top-of-the-line appliances are also generally chosen, and custom lighting is also typically installed. As you can imagine, a remodel such as this is a big investment, typically about $125,000, on average. But the homeowner usually sees an average of a $100,000 return on their investment.
As you can see, upgrading your home with a bathroom or kitchen remodel is a good investment into the home, and you can get a great return on this investment by choosing the right elements. If you are considering selling your home in the near future, these upgrades are even more important. Because buyers are almost always looking for gorgeous kitchens and bathrooms.