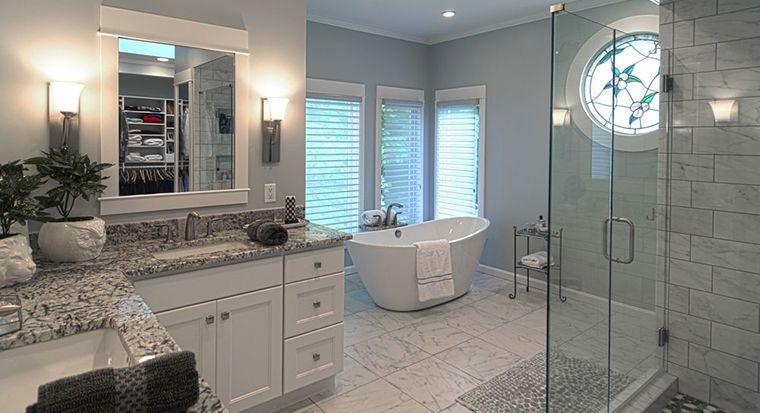 10 Ways to Save Money in Bathroom Remodeling
You can make the most of your remodeling budget by putting it into your bathrooms. You can expect a higher return on your investment in terms of improving the value of your home. However, it can still cost a lot of money, especially if you are considering a major overhaul. Here are some ways to save money in bathroom remodeling without compromising your vision.
1. Leave things where they are

It might be tempting to move things around to feel a real difference in your new bathroom. However, you need to consider that every time you move any major element in your bathroom, such as the sink or toilet, you need to do some structural musical chairs as well. Each move can set you back about $5,000 to move pipes or electrical wiring as well, not to mention laying down a new line and tiles. Unless you are actually getting a lot more space or function from moving something from its original position, keep them where they are.
2. Get creative with mirrors

Mirrors can make a big statement anywhere in the home, but more so in the bathroom. However, high-end mirrors can cost a pretty penny, so consider getting a plain one in lieu of that expensive Italian mirror. You can dress it up with a fancy frame or add LED lights around it to make it snazzy. You will not only save money you can spend on something else, you can express your personality.
Check it out! Jean-Christophe added some UV LED strip lights to his bathroom. Shop now: https://t.co/p6nG3C6lCN. #superbrightleds #upgrade #diy #bathroom #lightupsink pic.twitter.com/NO0yjz7pQx

— Super Bright LEDs (@superbrightleds) October 22, 2018
3. Change the seat, not the commode

The toilet is a necessary part of any bathroom, but you can't really go very far with it, design-wise. Consider keeping a toilet in good condition in place, and simply change the toilet seat to go with your updated look. It will look just as good as a new one, and you can save some money in purchase and labor costs.
4. Scour garage sales

Retail is for suckers, so hold off on your shopping spree when preparing for your bathroom remodeling. You can score some great finds in garage sales, especially if you are going for a vintage or retro look. You might even find an Italian mirror! However, if secondhand is not your thing, you can also make the rounds of mid-year and end-of-the-year sales and take advantage of deep discounts for perfectly cool items that stores need to clear out before the new stock comes in.
5. Repurpose old stuff

There is a lot to be said for repurposing. It not only keeps great stuff from ending up in junk yards or landfills, but they can give you that unique look you've always wanted. For example, you can turn an old office desk or dresser into a vanity. It is easy enough to put in a sink, plumbing, and granite countertop, and you have a unique, eco-friendly, and inexpensive element in your bathroom.
6. Mix it up

Most people associate bathrooms with bathroom tiles (duh!), but that does not necessarily mean it should be all tiles all the time. Mixing it up with other materials such as wood can actually make your bathroom look more interesting, even spa-like. Consider reclaimed wood or beadboard for some parts of the walls and save some cash on tiles.
7. On the shelf

A great money-saving idea is to ditch walls cabinets for open shelves. That way you can have everything out in the open, and you won't have to worry about things getting musty in the humidity. Open shelves also give an airier feel to the bathroom, which can make small bathrooms look bigger. Finally, open shelves allow you display your nice soaps, seashells, and other decorative items. Of course, you should have a closed cabinet for all the stuff you don't want people to see, such as toilet brushes and disposable razors.
8. Take a dim view of the matter

Dimmer switches are inexpensive but very useful features in your bathroom. It will allow you to have just one big light for which you can control the brightness. You can easily switch from ultra bright to relaxing any time you want. You will not have to install more lights to fit the occasion, which means big savings in light fixtures, bulbs, and labor costs as well as utility bills.
9. Paint it up

One of the things you can get your remodeler to do is to keep one wall free of tiles so you can put in paint. A vibrant color can brighten up the bathroom like nobody's business if that is what you want. Alternatively, a dark or rich hue can give your otherwise ordinary bathroom a look of elegance. The best part, of course, is the savings. It is a lot easier and inexpensive to paint a wall than to tile it.
10. Go for sale items

Remodeling contractors often have a large inventory of materials you will need for bathroom renovations. Ask about any items they may have on sale, because these will still be quality goods, but for low prices. A reputable one will be more than happy to suggest cost-saving options when discussing your project if you let them know you are open to it.
Conclusion
There is more than one way to skin a cat. Bathroom remodeling doesn't have to be more expensive than you can afford if you are smart about your choices. However, it is important to have a professional do your bathroom remodeling. That is not a good thing to skimp on, as you may end up spending more money. If you have a reliable contractor such as GBC Kitchen and Bath on your side, you can have the best of both worlds.
GBC Kitchen and Bath is just the company you need for any remodeling project. We service the DC, Virginia, and Maryland areas, specifically Alexandria, Arlington, Washington, Tyson, Vienna, Falls Church, Fairfax, Springfield, Burke, Bethesda, and Rockville.
When you contact us for your planned remodel, the first thing we will do is give you a free design consultation and quote, so you are already ahead without spending a dime. We can promise the best customer service, expert fabrication and installation, and speedy execution of any project so that you stay on budget and the project stays on deadline. You will never get that from big box stores.
We sell only the best products from the top manufacturers and suppliers in the country and have a proven track record in completing kitchen and bathroom renovations on time and on budget. We guarantee the quality of our products, and you can see it for yourself in our showrooms in Rockville Maryland and Alexandria, Virginia.
Contact us today to get a free quote for your bathroom remodeling needs.