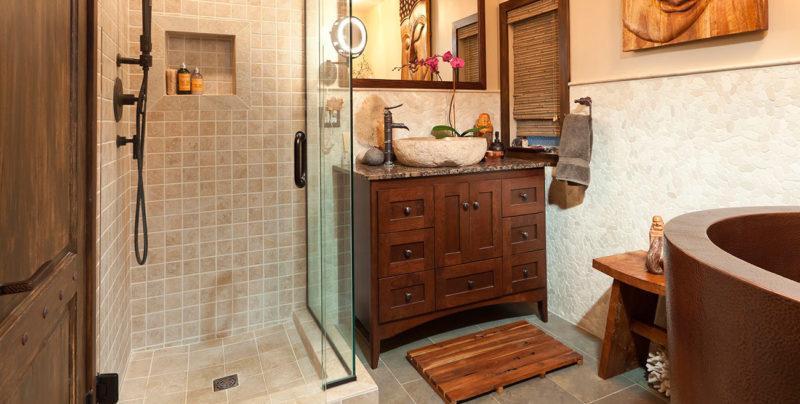 Isn't it bizarre that there's a right season for bathroom remodeling?
We get it. In an ideal world, it would be funny that you need to pick a time to remodel something. Any time should be a perfect time for a happy change, nay? I mean, who cares about anything else as long as you have the finances available for it, right?
Unfortunately, this isn't an ideal world. Besides monies to pay for sundry expenses and a foolproof plan to back up the project, there's a lot you need to factor in before you even begin a project. What if we told you that there are projects that are better done in specific periods of the year? In fact, planning a renovation at particular times can literally ease the flow of the task; thereby giving excellent results in the end.
Let's not make any mistake: Home renovation projects are atrociously time-consuming. And there's a lot that goes in to make a home improvement project a great success. From planning to procuring resources to hiring contractors, the project can go on for months together — depending on the extent of improvements you are looking for. The availability of each factor involved here goes on to give your project successful completion.  All you have to do is to find out those times of the year when procuring these factors is most feasible for the outcome of your project. Complicated? Not really! Take it one step at a time.
What is the Best Time to Purchase Bathroom Materials?
There's a lot of material that goes into a bathroom remodeling project. There's hardware that needs to be selected, or you may be looking for a specific style in tiles for a backsplash or maybe flooring. In case you are planning a change of fixtures, you will also need to scan several showrooms before you find the one. Cabinets, lights, appliances, and a host of elements will also need to be taken into account.
Now, since fall is a typically busy season for the home improvement industry, it doesn't seem to be the right time to make the purchases. That's because many homeowners rush to complete remodeling projects before the start of the holidays.
So, what is the ideal time to buy the products? Winters seem to be just the perfect time to buy the stuff. This is right after the holidays — so, you stand to gain on many fronts by resisting buying the material until December through March.
The showrooms will not be busy — which will give you ample time to look around for the products in complete peace. Moreover, since this is typically a no traffic period for bathroom supply showrooms, a lot of them tend to go on a sale spree by offering attractive discounts on materials and appliances. Basically, if there's even a small chance that you may be able to grab the stuff at throwaway prices, why not take it?
For that matter, since the customer footfall is unusually low at this time, the salespeople have a lot of time at hand…and you can take the full benefit of their expert advice too. It doesn't matter if you plan to start the actual renovation in summer. Consider the money and time you save by reserving this period of the year for making your purchases for your bathroom renovation. 
You may have the best of the references for the remodeling companies. And you may be twitching with excitement, waiting for that particular contractor to start with the job. But we recommend not going through with them in the fall. That's because they are more than busy during this period and that can't be good for an expedited process. Moreover, even if you catch them, you'll probably have to pay them more than what you would pay when they weren't as busy. 
So, what is the right time?
It pays to wait until the spring to hire the best of the contractors. The idea is that when you hire a contractor in their slow time, you stand a chance to grab their undivided attention as they won't have more work on their platter than they can handle comfortably. Whatever they take up during this period will be taken up perfectly to the end. Besides, you might just be able to avail their services at reduced prices too.
By hiring the contractor in what you call the off-season, you spare yourself frustrating delays in the delivery of materials like faucets, vanities, showers, sinks, toilets, and other fixtures too. We recommend booking the contractor well in advance to avoid losing him to others, though. Don't forget, excellent contractors are hard to come by any time of the year.
Spring or early summer is the perfect time to start your bathroom remodel.
This period typically falls between the holidays and summer vacations. It's also the time of the year when the contractors are readily available. Also, in this period, you can be sure of finding the materials for your renovation project well-stocked and easily accessible. 
Since summer means warm days with less rain and more sunshine — the weather is just right for a contracting job.
Be mindful that a bathroom remodel entails work both indoors as well as outdoors. Especially for outdoors, the weather can either make the project infinitely easier or harder.
Moreover, since the days are longer, it enables the workers to work for longer hours and more work is covered each day. For all you know, you may end up with your new bathroom much earlier than you expected if the weather's favorable.
Accessing All Factors to Make a Call
In most parts of the country, spring and summer top the preference list for remodeling projects.
Of course, sunny days and the warm weather go a long way in fixing this conviction. At the same time, for many others, the right time to remodel is the time depends on their personal reasons.  Whenever they can pay full attention to the project and have the right budget for it is the right time. Then, there are those who create the best time themselves by planning the project well in advance. They purchase materials during sales and book contractors ahead of time.
Ultimately, it's different for different people. We recommend going by your preferences and taking these as just general guidelines.