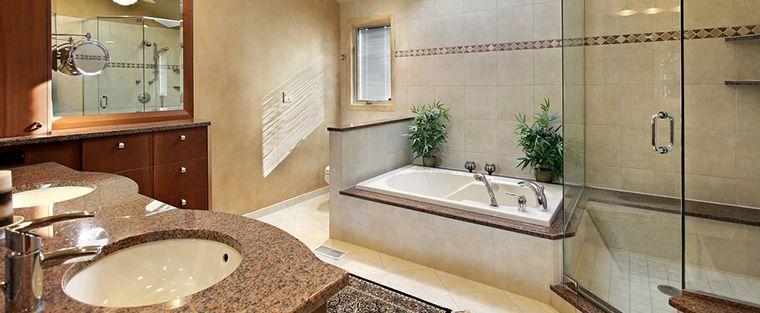 Bathroom Upgrades on a Budget
Guest bathrooms are often the one thing your guests will see that may not always be so welcoming. Since you normally will not see it on a daily basis, it tends to get less attention than your regular bathrooms. You also tend to use it as a storage room for odd pieces that don't fit anywhere else in the room. However, guest bathrooms can have a deep impact on first impressions. This is especially important if you plan to put your house up for sale in the future. You need to give it more attention, and stop using it as a convenient repository of forgotten things!
You can make some great improvements to your guest bathrooms with some bathroom upgrades. These do not have to break the bank. Sometimes, a little can go a long way if you do it right. Here are some ideas to get you started.
Make it look bigger
An easy way to improve a guest bathroom is to make it look bigger. Most guest bathrooms are tiny, with nothing more than a toilet and sink. Consider improving it by using a light colored palette. White will work, and so will pale hues such as yellow or blue. It will not only make it look bigger, it will make it look more cheerful. Do a little painting, and think about putting in a marble vanity top.
Mirrors can also have a big effect on the size and look of your bathroom. You might also want to get a bigger mirror to go over the vanity and framing it with molding that will go well with your new paint and vanity top. If you guest bathroom has a shower, consider putting in a bath mirror.
Decorate those walls
If your guest bathroom is already a good color, you may want to up the ante by decorating them. You can put in decals or go big with a bold image. and  use cut-outs to help you put in birds or flowers that can really make a great impact on the look. You can also put in reproductions of great artwork, like Boticelli's The Birth of Venus or something similarly striking. It will go with the bathroom theme, and creates a point of interest. Do not be afraid to go big with the art. You can also go the whimsical route and put up framed quotes. It can be inspirational or funny, or anything that fits your personality. If you choose carefully, it is guaranteed to make your guest user pause and take note. You will not spend a lot on it, but it will probably be one of the things your guests will remember about your home.
Get new hardware
Another easy way to update your guest bathroom on a budget is to swap out generic hardware with interesting and/or beautiful hardware. Think faucets, towel bars, cabinet pulls, and toilet paper holders. You can choose to build your choices around the faucet for example. Don't go the easy route by choosing regular items from a catalogue, however. Otherwise, you might as well stick with the boring stuff that's already there. Go for a theme and find interesting or unusual items online to conform to that theme. You may want a brassy look, a Victorian style, or ultra-modern take for these themes. You can also look online at how to DIY some changes to your existing hardware, such as putting in a new finish. The point is to dress up your bathroom with eye-catching hardware. Why it catches the eye will be entirely up to you. Get creative and start searching!
Accessorize

What can be easier (and more fun) for decorating a bathroom than by accessorizing it? The stores, online and offline, are chock-full of great decorating ideas for making your guest bathroom look fantastic. It can be as simple as vanity accessories for holding decorative soaps, guest lotion, soap dispensers, and tissue holders. You can probably find matching ones as well, so go whole hog when you find one that takes your fancy. You can also go crazy with trashcans, jars of bath salts, and decorative candle-holders with scented candles. How about finding matching towels and tying them with dried stalks? If you would rather not spend a lot, you can find seashells or rocks and get creative with them. The world is your oyster when it comes to accessorizing your bathroom.
Conclusion
Updating the guest bathroom is not hard or expensive if it is in good condition. All it takes is a bit of creativity. However, if it has major problems, you may need professional help to make it an asset for your home. You may need a reliable bathroom remodeler, and GBC Kitchen and Bath is exactly that. GBC provides free design consultation and cost estimates for the bathroom upgrade you may need.
GBC Kitchen and Bath is just the company you need for any remodeling project. We sell only the best products from the top manufacturers and suppliers in the country and have a proven track record in completing bathroom renovations on time and on budget.
When you contact us for your planned upgrade or remodel project, no matter how small, the first thing we will do is give you a free design consultation and quote, so you are already ahead without spending a dime. We can promise the best customer service, expert fabrication and installation, and speedy execution of any project so that you stay on budget and the project stays on deadline. You will never get that from big box stores.
We guarantee the quality of our products, and you can see it for yourself in our showrooms in Rockville Maryland and Alexandria, Virginia. We service the DC, Virginia, and Maryland areas, specifically Alexandria, Arlington, Washington, Tyson, Vienna, Falls Church, Fairfax, Springfield, Burke, Bethesda, and Rockville,
Contact us today to get a free quote for your bathroom upgrade and remodeling needs.