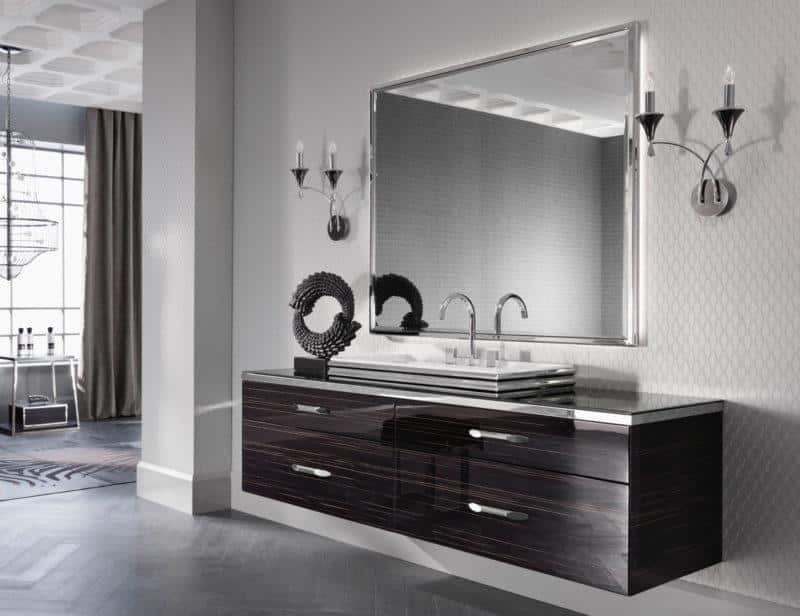 Bathroom vanities can put the spotlight on your bathroom.
In fact, bringing in a vanity can help you change the aesthetic of your bathroom dramatically. This is especially so when you are planning a bathroom remodel. Whatever be your style, vernacular or contemporary, a vanity will add an exclusive edge to your bathroom for one too many reasons.
It doesn't hurt that there is no dearth of choices available for bathroom sinks and vanity cabinets, both in terms of design choices and the cost. A simple wall-hung sink can cost around $50 whereas a furniture quality cabinet vanity may cost a whopping $5,000. As for the design, no two spaces are the same. So you can choose the style that complements the existing ambiance of your bathroom.
However, there are a number of other factors that you should take into consideration before you bring home a new vanity. This blog is a comprehensive guide that will help you know everything there's to know before making the right decision. We have covered different styles and popular color options as well.
Making Space for a Vanity
How much space does your bathroom have? It's super important to measure your space. What is the point of buying if it won't look good or have enough clearance around it?
Say, your mind is set on a vanity you spotted in the market recently. Just don't order it blindly.  Remember every bathroom is different, so are the design needs. If it fits in a bathroom you saw on Pinterest, it doesn't necessarily mean it will fit in yours as well. If you are planning to hire a bathroom remodeling company, start by measuring the height, width, and depth of your existing vanity. These measurements will serve as a stepping stone for the kind of vanity you should be buying.
Besides, it is imperative to measure your bathroom floor plan to check if your structure will fit in the current space. There is every chance that you may be looking for a change and may want to go for a bigger sized vanity unit. Now what? Will your current bathroom layout allow for this change? Not sure? You have to be!
Don't forget to measure the dimensions occupied by opening the doors and drawers of the vanity unit against the available space in your bathroom. This is a very crucial pain point in some homes. Remember, there should be enough movement space around the vanity too for a comfortable experience. Just getting in a vanity is not enough. It should ultimately become a facilitator of smooth bathroom processes (you know what we mean), rather than a hindrance.
This applies to both wall-mounted and the floor based ones. You must get an idea of the space the structure will occupy on the floor or the wall to get a complete picture of how it will look with the other things in the space.
Choosing Between Single and Double Vanity
Yeah, it's no Sophie's Choice — but hey, it's still an important decision.
To start with, the decision either way largely depends upon the availability of space in your bathroom. Preferences, in our opinion, should be the second consideration. Sure, an expert designer can make a double vanity work in a small bathroom, but let's face it, it will probably mean changing the entire layout.
Now, vanities with double sinks work well with couples needing access to the space at the same time. Additionally, they are ideal for a master bathroom where space is aplenty. On the other hand, a vanity with a single sink works great for the powder room or guest bathroom where space is scarce.
Many of us are led by the notion that a double sink is invariably better than the other. That's not always the case. In fact, there are many shades to this dictum. It doesn't take two guesses to conclude that a double sink will take up more counter space…But how about the under-cabinet space? A double sink vanity will take twice the amount of under cabinet space to accommodate drain pipes too. So, the point is: Keep your heart in the right place and know the pros and cons of both before choosing either.
Choosing the Right Vanity Size
Bathroom vanities are available in varying widths of 24", 30", 36", 42", 48", 60" and 72". The 24″ width is best suited for tiny guest bathrooms. 30″ is slightly bigger, and can be used for keeping some extra toiletries in a small bathroom. The 36" vanity, on the other hand, is capacitated with drawers and cabinets for storing the basic toiletries and works well in most guest bathrooms. 42", 48″, 60″ and 72″ vanities provide enough space to be used by two people in a master bathroom. Remember, measure first, decide later.
Now, you may even be able to manipulate your 48" vanity into having two sinks. However, the dimension does not have a lot of storage space due to plumbing considerations. Unless you have an alternative place to store the essential supplies, it is advisable to go in for a single sink in this width. Then there is the 60" unit which is spacious enough to accommodate two sinks with drawers and cabinets and have decent counter space.  Even better, the spacious 72" wide unit is an excellent option for incorporating double sinks. Available in a multitude of design options, the structure is a great option for children's bathroom as well.
Once you are clear enough on the kind of vanity that is best for your bathroom size, you have to move on to deeper design details like the vanity bases, tops and the various styles available out there.
Choosing Bathroom Vanity Base Designs
1. Wall Mount Vanities
These vanities are typically mounted on the wall. They add an uber-chic look to the space and make the bathroom look spacious. Additionally, they create more standing space within the bathroom. Make sure that your bathroom wall is sturdy enough to hold the weight of the vanity and the sink, though.
Nevertheless, these vanities are difficult to install and give off less storage space. However, since they don't sit on the floor, they take up less space in your bathroom. Ingrained with simple clean lines, they imbibe a great contemporary vibe.

2. Free-Standing vanities
These vanities sit on the floor as an independent structure. They add a lot of creative edge to the interiors as they can easily accommodate ornate details. Their styles vary from modern clean lines to traditional patterns too.
Free-Standing Vanities also give a good storage quotient and can be blended with a plethora of styles. Also, they are relatively simple to install. However, the downside is that they take up considerable space and pick up lots of dust, especially the ones that come with legs.

3. Corner Vanities
These vanities work amazingly for smaller areas. They tuck snugly into corners without taking any considerable space. On the downside, they have a limited counter space as well as space for storage.

Choosing the Right Bathroom Vanity Base Color
Bathroom vanities are the ultimate signature statement for your bathroom. When it comes to the colors and the styles of the vanity bases, there is a wide range of options that you can pick from. Choose from an array of shades as per your individual design preference. Attractive white, black and grey hues, as well as wood finishes, add a touch of subdued elegance to your bathroom space.
Remember the psychological effects of colors and the general color theme of your bathroom before you choose. Here are some of the very popular choices this year:
1. Black Vanity
Make a bold statement with black for that added drama in your bathroom. If you want to pull in a timeless classic look in your space, don't think twice. Black double vanity with large cabinets on both sides looks uber-luxurious.
2. Grey Vanity
The ultimate neutral, grey has been undergoing a state of a renaissance. The color adds grace and interest to the space and is popularly termed as the color trend of the decade. Choose from a palette of charcoal glaze, Emma Dove grey, French grey, chilled grey, grayish blue, Sea Salt grey and Kelly grey.
White, the immensely sought after shade has a timeless appeal. It can prove to be the eventual design setter of your bathroom. Endowed with a sense of clean accents and clean lines, a white vanity fits effortlessly in any design ethos. Try Madison and Brooks white, Emma white, French white, frosted white and pure white to name a few.
4. Rattan/Wood Finish Vanity
Bring in a rustic and a classic look with the shade. Rattan/wood is available in a spectrum of natural shades that integrate seamlessly with the diverse textures of your home.
5. Brown Vanity
Brown creates an organic mood in your bathroom that is hard to resist, and is a refined version of rattan/wood finish. Discover your shade from finishes such as dark espresso, tobacco, restored khaki wood, natural walnut, mantique brown and maple.
6. Silver Vanity
Bring in the magnanimous splendor with the bling of silver! Away from the usual shades, silver and a host of other swanky shades create a semblance that is at once modern and distinctly suave.
Choosing the Right Vanity Top
Vanity tops run in a wide range of styles and configurations; giving you plenty of scope to choose in terms of design, dimensions, color and edge treatment. Here are some of the more popular colors this year:
1. White Countertop
If you are a fan of the age old-white, explore materials like quartz, premium granite, and solid white. Quartz with its clean lines and contemporary style is a hot favorite with homemakers.
2. Tan Countertop
This color works largely with traditional vanity tops where the range includes granite, Kashmir white, and golden sand.
3. Grey Countertop
Timeless and classy; grey countertops have been throwing their presence around for long now and can be popularly spotted as soapstone, slate, grey granite, quartz, and marble. From Bianco Antico Granite to Coastal Grey Caesar Stone Quartz to Pietra Cardoso Slate — there are endless options for grey seekers.
You can choose from a plethora of bespoke bathroom vanity sink designs for changing the visual landscape of your bathroom.
1. Under-mount Sinks
These sinks typically mount from the underside of the counter with plumbing waste and lines tucked in the vanity base.
The sinks are done in clean lines and are a premium variety. They are easy to maintain and are well-capacitated. However, the size may vary as per the chosen vanity design.
2. Vessel Sinks
Vessel Sinks are striking and beautiful and sit on top of a countertop that is connected to a floor-mounted vanity base.
The structure saves precious counter space around the sink. They offer unlimited design options. For instance, if for some particular reason the plumbing lines are exposed, they are designed to work around that.
3. Drop-in Sinks
These sinks are popularly called the surface-mounted sinks that can be installed on any given countertop, be it stone, plastic laminate, synthetic countertop or even ceramic tiles. They have a lip that is made to outsize the hole where after they sort of drop in a countertop.
They are comparatively easy to install. However, they are subjected to seal decay with the passage of time.
4. Integrated Sinks
The design integrates the sink with the counter; hence, they are also termed as countersinks.
It is a cakewalk to clean these sinks too. However, they are on the expensive side.
Making the Final Decision:
Honestly, there's no right or wrong here. The decision is based on many many factors like cost, size of the bathroom, ease of installation, etc. Ultimately, it's best to consider all of these before making a choice. A professional designer should be able to assist you if you have any concerns about your bathroom.