Choosing the Best Lighting for Your New Kitchen Remodel
The lights in your kitchen can add or detract from the décor and design of the space. Therefore, you should give careful thought to the type of lighting you install for your kitchen remodel.
If you've ever been in a kitchen with dim lights, then you know how ugly the room can appear. And the same goes with wrong light placements. If you don't have light shining in key areas, then it'll make it harder to prep, cook, and clean in the kitchen after sunset.
Lucky for you, we're going to share a quick guide to help you with getting brilliant lighting in your kitchen using track lights to your dark areas. And if you need help with the installation, you can always call us at GBC Kitchen and Bath.
Meanwhile, look at this kitchen lighting guide before you do your kitchen renovation.
The Evolution of Track Lighting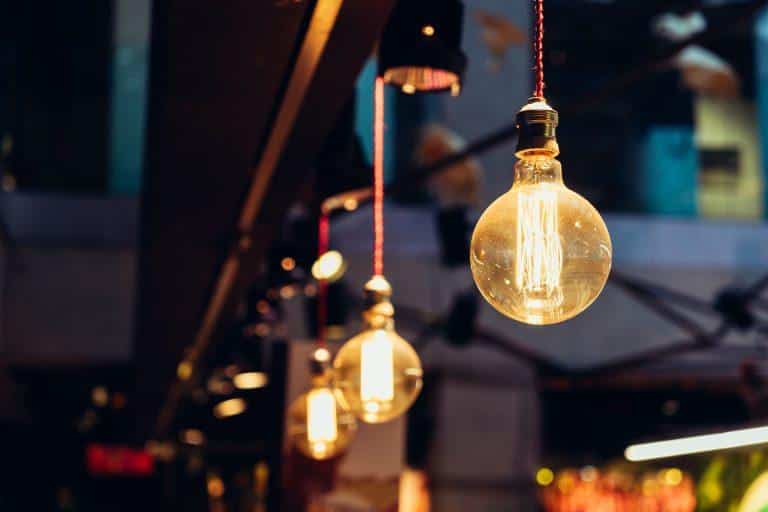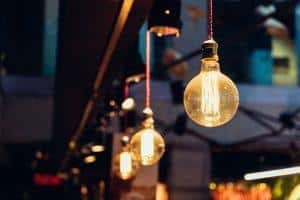 Now, it's important to note that track lighting isn't like it was many years ago. Back then, you had to resort to sticking bulky tracks and horrendous light fixtures to your ceiling. This is much like what you'd normally see in a fast food joint like McDonald's or Wendy's.
This all changed when 2,000 lighting manufacturers started making updated versions of tracking lights. Now, you can find sleek, curving track lights using high-intensity halogens. These are ideal for lighting up your cooking space perfectly.
Why Go with Track Lighting for Your Kitchen Remodel?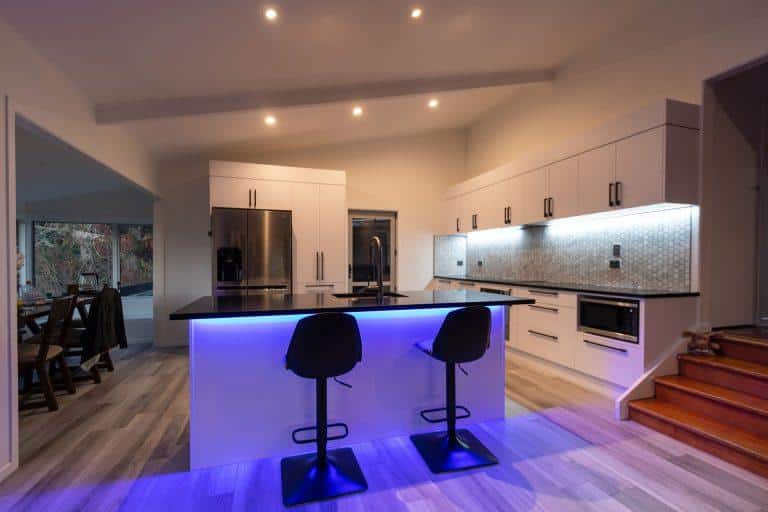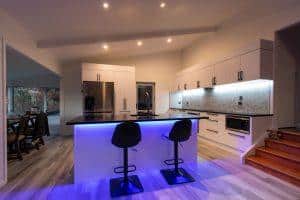 There are quite a few reasons why homeowners choose track lighting for their homes. For one, they're very flexible. You can place them just about anywhere inside of the kitchen.
And although they offer nice bright lighting, it doesn't run up your power bill. They're energy-efficient because you're only installing the amount of lights you need. Also, they're wired independently, which allows you to turn off or dim the lights you don't need
Track lights aren't heavy, so you can install them right on top of your drywall. It's a quick and easy installation by an experienced contractor. Just make sure you're careful with adding lights to a track because this can cause a power draw.
Read the product instructions to find out how many lights you can add. Also, be wary of the prices for halogen lights so you don't go over your budget when deciding how many lights you're adding.
Fancy Flexible Line Voltage Track Lights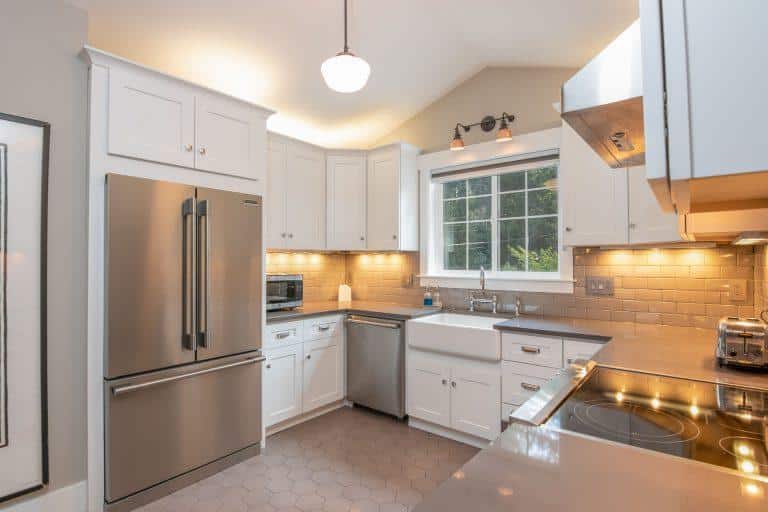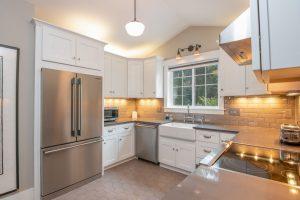 Who doesn't want to go straight to the fancy-looking track lights for their kitchen remodel? You can make this light look like a squiggly S shape. The curved tracks make it look nice and it accommodates dark area very well.
In the kit, you get a 12 ft track and four 50-watt heads. You don't need a separate transformer for these lights because it has a line voltage track lighting.
Easily Switch the Light Fixtures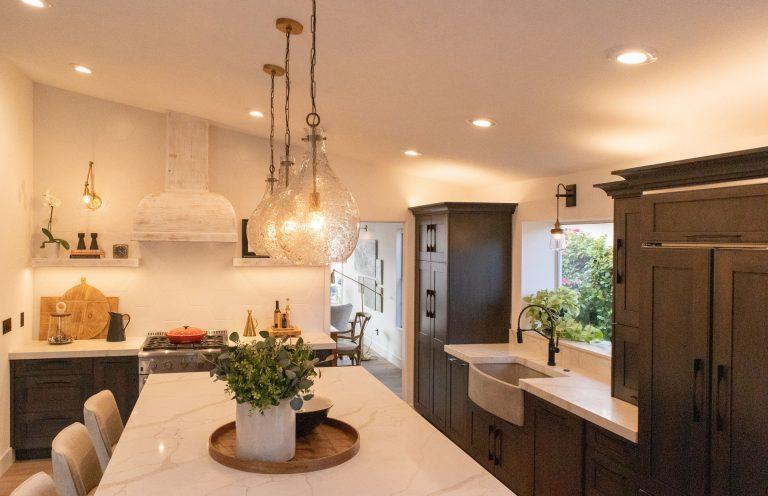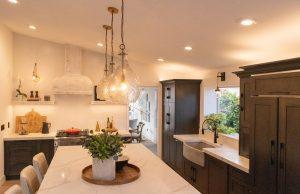 Another reason to opt for track lighting is because it's flexible in style. You can easily switch the fixtures once you get tired of the look.
After installing the tracks, you can swap out the fixtures however often you want. For instance, if you're throwing a kid's birthday party, you can have given it red, blue, and yellow fixtures to match your party décor.
One thing is you'll have to ensure the fixtures look great with the track you installed. There are different styles available including antique bronze, chrome, black, and gold.
Recessed Lights for a Sleek Look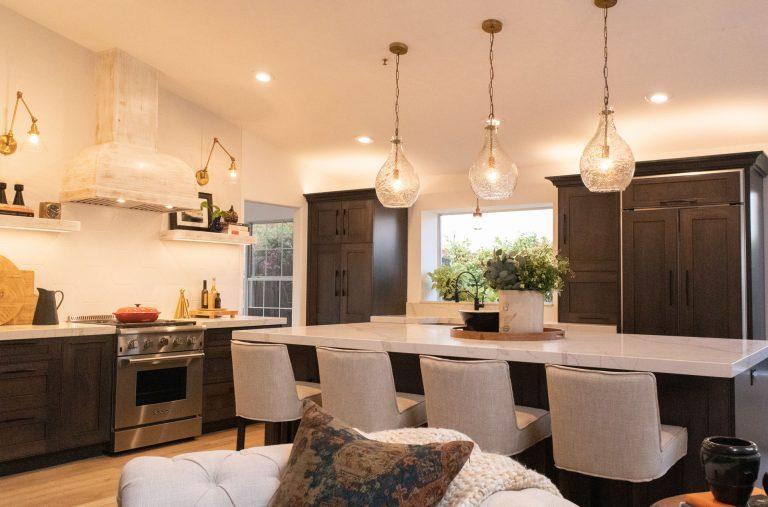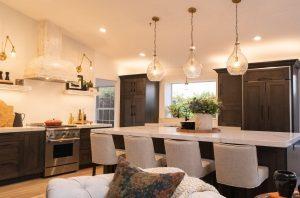 Now, if you're not into the direct style of track lighting, you can always be more discreet and sleek with recessed lighting. These too are easy to install, given there aren't any obstructions in the ceiling to block the way.
What makes recessed lights attractive is that they are invisible. They look like spotlights on the ceiling and provide ample light for the small area they're installed into. It's important to note that you'll need to install a fair share around the kitchen to ensure all areas are illuminated.
They do, however, require extensive ceiling wiring so it's not something you want to do on your own. It comes with junction boxes that enable light-to-light connections. So, this means you're running only one cable.
The diameter sizes of recessed lights also vary between 3 and 6 inches.
Trim and Baffles for Recessed Lights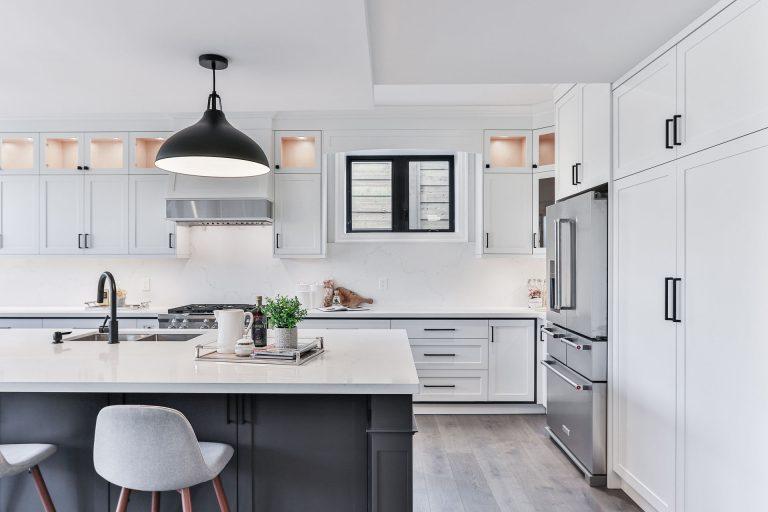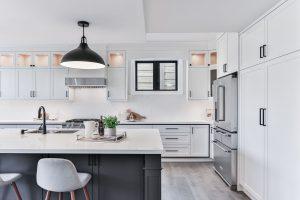 Recessed lights are made up of trim and baffles. The rest is nothing more than formed sheet metal. There aren't any moving parts, electronics, or other complexities.
Let's take a closer look at the components of recessed lights so you know what you're getting out of the box.
Baffles are the inner bugle-shaped insert that directs the light from the bulb. For instance, if you get one with baffles that are ridged and black, then the light's directed down through a tight circle. This prevents side reflections.
Then there are baffles that are chrome, which are reflective and have extended circle diameters.
The trim on the recessed light is the plastic or metal circle that goes flat into your ceiling. It snaps right in. Then there are some recessed lights that contain both baffles and trims.
Since you're installing them in your kitchen, it's best to place them above counters where you'll need light to prep foods. It's best to go with directional lights so they act like task lights.
Hiring a Contractor for Kitchen Remodeling
Surely, the lighting isn't the only area of your kitchen you'll be remodeling. It's important to have a solid plan for the kitchen renovation so you know exactly what you need. At GBC Kitchen and Bath, we have a variety of products you can use for your kitchen remodeling.
This includes floors, countertops, cabinets, sinks, and faucets. All our products come from top brands in the industry. Plus, you get a warranty with whatever products you purchase.
You should visit our local showroom to see these products in person before you buy. Contact us today to get a free estimate!