Choosing the Design for the Cabinetry in Your Kitchen Remodeling Project
Coming up with a new look for your kitchen remodeling project isn't always easy. The good news is that there's plenty of inspiration out there you can use to help get your own creative juices flowing.
The first thing you should do before you begin your quest to find cabinet designs is to first understand what you're looking for and why. For instance, are you trying to get your kitchen more organized? Or are you looking to do something off the beaten path with the design?
Those looking for the next modern trends will find that their options will take them along a different path than those looking for something with higher functionality.
Let's look at some of the cabinet ideas you can use to make over your kitchen.
Use a Design that's Drawer-Heavy
Here's a trend that's ideal for homeowners with a lot of smaller items they need storing. If you have a lot of utensils and handheld gadgets you want to store away in a neat fashion, then this idea is for you.
Installing a bunch of drawers is an ergonomic way to get access to the tools you need while prepping and cooking. With three rows of doors in two columns, you won't have to worry about kneeling down to get the items you need.
Just store your most used tools in the upper level drawers. This is a great design for the aging population that may have back and neck issues.
You'll find some drawer designs with the smaller drawers at the top and the larger drawers on the bottom. Ideally, you'd use the top drawers for the utensils and then the lower drawers for pots, pans, dishes, and other items.
The clean design of drawers is the perfect addition to a kitchen with a design that's traditional, rustic, transitional, farmhouse, or contemporary.
Implement a Trash Pull-Out System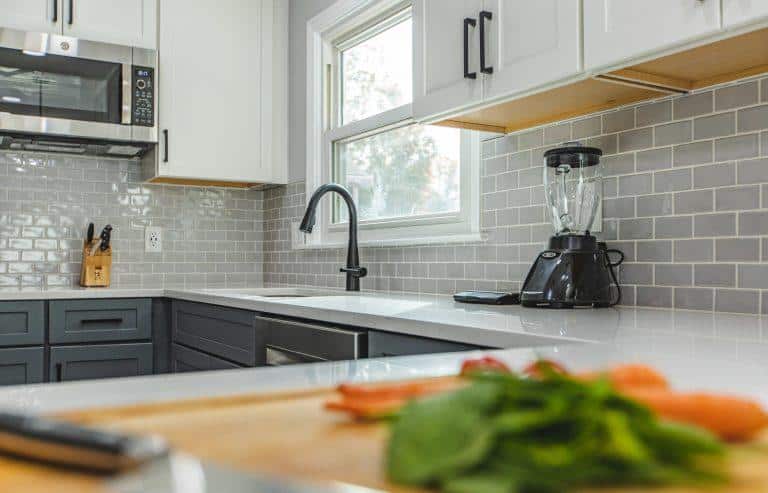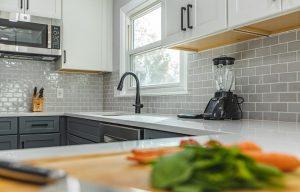 The cabinets you install are a guide to hide all the kitchen artifacts you don't want visible. This is done for food, dishes, cookware, and appliances. So why not does it for your trash can as well?
There are systems you can install that will allow you to stow away your garbage bin beneath the counter. You simply pull it out when you need it, then push it back in when it's not in use.
This will give your kitchen a cleaner (and nicer smelling) environment that you and your guests will enjoy. You can either opt to install this beneath your countertop or kitchen island – wherever you like to prep food and need a quick way to throw things away.
Opt for Vertical Dividers in Your Cabinets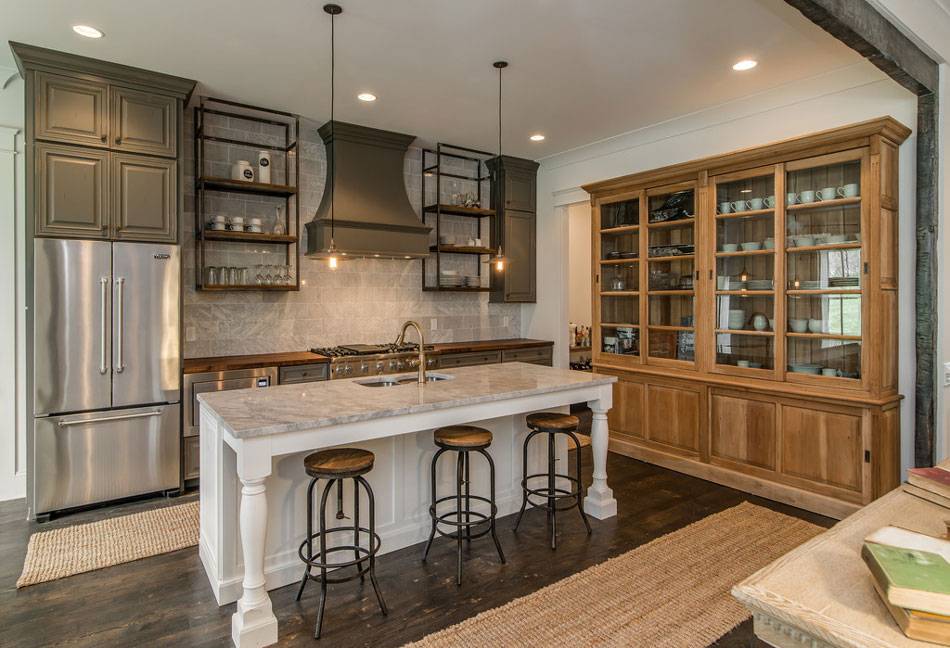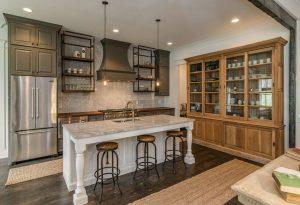 Organization is key to keeping your new kitchen cabinets looking amazing. No one wants to open a cabinet door and see a jumbled mess of lids, cookie sheets, and pots.
You can get rid of this clutter by having using vertical dividers. Some homeowners place these in the upper level cabinets, while others use them for their lower cabinets.
It all depends on what you're trying to organize and how. You can implement these into all your cabinets or only in the ones with too much items to store.
Add a Spice Pull-Out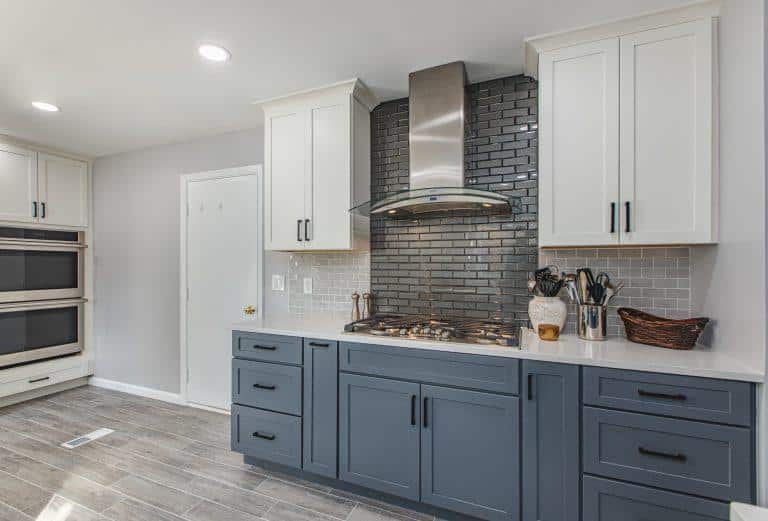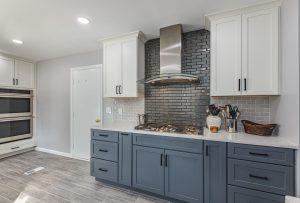 If you're an avid cook, then you know that your spice collection can grow exponentially. But rather than eating up useful cabinet space, you can have a special place just for your spices.
A pull-out spice drawer is ideal if you're looking for a way to hideaway your spices vs putting them on shelves hanging on the walls. It's an organized way to get quick access to your beloved ingredients.
Many of these pull-out drawers come with multiple shelves so you can store even more ingredients, like ketchup and mustard.
Use a Corner Storage Unit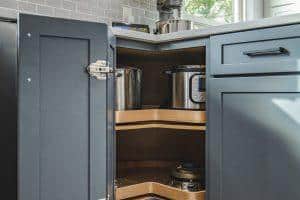 You won't find corners in the cabinets of every kitchen, but the ones that do can make use of this space-saving idea. You can use a Lazy Susan, Blind Corner, or corner drawer, depending on the angle of your corner space.
For instance, Lazy Susans are ideal if you have a 90-degree angle on either side. Blind corners are ideal if your corner protruded from the wall and has a filler on the adjacent wall. And corner drawers are ideal for L-shaped corners. You can also use them in 39-45-degree corner widths.
Buy Quality Cabinets and Supplies for Your Kitchen Remodel
Now, it's time to get your hands-on quality materials and products for your kitchen remodeling project. At GBC Kitchen and Bath, we have a team of licensed, bonded, and insured contractors that can help with all aspects of your kitchen renovation.
This includes the fabrication and installation of your new kitchen cabinets. This is important for ensuring your new cabinetry fits your cooking space perfectly. We'll come to your home to perform measurements to make sure of this.
You can visit our local showroom to see the available cabinets we have from top lines like Forevermark, Medallion, and Waypoint.
We also have a host of other products you can use for your kitchen renovation. This includes natural and engineered stone countertop slabs, tile floors, hardwood floors, sinks, and faucets.
Our mission is to provide you with a kitchen remodel that you can marvel over. All our professionals pay close attention to detail during the fabrication and installation of the products you purchase from us.
The areas we service include, but aren't limited to, Tyson, Washington DC, Falls Church, Alexandria, Rockville, and Fairfax.
If you're looking to update the kitchen in your home, then allow our expert designers and installers to help. Call us today to get started with your free estimate!