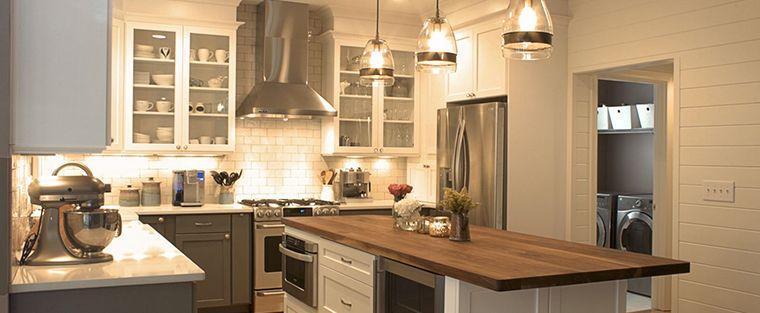 Clever Lighting Ideas for Your Kitchen Upgrade
A kitchen upgrade is a cost-effective way of increasing the value of your home. If you don't have the budget for a major kitchen remodel, replacing your kitchen countertops with granite or investing in new cabinets can usually do the trick. It may also be a good idea to put in new light fixtures while you're at it. It can make a huge difference in the way your kitchen looks without doing much else.
There is quite a lot of options out there for your lighting needs. Below are some you may want to consider to give your kitchen a new look.
Recessed lights
Recessed lights are a great way to make your kitchen look brighter, especially if you have a low ceiling. You will have to install more than one because the area one recessed light can illuminate is small. But strategic placement of a few recessed lights can give provide more even lighting than a more powerful central light, which leaves corners rather dark. In addition, because it is flush to the ceiling, it is nearly invisible, presenting a sleek, modern look. If you have a small, modern, and/or low-ceilinged kitchen, recessed lighting is a good choice.
Recessed lights are more an esthetic than functional choice. But it still works quite well provided you put them in the right places.
Under cabinet lights
Another great lighting idea is putting lights under the wall cabinets. Central lighting often put the areas directly under wall cabinets in shadow, so putting lights there is a practical move. You can see what you're doing better. And it is also energy efficient because you don't have to put on all the central lights. As a bonus, under cabinet lighting brings out the best features of your granite counters, backsplash, and floor for a light-washed look. With all the central lights doused, under-cabinet lighting can give your kitchen a dramatic look.
You can choose to put battery-powered puck and button lights if you don't want to bother with new wiring. You can also consider tape or rope LED lights, both of which are easy enough to run along the bottom of the cabinet to a convenient outlet. Finally, you can invest a bit more on LED light bars, which are a little harder to install, but they last longer and provide more even lighting than other options.
Side lights
A lot like recessed lights in form and similar to under cabinet lights in effect, side lights provide the kitchen a light-washed look for anything directly under it. It shines light down instead of out, so it illuminates without glare.
Some homeowners place them along notches in the wall; others put them on the ceiling. Side lights provide indirect lighting that can add a little drama and romance to the room. This is particularly effective if you have an open kitchen layout, and the side lights provide ambient light to the living and dining room.
The great thing about side lights is that they are mostly hidden. The only thing you will see is the trim, and even that can be made to disappear if it matches the color of the walls or ceiling. The only drawback to side lights if you put them along the walls is that you can no longer use those particular spaces for anything else, such as cabinets. However, putting them in the ceiling solves that particular problem.
Here's another lighting idea for those designing modern kitchens. You'll find that side lights are a great addition if you're looking for a light-washed look. These styles of lights are placed in notches along the wall.
Tray ceiling lights
You may have seen this type of lighting in the lobby of hotels or in some houses where the ceiling has a sort of ledge on the sides and lights installed in them. These are  excellent source of ambient light in your kitchen if you have a high ceiling.
You can have tray ceiling lights put in if you are planning a kitchen remodel. Because you need someone to put in open air soffits with small gaps to provide you with the space for the lights. Once built, you can install rope lights or light bars in the soffits, and these will provide subtle, even seductive lighting for your kitchen.
It may look like an expensive addition to your kitchen. But despite its luxurious look. It will not cost you a lot to put in for your kitchen upgrade once you have the trays put in. Cleaning them may be a bit of a chore, but you will not have to do it too often as the dirt and dust is not visible.
Floor lights
This lights may seem a bit much, but floor lights can actually have a significant effect on the look of a contemporary kitchen. It can certainly catch the attention of any guests you have over for a dinner party. It will not be an easy upgrade if your kitchen will not accommodate the floor fixtures. If you have a new property or doing a major kitchen remodel that includes replacing the floors, it is a cinch to add to your design.
Hire a Professional for Your Kitchen Upgrade
DIY is all well and good, but for some of these clever lighting ideas, you need a professional remodeler to pull it off. At GBC Kitchen and Bath, you have found your contractor for your kitchen upgrade. We sell only the best products from the top manufacturers and suppliers in the country. And have a proven track record in completing kitchen upgrades on time and on budget.
When you contact us for your planned upgrade, we will do is give you a free design consultation and quote. So, you are already ahead without spending a dime. We can promise the best customer service, expert fabrication and installation, and speedy execution of any project. You will never get that from big box stores.
We guarantee the quality of our products, and you can see it for yourself in our showrooms in Rockville Maryland and Alexandria, Virginia. We service the DC, Virginia, and Maryland areas, specifically Alexandria, Arlington, Washington, Tyson, Vienna, Falls Church, Fairfax, Springfield, Burke, Bethesda, and Rockville,
Contact us today to get a free quote for your kitchen upgrade needs.