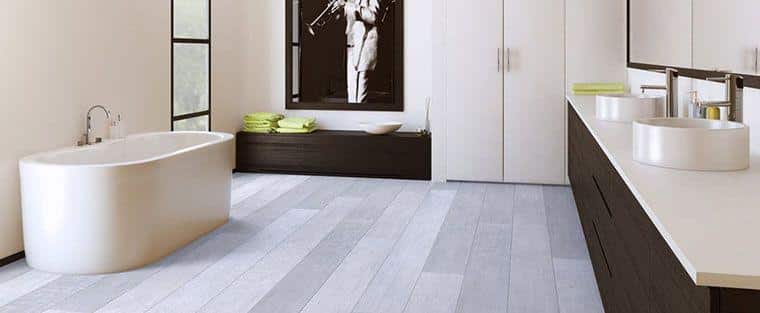 Laminate vs Vinyl: 8 Things You Should Know Before Completing Your Bathroom Remodeling
There's an ongoing debate between laminate and vinyl floor lovers regarding which material is best for the kitchen and bathroom. Some believe laminate is alright to have in these settings, if you maintain low moisture levels. While others feel vinyl is the better way to go.
If you're planning a bathroom remodeling project that includes a floor redo, then you may wonder how you can do it cheaply. These two materials are popular because of their affordability. However, deciding which of the two to install comes down to you.
And the best way to decide is to do research. So, in this guide, we've done some of it for you. Let's review the differences between laminate and vinyl, so you can make a more informed decision.
Bathroom Remodeling: The Differences Between Vinyl and Laminate
Let's begin with vinyl flooring. This is made with 100% plastic, which gives it great resistance to moisture. In fact, you can submerge it in water for several days and it won't damage it.
The look of vinyl tile has also improved over the years. They now come in long and narrow plank shapes, which look a lot like wooden boards. There's also click joinery, which allows them to be snapped into one another for a quick and easy installation. The embossing techniques for vinyl floors has also improved.
On the other end, we have laminate flooring, which is made with 99% wood. And for this reason, it's susceptible to water damage. However, it takes catastrophic events for this to occur, such as flooding. Otherwise, it resists moisture well, but if the planks stay locked together firmly.
You can find homeowners installing laminate floors into homes with modern kitchen designs. It offers a truer wooden look that a lot of homeowner's love.
Bathroom Remodeling: Vinyl vs Laminate
A lot of people will say vinyl is the winner in the case of bathroom flooring. However, this all depends on the homeowner. If you're willing to keep moisture levels down by mopping up water after you get out of the shower and eliminating spills immediately, you can keep your laminate floors in good condition.
However, if you're lazier in cleaning up spills, then you may want to go with vinyl flooring. Then in other parts of the home, laminate clearly beats vinyl is aesthetic appeal and comfort.
If you're in love with the 99% wood laminate flooring, then you can always opt to have rugs placed around the sink and shower, so this soaks up majority, if not all, of the water.
The Costs of Vinyl and Laminate
The pricing for vinyl and laminate is almost the same. Both are very affordable, costing around .50 cents per vinyl square or $3 per plank.
Laminate can cost you around .50 cents for 6mm and $3 for a longer 12 mm plank.
Installation of Vinyl and Laminate
Both types of floors are easy to install, which is great news when you're hiring a contractor to remodel your bathroom. Sheet vinyl comes in the form of large rolls and it's tough for homeowners to install it on their own.
It can be unwieldy and difficult to shape around walls and other obstructions. The only other option is to go with vinyl planks, which are easier to install.
Laminate, on the other hand, needs a foam moisture underlayment installed, which isn't expensive at all. This is rolled out and then taped together rather quickly. In some cases, the laminate comes pre-attached to the underlayment.
In this case, a hand saw, or circular saw is required to cut the laminate. Again, it's best to hire a contractor to do it for you.
Which Looks Better and Have Higher Resale Value?
The winner when it comes to looks and higher resale value, it's laminate flooring. If you're planning to resell your home in the future, then this is something to consider. And even if you aren't, laminate floors are still a great choice for improving the look and comfort of your home.
Compared to vinyl, laminate is thicker and uses wood content, which makes it warmer and easier to walk on. Vinyl has concrete or subfloor beneath, which can make it cold and hard.
You can install it in your bathroom, as well as other areas of the home.
Finding a Quality Supplier of Laminate Floors
The laminate floors you purchase for your bathroom remodeling is important for ensuring quality. At GBC Kitchen and Bath, we have a great selection of laminate flooring you can use to improve the look and value of your home.
We offer bathroom remodeling services and packages, which means you get a complete service. So, if you're looking to update your vanity, cabinets, countertops and fixtures, we can help. Browse through our selection of products to see what you find.
The laminate floors we have for sale are manufactured by leading brands in the industry, such as Armstrong and Bruce. We also provide manufacturer warranties, so you can ensure your floors look good for a long time.
Why Choose GBC Kitchen and Bath?
There are various reasons why it's a good idea to hire GBC Kitchen and Bath for your remodeling work. We take pride in our craftsmanship and the products we sell. Our contractors fabricate and install the products and materials we offer.
You can look at what we have available by stopping by our local showroom. See for yourself the laminate floor options, so you can choose the best one for your bathroom remodeling project.
Contact us today to learn more about our products and to schedule a free estimate!