A Real Look at the Kitchen Remodeling Process
Have you ever wondered exactly how a kitchen remodeling project will go? You should if you are planning to do one soon. Kitchen remodeling has many benefits, but it can be a stressful undertaking. Aside from the cost involved, you have to plan for how you are going to manage without a kitchen for week, or even months. Here is a real look at the process.
Design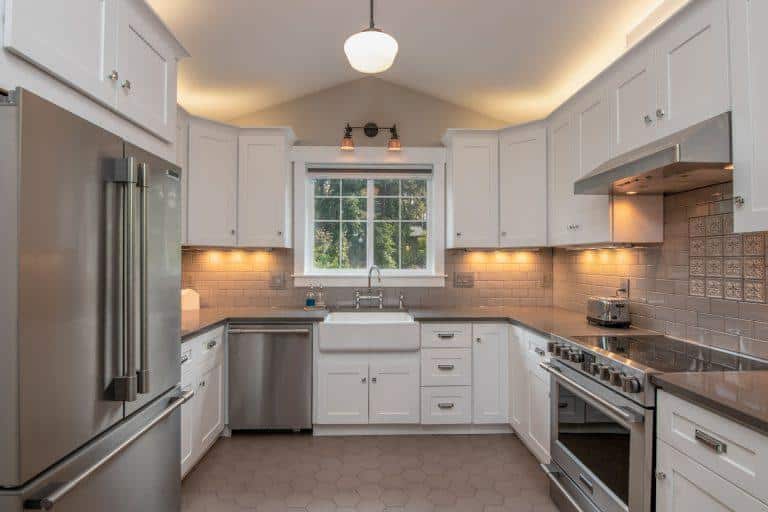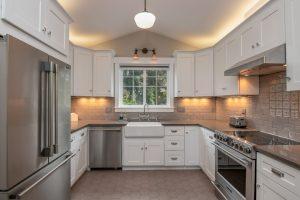 If you want a spiffy new kitchen, the first thing you have to decide on is the design. Fortunately for first-time remodelers, there are some established kitchen layouts that have proven to be successful for many homeowners. These kitchen plans are designed to follow the workflow triangle. These are:
• One-wall
• Corridor
• L-Shaped
• Double-L Shaped
• U-Shaped
Any of these kitchen plans can work for you, workflow-wise. Your contractor can help you with the actual design by providing advice on what will work with your available space. In most cases, the remodeling company will use kitchen design software to give you a 3-D representation of different designs. You can also put in your two cents by getting together design inspirations online or from books and magazines. If you have the budget for it, you may want to consider hiring an interior designer to provide you with a kitchen design that you can give to your remodeling company.
Permits
One thing most homeowners do not realize is any major changes in the structure of your home requires permits from several agencies. You have to get permits from the local building agencies as well as the water company. The beauty of hiring a remodeling company is they can get these permits for you. You still must pay for the fees, but you will be saved the hassle of getting each one yourself.
Arrangements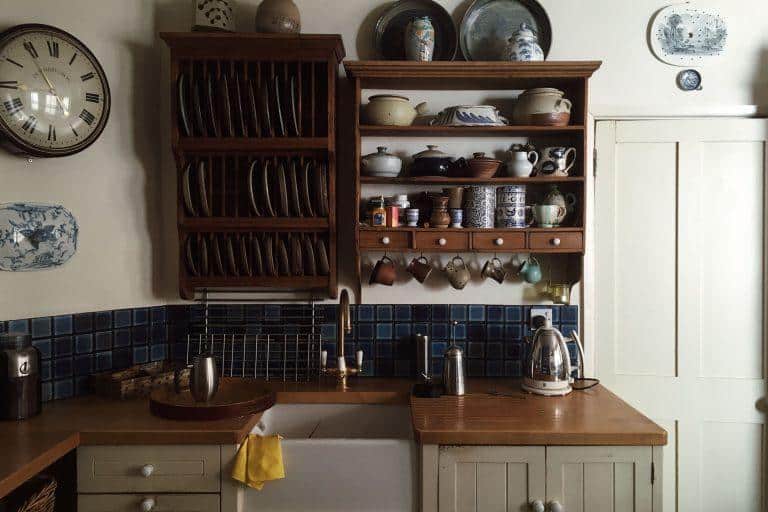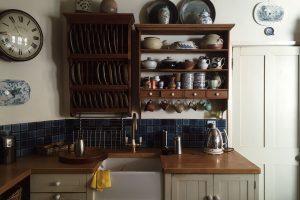 Before any remodeling can start, you need to arrange for living without a kitchen for at least a part of the time while remodeling is ongoing. Your best option is to set up a temporary kitchen in the garage or the dining room. You can have the worker move out your refrigerator, but you may have to make do with a portable stove and disposables to minimize washing. It is not easy using a bathroom sink to watch dishes if you have nowhere else to do it. If you have time, cook up a bunch of meals you can freeze and reheat when needed. You can eat out on occasion, but that is expensive. Accept as many invitations to eat with friends and family at their homes as you can.
Demo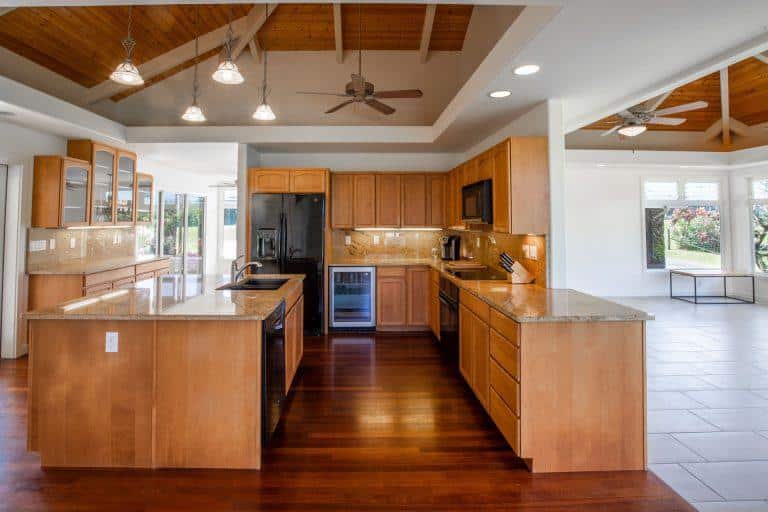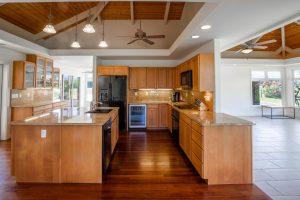 The first part of remodeling is usually demolition. After the work crew has removed appliances, they will start taking down cabinets and breaking down tiles, floors and walls. It is noisy and messy, and sometimes dangerous if there is lead paint and asbestos present. The good news is your contractor will handle disposal for those as well as any other debris, so you will not have to worry about that. You may want to be out of the house or at least wearing earplugs for the duration, however.
Build-out
Once what needs tearing down is done, the work crew will start on the structural build-out. This simply means putting up the frames for your new kitchen. Depending on your design, this can be simple or complicated. If you are putting in new windows or taking them out, for example, extensive framing is needed. When the work crew is done with the framing, you will see the skeleton of your new kitchen.
Rough-in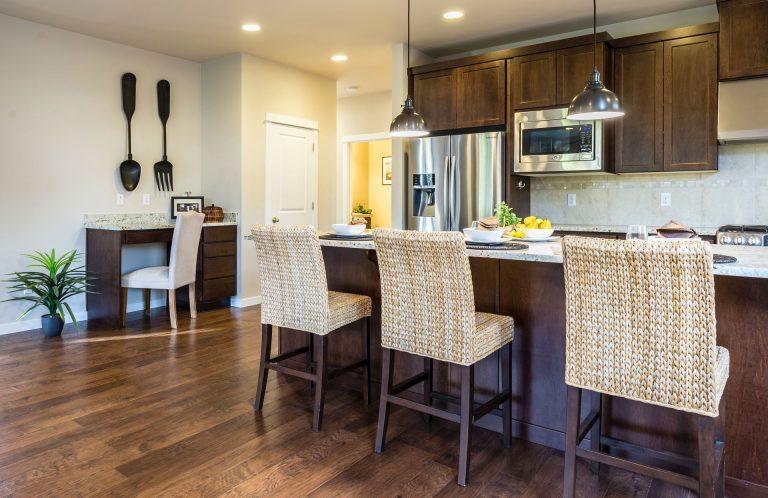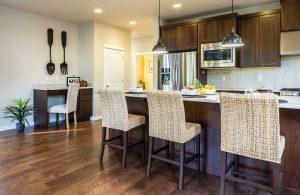 After the build-out, the crew will start the rough-in. This means putting in the plumbing, wiring, and heating-cooling ducts and vents. Licensed pros in different fields usually do the mechanical rough-in, and it can take a while. Plumbing and electrical wiring are particularly protracted processes because these may mean rerouting lines and perhaps creating new holes and trenches in which to lay them. Plumbing and electrical codes may actually mean going back to the source and installing all new lines. You will see these added complications with older houses, which tend to be not up to code.
Plumbing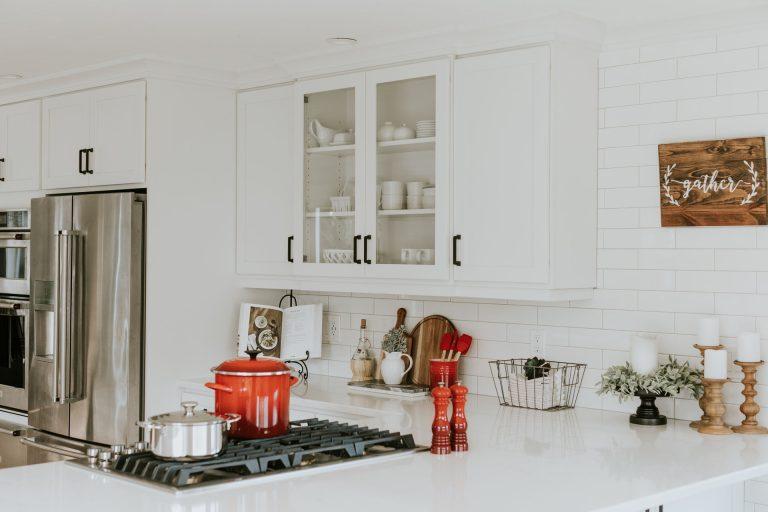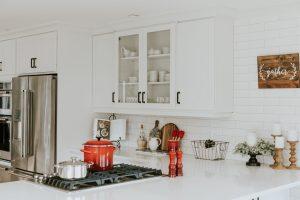 If you need extensive work on the plumbing, the next step is a plumbing rough-in. The plumber will put in new drain lines and reroute the water supply to where they are now needed in the new design. Even if your layout stays roughly the same as the old one, you may still need to replace old pipes. Once the rough-in is completed, the contractor will arrange for an inspector to come in to make sure the installation is correct and sign off on it.
Electrical wiring
The same thing will happen when extensive electrical wiring is needed. Appropriately called electrical rough-in, the electrician will check and replace old wiring and circuits to make sure they can handle the heavy loads needed for kitchen appliances. A typical kitchen today requires much more power, at least 200 amps. This is much more than back in the day. As with the plumbing, the contractor will arrange for an inspector to come in and sign off on the work.
Closing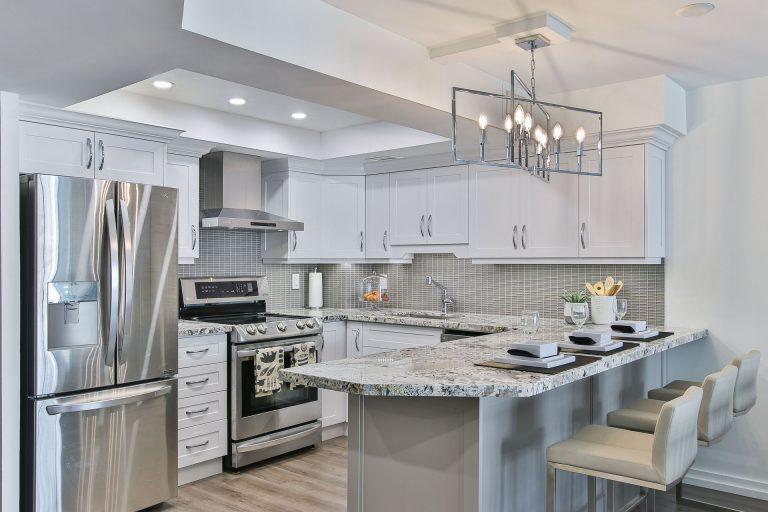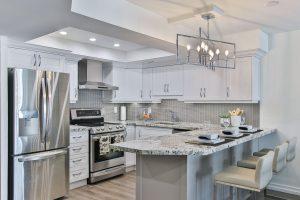 Once the rough-in work is done and inspected, the next step is closing the walls and ceilings. The contractor will put in insulation before putting up exterior walls to make controlling the kitchen temperature easier. Drywall will then go up, prepped, and finished with paint or other wall and ceiling treatment. This will go very quickly unless it rains, because drywall plaster has to dry before primed and painted. In most cases, the contractor will bring in heaters to speed up the drying process.
Flooring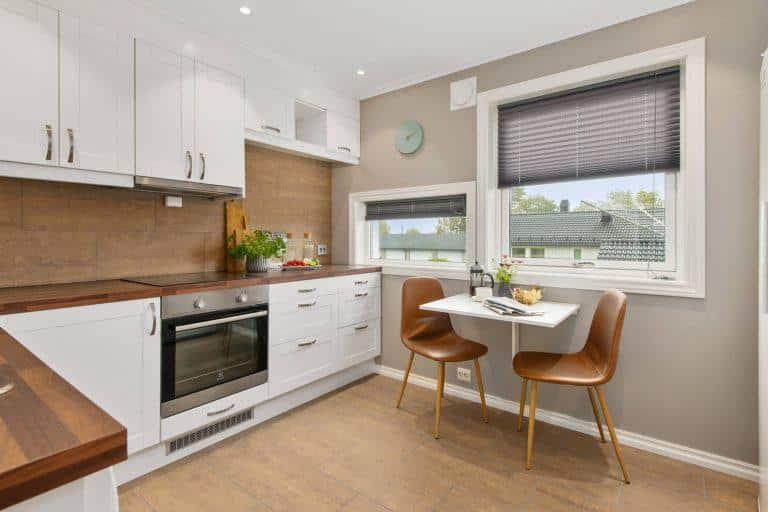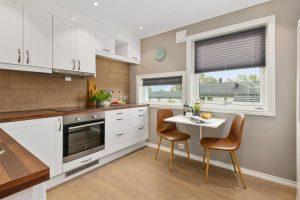 One of the last things to happen in a kitchen remodel is laying down the floor. In many cases, the old floor has already been removed, so the flooring specialists will clean and prep the surface for laying down the new floors. This can be stone or ceramic tiles, hardwood floors, or engineered wood flooring. This will take anywhere from three to five days, depending on the type of flooring you choose.
Cabinets and counters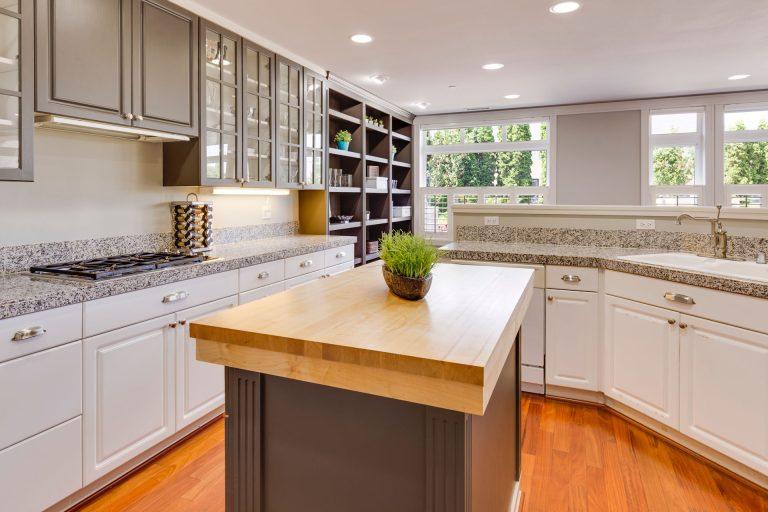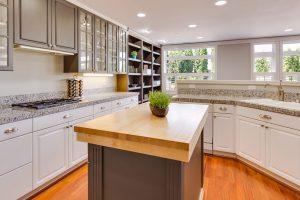 After the floor has been laid, sanded, and/or finished, you can now start putting in the cabinets and counters. If you chose stock or RTA cabinets, it is just a matter of a few hours to put them in for a professional installer. It will take a bit longer if you have custom cabinets. Once the cabinets are in, the work crew can put in the countertops and sink. If you chose stone countertops, these are prefabricated offsite, so they can go in quickly as long as the supports are in ahead of time. You can choose to put in countertops yourself, but this is harder than it looks. They have to be perfectly level, so you may have to put in shims. Stone countertops are also quite heavy, and require careful handling. The majority of damage to countertops happens during installation. Save yourself the expense and effort and have pros handle that one as well.
Final touches
The last things to happen are bringing in appliances and putting in fixtures. You can get much satisfaction in watching the crew putting your kitchen together, so make sure you are on hand for it. It is also a good time to make a final inspection of the work to make sure the contractor followed your agreement. Once everything is in place, test everything to make sure they are working before signing off and making the final payment.
Conclusion
A kitchen remodeling project can be a rousing success or a dismal failure. Knowing the basic elements of the process can help you achieve the former rather than the latter. Finding a reliable kitchen remodeler to do the work for you will make that a certainty. You will want to get in touch with GBC Kitchen and Bath. We provide free design consultation and cost estimates for any kitchen remodeling project. We service the DC, Virginia, and Maryland areas, specifically Alexandria, Arlington, Washington, Tyson, Vienna, Falls Church, Fairfax, Springfield, Burke, Bethesda, and Rockville and have showrooms in Rockville Maryland and Alexandria, Virginia.
When you contact us for your planned upgrade or remodel project, no matter how small, the first thing we will do is give you a free design consultation and quote, so you are already ahead without spending a dime. We can promise the best customer service, expert fabrication and installation, and speedy execution of any project so that you stay on budget and the project stays on deadline. You will never get that from big box stores.
Contact us today to get a free quote for your kitchen upgrade and remodeling needs.