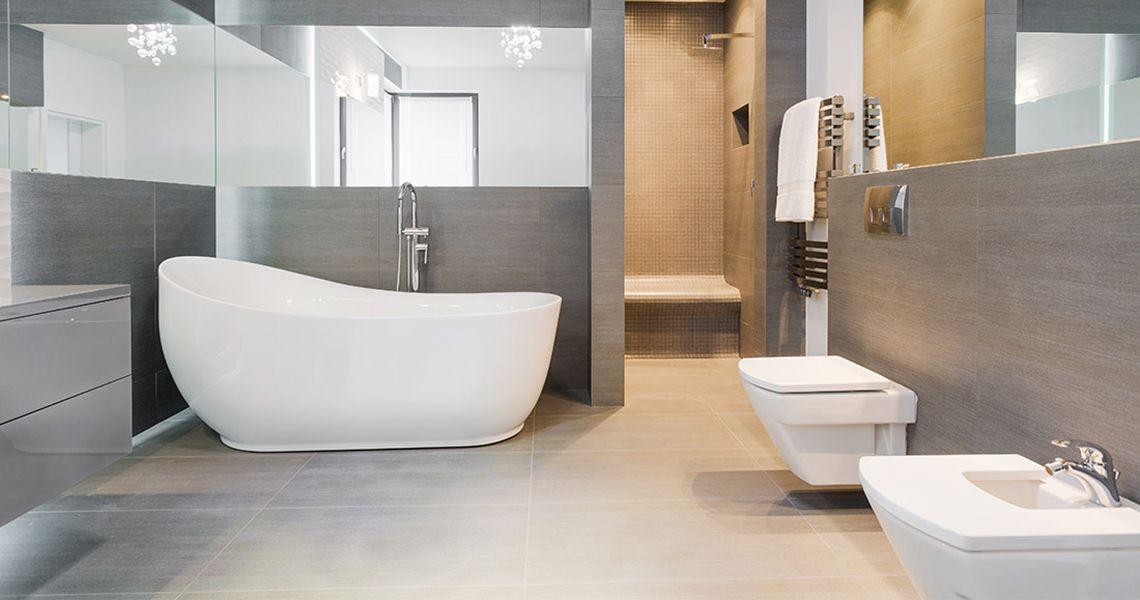 Taking Size Into Consideration When Remodeling Your Bathroom
A worthy bathroom remodel will take more than installing a new vanity, tub or toilet upgrade. Instead, you will want to consider how these elements might affect the available space. The choices you make when remodeling your bathroom should not just look good, they must also be practical. However, many homeowners struggle with the size and shape of their bathroom during the remodel. Fortunately, there are some things that you can do to ensure that you use the space you have to your advantage and still create the bathroom of your dreams.
The Bathtub and Shower
If you choose to replace the bathtub and/or shower, you need to keep size in the back of your mind. The location of the shower or bathtub may be changed if you are having problems with size, but remember, this will also add cost to the project, as the plumbing will have to be moved. It is also important to take into consideration what type of bathing feature you want. Stand up showers, bath and shower combinations or standalone tubs are all options, but you must have room for the feature you are interested in. This space must not only accommodate the bathtub, for instance, you must also take into account the space necessary to get in and out of the bathtub. One way to open a small bathroom up is to forego the bathtub and instead install a large shower. These showers can have a bench installed, too, which brings added convenience.
Toilets
At first glance, most people think that one toilet is no different than another. This, however, is certainly not true. Toilets come in a variety of shapes and styles, some sit higher than other toilets. The installation of a toilet is regulated, and building codes require that they must have a minimum of 21 inches of space in the front and there must be a minimum of 15 inches between the toilet's center to the wall or closest fixture. It is important that any toilet you choose meets these requirements, but it also must have the right look. Again, it is possible to install the toilet in a different area of the bathroom, but you will have to move both the vent and waste lines to make this a reality.
Sinks
Another size consideration that must be taken into account is the size of the sink. You might choose double sinks, a sink that is placed within a vanity cabinet or perhaps one that sits upon a pedestal. The double sinks are the largest choices, of course, and the pedestal sink is usually the smallest, so keep this in mind as you plan out your dream bathroom. The size of the sink will affect its placement, and when switching out the old sink for the new one, it can help to consider a similar sized replacement. If you want to have items such as hair product, makeup and shaving supplies nearby, you should try to choose a sink with a countertop, drawers or cabinets.
Shelves, Bars and Storage
Speaking of storage, you also want to plan for enough storage in the bathroom when planning a remodel. Items such as toilet paper holders, towel bars and shelving don't always come to mind . However, not planning this out ahead of time can put you in a sticky situation when you can't fit a towel bar within reach of the bathtub. Don't have room to store items you may use daily, such as toothpaste or hairbrushes. You monitor your bathroom use for several days. Start making a list of the items you need to access throughout the day. Once you have this information, you can easily plan this out when thinking about your bathroom remodel.
Other Bathroom Accessories
Finally, it is important to remember how space may affect things such as lighting and mirrors. These should not be left to the last minute, especially if you have a small bathroom design. Fortunately, it is possible to use these bathroom accessories to your advantage. For instance, adding a large mirror will make the room look bigger. Plan for this as you work out your plans. Lighting can also have an impact on size. Some lighting fixtures can make a bathroom seem larger or smaller than it actually is. The position of the lights can also have an impact on size. Hanging lights, for instance, take up less space than those that hang over the vanity.