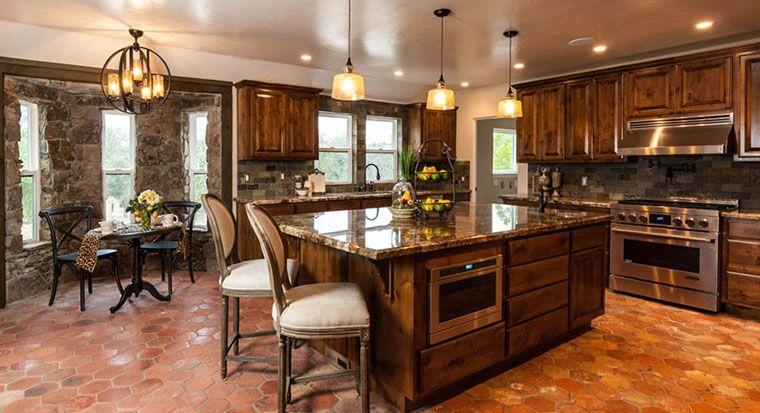 Why Choose Natural Stones for Your Kitchen Renovation
Advances in technology has opened up quite a few options when it comes to kitchen renovations. Engineered wood for cabinets and engineered stone for countertops are just a few of them. Some people swear these alternatives are better than natural materials for the kitchen.
This may be a reaction to how very popular they were once they became much more affordable to many more people with regular means. However, natural materials are still some of the best choices for a kitchen in terms of function and value. Here are some reasons why you should choose natural stones for your kitchen renovation.
Toughness

The best thing about natural stone countertops is its toughness. After all, they are stones. And they formed over a long time, typically under a lot of pressure. So, it is unlikely to fall apart in a home kitchen. Even marble, which has a reputation of being somewhat high maintenance, is actually quite tough. The surface may scratch and stain more easily than granite, but there is no actual damage to the stone itself.
However, it is true that marble does require a bit more care than granite, which is why granite is the top choice for many homeowners. Granite is super tough, clocking in at either 6 or 7 in the Mohs hardness, depending on the quartz content. Quartz is one of the hardest minerals in the world, and granite is at least 20% quartz, and maybe more.
Some granite slabs you may see commercially have much more quartz content, and these are technically not granite, but granitoids. True granite tends to be along the brown, gray and pink hues. Light and dark granite is actually gabbro or basalt. It doesn't really matter because they have all the best features of granite.
All natural stones are porous, although granite is much less so, which makes it easier to maintain. However, even marble will last much longer than any other countertop, floor, or wall material, and marble actually looks better over time. You know you will get value for your money immediately and a long time after your kitchen remodel.
Individuality

Natural stones have been the favorite of interior designers for many years, but that is no longer true. Many have switched over to engineered quartz because any model is readily available on demand, which is not true for natural stones. The rise of contemporary kitchen designs also requires materials with more consistency than you would find in natural stones, especially with granite.
That said, kitchens with granite countertops tend to be distinctive, because no two slabs are the same, even slabs that come from the same block. Some granite slabs have unexpected streaks or splashes of color that expresses an individuality that most homeowners love. This is the reason why granite and marble are always going to be in the running for top banana in the kitchen remodeling industry even as the hottest trends come and go.
Good looks

Whatever industry experts and designers may say, it doesn't take any heavy thinking at all to see that marble and granite are beautiful in their own way. Marble is delicate and elegant, subtly suggesting gracious living. Granite is equally beautiful in a more robust way. Some people prefer marble because it ages w ell and goes with almost any kitchen style. Others prefer granite because it has a bolder look and there is a wider range of color options and designs with which you can design around.
Flexibility

Designers like natural stones, especially granite, because they are flexible. They trigger a whole vista of creativity for combining textures and colors. Granite countertops, for example, have rich patterns and colors, so you can use it as a springboard for the rest of the room. Despite being rather bold, you can always find granite that will go well with any type of personality, from traditional to modern.
Generally, natural stones go well with other materials, from wood to concrete. If you choose the right one, it will look fantastic with ceramic, brass, stainless steel, and anything else you can think of. In fact, natural stones bring out the best in any material you can throw at it.
You don't even have to limit it to countertops. Marble and granite make great wall cladding, flooring, and backsplashes. You can also carry over the look in the living room, dining room, and bathroom by taking one key element and using natural stones for it. Both granite and marble work well outdoors (unlike engineered quartz), so you can even tie it in with the kitchen.
Return on investment

One of the things you want to consider when choosing materials for your kitchen remodeling is value for your money. Kitchen renovations are expensive, so you want to make sure anything you choose will give you good returns.
Natural stones last a very long time and still look great. They are also appeal to many homebuyers for when the time comes to sell. This is why many people continue to choose natural stones for their kitchens. Natural stones tend to be more expensive than most other materials, but it still makes a lot of sense to choose them because they increase the value of the home almost as much as you spend on a kitchen remodel.
Conclusion
Natural stones will always be a great choice for a kitchen renovation. However, it is not something you can do on your own. You want to get a reliable contractor to handle all of that for you, and GBC Kitchen and Bath is just the company you need. We have the experience, skill, and products from the top manufacturers and suppliers in the country to do the job right.
When you contact us for your planned kitchen remodel, the first thing we will do is give you a free design consultation and quote, so you are already ahead without spending a dime. We can promise the best customer service, expert fabrication and installation, and speedy execution of any project so that you stay on budget and the project stays on deadline. You will never get that from big box stores.
We guarantee the quality of our products, and you can see it for yourself in our showrooms in Rockville Maryland and Alexandria, Virginia. We service the DC, Virginia, and Maryland areas, specifically Alexandria, Arlington, Washington, Tyson, Vienna, Falls Church, Fairfax, Springfield, Burke, Bethesda, and Rockville,
Contact us today to get a free quote for your kitchen remodeling needs.