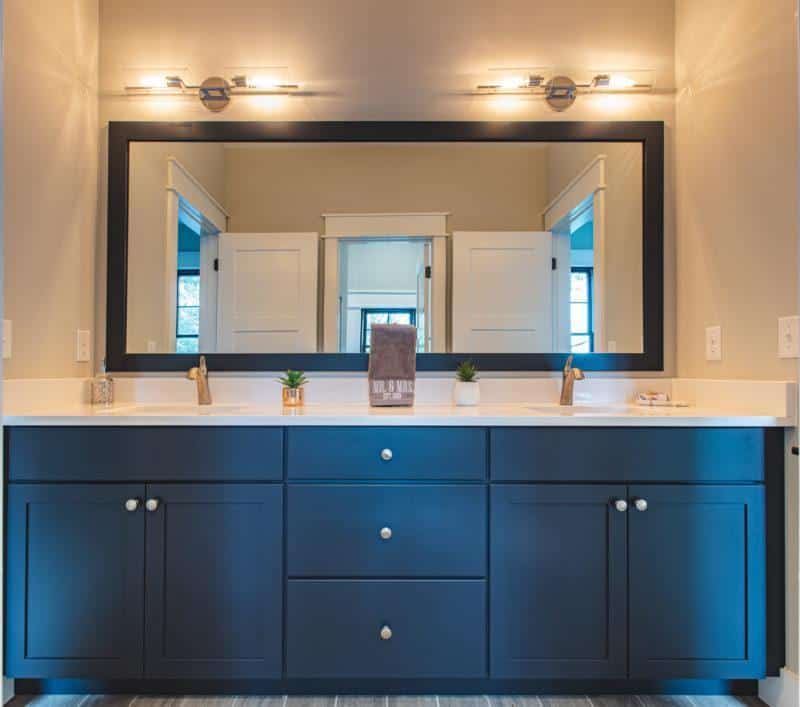 Admittedly, organizing your bathroom is no more fun than cleaning it. However, with the right storage solutions, you can make the most of it. When it comes to bathroom storage ideas, you have a lot of options to choose from and you must make sure to consider carefully and choose what suits you best.
Your bathroom plays a crucial role in your hygiene and overall well-being. Of all the rooms in your home, it needs to be exceptionally clean. For that, you need to ensure that there's adequate bathroom storage. With these bathroom storage ideas, you can make the most of your space.
Consider Using an Étagère
Installing an étagère is an excellent choice for optimizing bathroom storage. It saves you the hassle of having to drill unnecessarily into your beautiful walls for adding cabinetry.
 A sufficiently large etagere can provide up to six shelves' worth of storage space. Moreover, it will come in handy for you to organize your bathroom and add a character to it.
Add a Bar Stool in Your Bathroom
Remodeling your bathroom for storage may not always be feasible. In that case, you can get innovative and add in a handy bar stool. You can obtain additional space for storing accessories like toilet paper this way.
 Include a Shower Cubby
Using integrated storage with your shower is highly recommended while bathroom remodeling. It gives you easy and convenient access to items like shampoo. And apart from that, it also adds to the overall aesthetic look of your bathroom. A monochrome template will give a vintage look to your shower.
 Add a Fabric Skirt
This is a neat little trick for getting some quick extra storage space for your bathroom. Install a pleated fabric skirt near your sink, and just observe the effect. Not only will it give a more appealing look to the room, but it will conceal eyesores as well. And best of all, it is remarkably inexpensive and easy to put up.
 Utilize Trays to Store Smaller Items
Trays can be remarkably stylish and useful as well. You can use them to conveniently store items like powder, perfume bottles, and soaps. They will help you keep everything together in one place, properly organized.
Consider Using Baskets
Toilet paper, if not stored correctly, can get quite challenging to handle. Fortunately, baskets are a convenient and easily accessible method for getting that done. You can put all your toilet paper rolls in one basket and put it near the toilet. You will have easy access to it that way without it getting disorganized. 
Invest in Repurposing Old Furniture
Understandably, built-in shelves can be inconvenient to include at times. It could be due to rental limitations, high prices, or simply a choice of style. In that case, you could consider repurposing old furniture, such as an armoire for your bathroom storage. 
These vintage pieces can add a unique touch to your bathroom and provide additional storage as well while helping with your budget. You can even try combining them with apt wallpapers for an even better effect. 
Have a Good Look at Built-In Cabinets
Built-in cabinets can be luxuriously roomy and serve your bathroom storage needs very well. They will help you keep your bathroom clean and sparkling.
 Along with easy access to your items, they will also add to the aesthetics of your bathroom. There are several customized designs and templates for these cabinets for you to select. 
Throw in a Ladder
A wooden ladder propped against the wall can be a convenient hanging spot for your towels. It possesses more dimension than a regular shelf and looks pretty chic as well.
 Install a Shelf 
If you find your bathroom too cluttered, consider adding a shelf just underneath your sink. It can be a simple wall-to-wall floating ledge for quick access to your stuff. You can effectively use it for storing things like hand towels.
Go for Handle-Free Drawers
Speaking of shelves, a drawer is among the rather nifty bathroom storage ideas. This especially holds for those trendy, customized handle-free drawers! They can help you keep your bathroom clutter-free and clean. 
There's also an additional benefit in this case as well. Remember the excruciatingly painful burns inflicted by the iron while it is cooling down on the counter? You can keep aside a drawer for those as well. 
Consider Adding a Bar Cart
If you have a spare bar cart in the house, it can be right at home in your bathroom. Unlike custom shelves, bar carts are among the more mobile bathroom storage ideas. You can use one to store your towels, soaps, cosmetics, etc. 
You can even consider adding some perfume and fragrant flowers in there. That way, you are sure to leave a positive impact on anyone who visits!
 Add a Display Cabinet
Display cabinets, provided you can accommodate them, can be visually spectacular. They add another dimension to your bathroom aesthetics-wise. Besides, they usually come with bountiful storage space for you to utilize. You can use it to store everything from towels to item-containing baskets conveniently in them. If you choose to use baskets, make sure to label and segregate them accordingly.
Include a Spot for Your Reading Material
Yes, it's important to acknowledge this one. Just make sure that your magazines and newspapers are carefully out of the splashing range. A magazine rack will significantly come in handy for this purpose and it will also help to update otherwise dull corners of your bathroom.
Utilize Stacked Shelves
In case you start running out of space in your bathroom, there are some cool alternatives. You can put up three stacked floating shelves for ample storage space. Soaps, towels, cosmetics – they will all fit in comfortably there. You can put in some spare toilet paper inside a wire basket atop your toilet.
Don't Forget to Include a Narrow Alcove
Although it might appear to be a clumsy inclusion, an alcove can come in handy. You can install extra shelving in there later, according to your need. That will serve as a great bathroom storage idea for additional towels and cosmetic items.