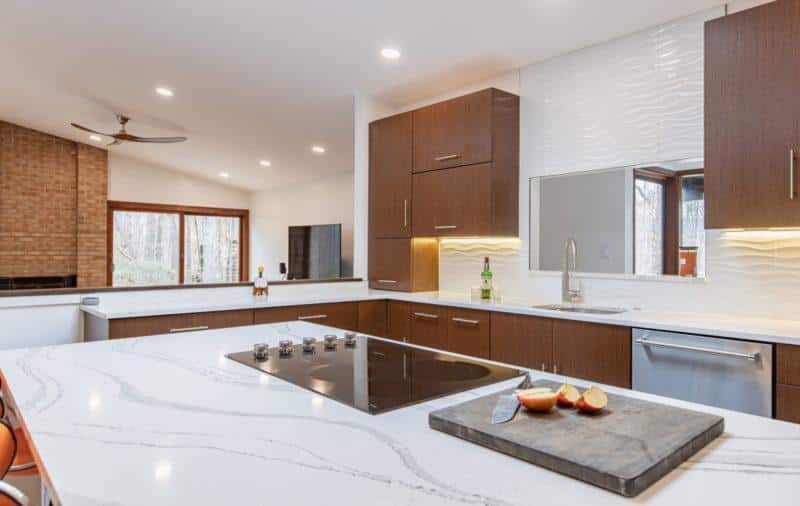 Do you want to remodel your kitchen but still afraid of how much it is going to cost? Well, that's a clear challenge with any remodeling project. Here's the rundown on the cost of kitchen remodeling in Alexandria.
According to Home Advisor, a mid-range kitchen remodel is approximately $25,100, higher or lower depending on essential factors. Moreover, they also estimate that a kitchen remodel will recoup 80 percent of its resale cost. So with the right decisions, you can easily recover most of your investment.
An upscale kitchen remodel, on the other hand, will cost $52,000 and more. Though it's a hefty jump in price, you will recoup about 91% of that on the resale value of your home. 
According to The National Kitchen and Bath Association, the kitchen remodeling cost breakdown is as follows:
Cabinetry and Hardware: 29%

Installation: 17%

Appliances and Ventilation: 14%

Countertops: 10%

Flooring: 7%

Lighting: 5%

Walls and Ceilings: 5%

Design Fees: 4%

Doors and Windows: 4%

Faucets and Plumbing: 4%

Other: 1%
However, these numbers are guidelines and not rules. Remember, no two projects are alike. One homeowner can spend 40% of the budget on groundwork, 25% on cabinets, and 10% on countertops. The other decides to spend 25% on appliances instead of cabinets and opts to refinish the cabinets instead of replacing them. 
In the end, your budget allocation will depend on you, your location, and your finances. Besides, you can use these guidelines and insights to help illustrate the right way to approach kitchen remodel costs.
Low-Range Refresh ($5,000 – $18,000)
The cost of kitchen remodeling in Alexandria can run quite high. However, it is possible to make simple changes and refresh the setting without denting your wallet. One easy way to do so is to stick to budget kitchen remodel ideas to avoid high labor costs. 
Typically, homeowners choose to —
Replace their countertops ($3200 – $5200), 

Refurbish (paint and stain) their cabinets ($900 – $2350), 

Replace plumbing fixtures ($800 – $1250),

Lighting exchanges or upgrades ($359 – $1000), and

Change: Flooring ($500 – $1500)
Mid-Range Refresh ($20, 000 – $38,000)
This range of cost of kitchen remodeling is probably the most popular; you have enough financing to include a designer, do some DIY, and hand over the rest to the pros. You can stay in this price-range by maintaining the original structure, replacing the dated items, and installing new, improved ones.
Generally, homeowners in this category choose to —
Add efficient and stylish cabinets ($6000 – $12000)

Upgrade Kitchen Countertops ($2000 ( $5400), 

Upgrade to Energy-efficient Appliances ($2800 – $7600), 

Install Modern Light Fixtures ($1200 – $2500), 

Replace sink, hardware, and faucets ($2000 – $5400), 

Refresh the ceiling and walls with paint ($300 – $1300), and

Accent tiles over the backsplash ($500 – $1500)
High-End Refresh ($52,000 & onwards
) 
Did you just buy your home with your dream kitchen? Are you planning to give your kitchen a complete makeover according to your lifestyle? 
Once you've settled down, put together a scrapbook/ mood board of everything you like offline and online. Build a digital design plan, and research everything about the cost of kitchen remodeling in Alexandria. Because of the complex remodeling changes, you'll need to lot your budget carefully. 
Change the floorplan, open the space ($ varies) 

Relocate existing windows, fixtures, vents ($ varies) 

Upgrade to Custom Cabinets ($20,000) 

Create workstations, not just countertops ($7,500-$11,200)

Upgraded custom appliances (13,000)

Vintage/Metallic hardware and sink ($2000 – $3000) 

Eco-friendly flooring options or heated floors ($3800 – $6400)

The pendant or Artsy Light Fixtures ($3200)