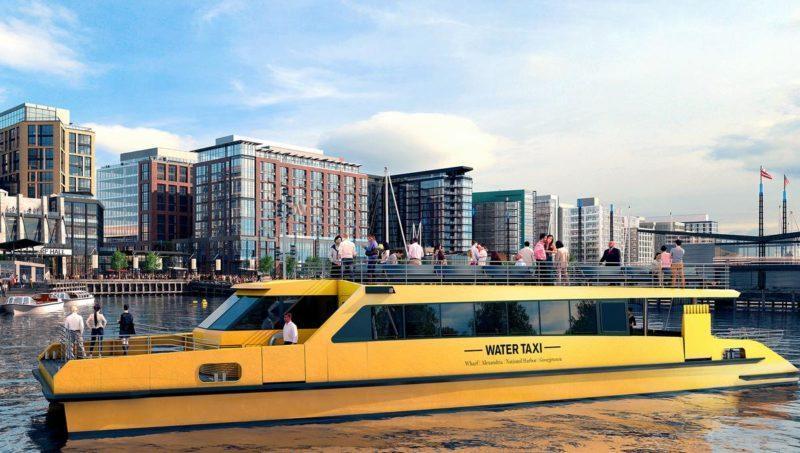 Alexandria's water taxis will soon have approval by the Alexandria City Council to increase the frequency of trips in the morning.
Following approval by the Alexandria City Council, the Potomac Riverboat Company (PRC) is now making final preparations to advance the workdays' first service to District Wharf from 6:40 a.m. to 6 a.m. And with it, there will be just another traffic-free ride available for Alexandria and Arlington commuters who want to be in their offices on time.
For Council member Del Pepper, the earlier morning commute will also contribute to making both cities on either side of the river more livable.
"I think it's a great idea. The more ways we can find to get people off our cement streets, the better," she said following the Council vote on the proposal last week.
PRC's large yellow water taxis have operated on the Potomac for over three decades. Its fleet currently consists of eight catamarans. Each of those vessels can reach a speed of some 25 miles per hour and carry 120 to 150 people at once. With that performance, the trip from Alexandria to Wharf takes about half an hour.
The company offers three more round trips, albeit less frequently. They are Georgetown-Wharf, National Harbor-Wharf and Alexandria-National Harbor. PRC also offers sightseeing tours and private charters. Its full schedule and spectrum of services is available on its website.
Alexandria's Water Taxis Growing in Popularity
That they offer a convenient daily commute alternative has allowed water taxis to speedily grow in popularity. That is particularly true for the past five years when its ridership has almost doubled to over 300,000 per annum. Last year alone, PRC saw a 50% higher demand for such services. It is owned by Hornblower Cruises and Events.
"2019 was our best-ever performance. We are now offering more frequencies from morning through evening to cater to the broad range of customers who use our services," said Mary Rinaldo, a vice-president for Horblower, in a March 3rd report.
Benefits of Water Taxis for Alexandria Commuters 
Water taxi ridership is characterized by commuters who choose to spend as less time as possible in the traffic and help sustain the environment in doing so. Alexandria authorities, for instance, have found that about 85 percent of commuters either walk or bike to the docks.
PRC is well aware who their customers mostly are. Accordingly, it allows riders to bring their bikes aboard half its vessels that feature bike racks. Availability, however, is subject to number of passengers and bikes onboard. Not only enjoying but also challenged by the growing demand, therefore, the company currently looks into proposals on how to offer the best mix of services.
For a one-way trip, water taxi tickets start at $13 for adults and $9 for children. They are available for online purchase from $21 and $15, respectively, for round trips. Prices increase by $1 each at kiosks. What regular riders prefer, however, is a season pass valid from March to December on all water taxis for $225.