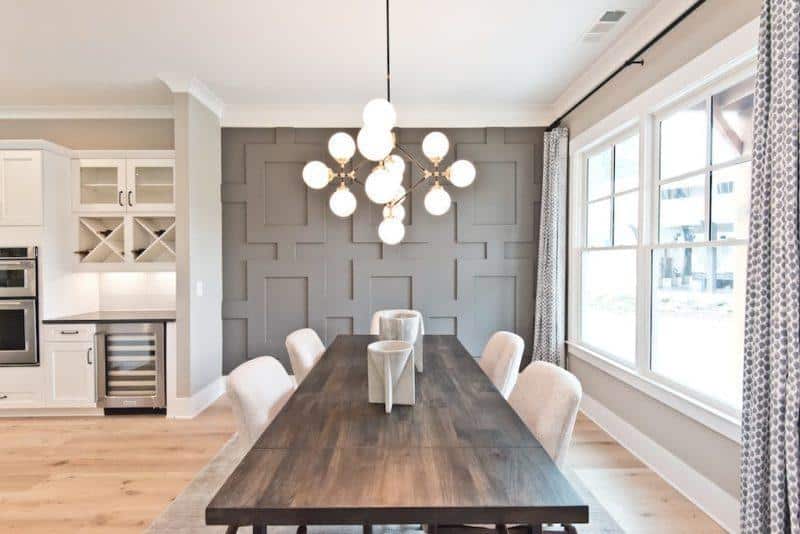 The start of a new decade in 2021 calls for a revival in home design trends. If there had to be one perfect opportunity for you to change things up in your home, it's now. Every year witnesses a change in home trends and 2021 is no different.
Want to get a head-start on your design inspiration? These trends will define home trends in 2021.
1. Non-White Kitchens
All-White kitchens have pretty much been dominating the 'kitchen inspiration' boards across Pinterest accounts for many years. Yes, they do have their charm. But the thing is that all-white kitchen design has been the front runner for many years. It's been so overdone that it's starting to become an eyesore.
So, with the onset of a new decade, things are changing. Trends suggest a more colorful shift to kitchen design. More and more homeowners are opting for bold and beautiful kitchens. It's not just about color, though. It's also about introducing different elements.
For instance, natural wood cabinets, shelves, etc. are gaining popularity. Similarly, more and more homeowners are adding varying levels of color in their kitchen. This is what brings us to our second trend.
2. Colorful Cabinets
From all-white kitchens to colorful cabinets, we've unquestionably come a long way. If you are someone who feels that an all-white kitchen is too dull for you, 2021 is the year for you! A pop of color is all you need to liven up your kitchen.
For instance, you can opt or bright and bold colors like blue, dark red, green, etc. for your cabinets. And let's tell you, colored cabinets are a hot commodity right now. While many homeowners have shielded away from it in the past — the new decade is undoubtedly inspiring people to experiment more with their decor.
3. Sit-In Bathrooms
Bathrooms are not just for utility anymore. The focus has shifted on creating a private sanctuary within our homes. It makes even more sense to crave some space since most of us are stuck at home with family members in close quarters due to COVID-19. The need for a retreat within one's home has only amplified since the lockdown.
How can you achieve this? Trends suggest that more and more homeowners are opting to create a spa-like ambiance within their bathrooms. You can accomplish this by creating sitting spaces like a bench or even a window seat.
Why would you do that? The goal here is to create a sitting area so that you can spend some (much wanted) moments of solitude in your home, pondering over things.
4. Floating Vanities
Whether you live in a sprawling ranch-style home in the suburbs or an apartment in the city, space is hard to come by. It's this space constraint that has shown the exit door to large vanities and replaced them with more modern floating vanities.
Floating vanities are practical, save space, and give your bathroom a more contemporary look. The popularity of the floating vanities is also due to the rise of a 'minimalist' aesthetic. While this trend may still be 'sinking' in, it is undoubtedly a favorite for 2021.
5. Flaunt Your Powder Rooms
Speaking of bathrooms, you cannot ignore the importance of powder rooms. Earlier, the focus of powder rooms was to keep things simple. However, things are changing. More and more homeowners are opting for a bolder look.
Yes, wallpapers are making a comeback, and they're bolder than ever. Large-print wallpapers covering the entirety of the powder room is a trend that's quickly gaining favors in 2021.
6. Formal Dining Rooms
Powder rooms aren't the only rooms grabbing attention in 2021. While previous trends suggested that 'open dining' is a common phenomenon, that's not the case anymore. Yes, eating at your breakfast counter or merely grabbing a chair in your living room may still be prevalent. However, formal dining rooms are making a comeback.
Formal dining rooms used to be the focal point in many homes, but saw a decline in popularity a few years back. However, just like many home trends, homeowners are gravitating back to this old trend as well.
One of these trends is designing and assigning formal dining rooms. Not just that, homeowners aren't afraid to go as extravagant as they want to highlight the importance of the dining area.
7. The Rise of Sustainability
From a sustained trend to the trend of sustainability, homeowners are becoming increasingly aware of the ecological impact of their choices. The past few years have seen a rise in environmentally conscious consumer decisions, and the home remodeling industry isn't an exception.
More and more households are incorporating design elements that have a lower carbon footprint and are deemed sustainable. Many states in the US also reward homeowners who have an eco-friendly house. In fact, in many ways, the government can pay for the remodeling. At the same time, design choices are leaning towards earth elements too. This includes warm tones and rustic elements.
8. Stay Away from Trends
Individuality and personality are focus keywords for 2021. It's time to say goodbye to cookie-cutter designs and embrace the inner artist. As counterintuitive as it may sound, the most significant trend in 2021 is not to follow home trends. Let us explain.
Individuality is the cornerstone of design. Most of the trends listed above are about re-inventing an old trend. They are also about rejecting something that's known as an 'acceptable standard.'
In Conclusion
2021 has seen a rise in very familiar, yet unique home trends. These trends are here to stay. If you want to get an edge on your remodeling plans, it's a good idea to keep these trends handy. From bright colored cabinets to quirky décor — every design element in 2021 comes down to one thing: personality. The biggest trend in 2021 is to show your personality rather than shy away from it. Do you like navy blue cabinets? Go for it.
Staying off trends is the biggest and most widely accepted home trend for 2021 and the years to come. That being said, it's up to you to decide the amount of 'personality' that you want to inject in your design. It can be anything from your favorite colors as the base theme to your living room wallpaper.