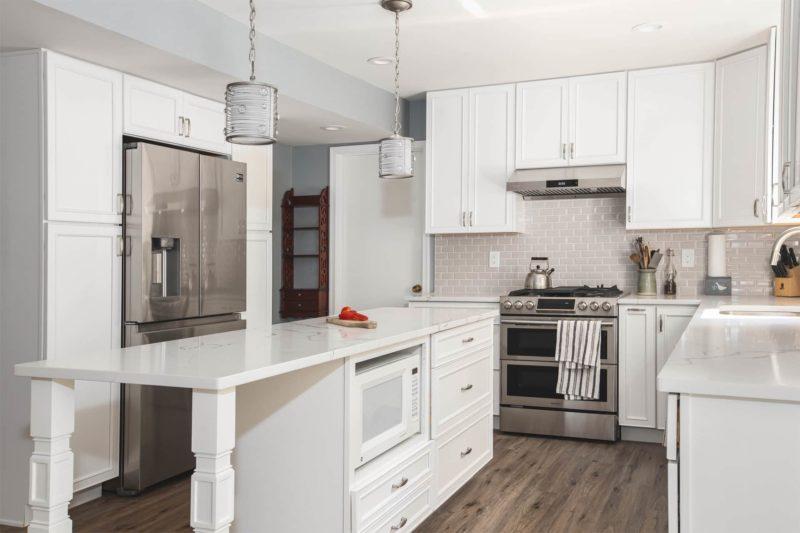 If you are planning to update your kitchen, you are probably wondering about the length of a kitchen remodel as well. Kitchen remodels tend to be complex because there are lots of design elements to decide on, and lots of issues could arise, such as plumbing and electrical, to name a few. 
The length of a kitchen remodel, the short answer to this is that it depends. The timeline depends on several factors. For instance, your budget, the size of your kitchen, scope, and structural work like plumbing and electrical.
Still, here's a more in-depth look at a typical length of kitchen remodel and other things you need to consider during your remodeling project.
Average Length of a Kitchen Remodel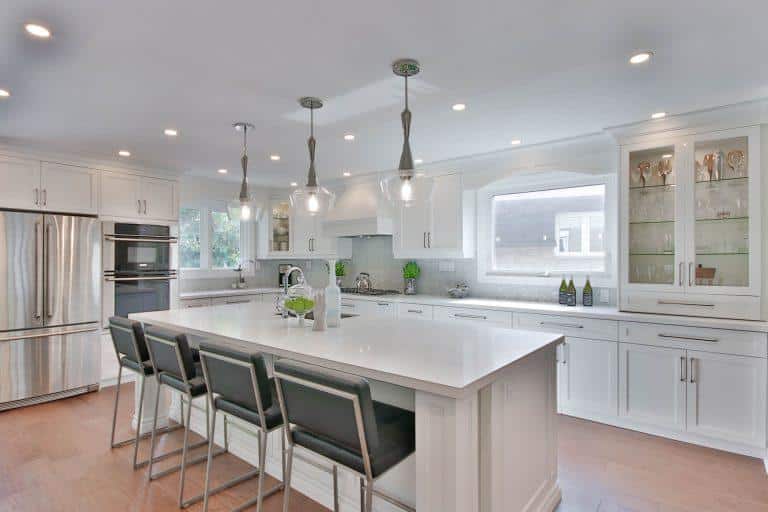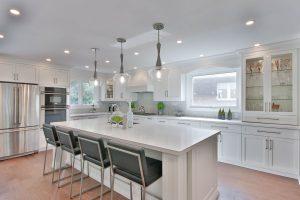 Every kitchen remodel project is different. However, the average length of a kitchen remodel is between 8-12 weeks. Further, smaller remodels can take less time, and larger or more complex projects that include a whole house renovation may take almost a year or so.
To get a better idea of the length of a kitchen remodel, you will need to look at the timeline. Here's a general kitchen remodeling timeline showing the different stages of the process, from start to finish.
Furthermore, some remodels might involve other tasks within these stages, but here are the main steps.
Step 1: The Planning Process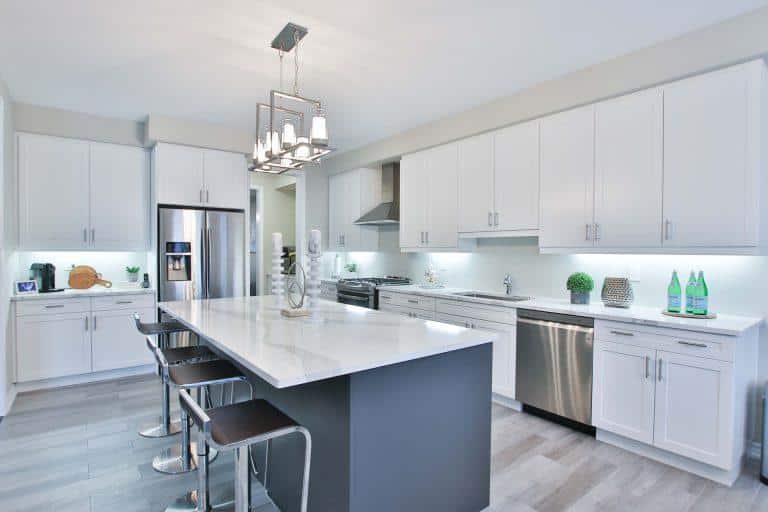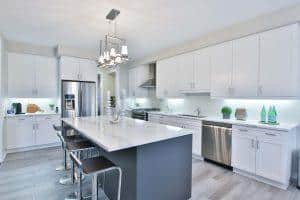 Before you begin remodeling your kitchen, you will need to plan your kitchen and think about your budget and permits you might need.
The planning process can take a while, mainly if you are unsure exactly what you want from your kitchen. Besides, there are so many different design options to make it difficult to decide.
However, take your time with this planning state and engaging an experienced contractor or a remodeling company to help you through. A well-thought-out kitchen will be both functional and beautiful and ready for years to come.
There is no easy answer to the question of how long it will take to design a kitchen. You are going to invest time and money into your kitchen remodel, so you don't want to rush things.
Deciding a Budget
The primary thing that is going to determine what you can do with your kitchen is the budget. Therefore, work out how much money you have got to play with. Furthermore, you should allow a 10-15% financial safety cushion for unexpected surprises during the remodel.
Consulting a Professional Kitchen Designer
Once you have your ideas straight and know your budget, it is time to contact a professional. Of course, depending on your needs, it is highly recommended to hire a professional kitchen remodeling contractor near you.
Check Local Permit Requirements
If your kitchen remodel project involves plumbing, structural, or electric work, you might need to apply for a kitchen remodel permit. Again, your contractor will be able to advise you better whether you need to do this or not, and if you need a permit, they can take care of the application for you.
Step 2: Placing Orders
This stage is the beginning of the actual kitchen remodeling process. You will work with your contractor to make final decisions on items like materials and appliances.
If you are having a complete overhaul of your kitchen, you will have to order cabinets, tiles, flooring, sink, taps, and appliances. However, this stage can take a while as some parts may take several weeks or even months to manufacture or arrive.
Step 3: Demolition and Preparation
Your cabinet installer cannot start working until the old cabinets have been ripped out. This stage involves stripping your kitchen back to walls so that the room is a clean slate for remodeling in full remodels.
If your kitchen is small and doesn't involve moving walls, this can take a few days. But if there is a lot to do and walls to demolish, this stage could take two to three weeks.
Safety Inspection
Your builder will need to ensure your kitchen is safe, so they will assess the structure of your kitchen before removing walls or cabinets. Further, they will make sure all water, electricity, and gas are shut off before demolishing.
Step 4: Construction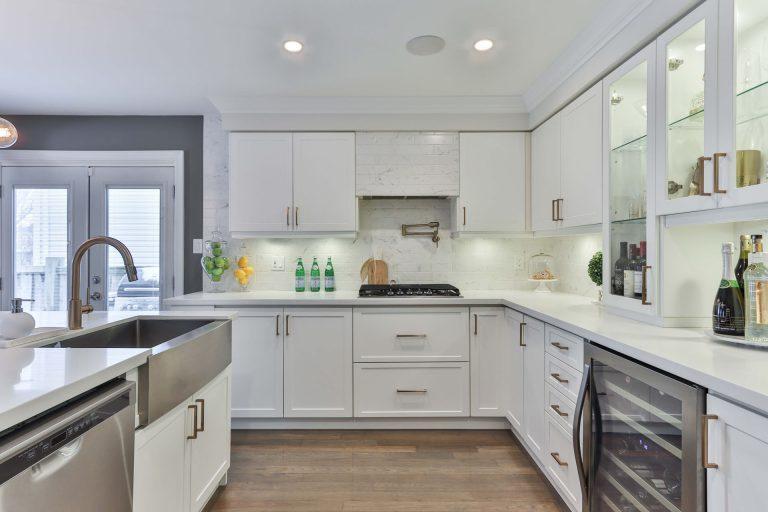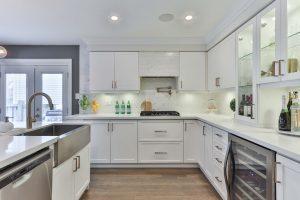 This is the final stage of your kitchen remodeling project, and this stage takes the most time. Besides, there are several different steps within the construction stage, but now you will start to see it coming together.
The construction stage usually takes a month or two to have a fully functioning and remodeled kitchen.
Plumbing and Electrical Works
If you are changing the location of your sink, or appliances, you will need to have plumbing and electrical works done. Besides, this can include sorting electricity for your lights. 
Once this work is complete, you might need to have this inspected, to check it is safe and meets regulations. This step should take only a week or so, as long as you have booked your plumber and electrician in advance. 
Installing Flooring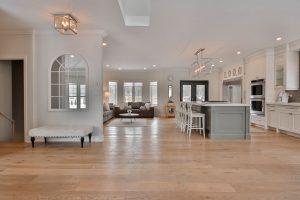 Most flooring is installed after cabinets unless you have wooden flooring. Kitchen flooring can take anywhere around a couple of days to a week, depending on how big your kitchen is.
Installing Cabinets
Your kitchen cabinets are one of the important features of your kitchen, so this stage is all about achieving perfection. Installation time for cabinets is around two to three days, depending on the size and complexity of your kitchen. 
Lighting
Your cabinets are in, and your flooring is complete, so the next stage is lighting up your kitchen. You should already have had the electric work done, so it is just a case of fitting the lights.
This won't take longer than a couple of days. If your kitchen has already been prepared for lights, you can easily do it within a day. 
Installing a Backsplash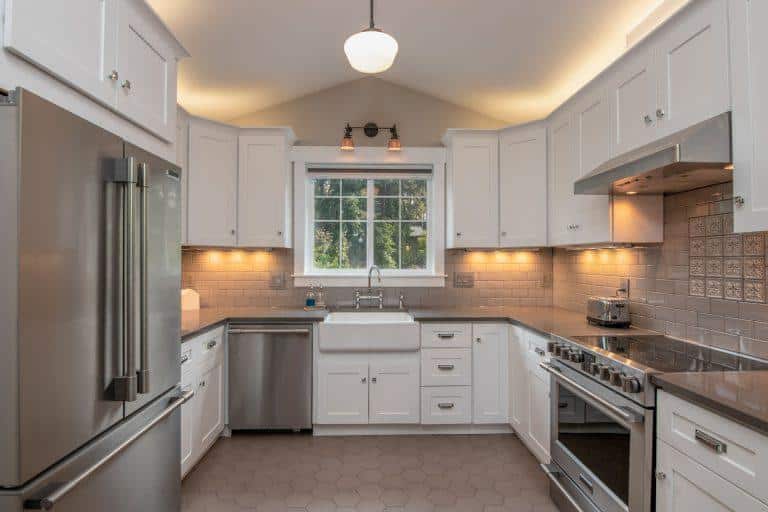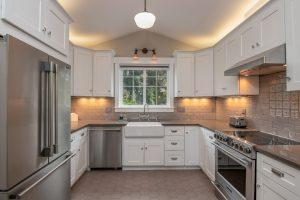 Depending on your selection of backsplash, the time frame for this could be anything from one day to two weeks. If using tiles, this is generally done within a day. In contrast, if using stone, this could take up to two weeks during your kitchen remodel.
Installing and Checking Appliances
The rest of your kitchen is in, and you are free to move your appliances to their new home. After this stage, your kitchen remodel is almost done.
Your plumber and electrician will have to connect the appliances. Make sure you protect the new floors and walls from scratches while moving appliances in. 
Final Touches
You have now installed everything, and your kitchen should be looking great. The final touches include adjusting any cabinet doors or drawers, applying paint touch-ups, finishes, and adding decorative details.