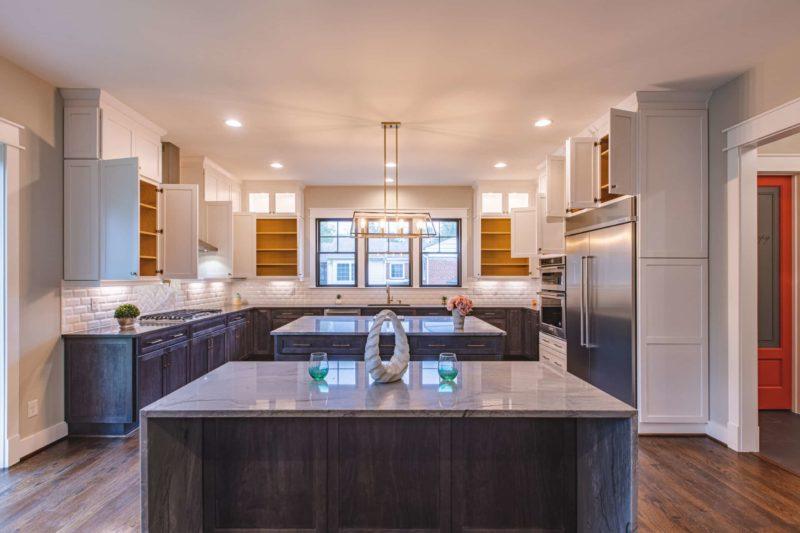 There are thousands of possibilities for your kitchen design. If you've ever Googled " kitchen remodeling or kitchen designs," you might have come across some noticeable collections of trendy kitchen ideas. One such idea is the transitional kitchen design.
There are traditional, modern, contemporary, transitional, and many more styles that you can incorporate in your kitchen design. Today, our focus is the transitional kitchen design. Let's look at transitional kitchen design tips you can use to transform your space. 
Transitional kitchen design generally is a mix of neutral colors with bold accents, luxurious minimalism, timeless textures that are simple and solid. Yes, that's how descriptive it is. 
A well-designed kitchen can be truly impactful with the rest of your home. And if choosing between masculine and feminine touch is a no-go, you can go for transitional style kitchen design. 
They also feature the best of both worlds. You can include contemporary styles as well as traditional accents to elevate the space. Here's a breakdown of a few wholesome transitional kitchen design tips to include in your next remodel. 
Elements of Transitional Kitchen Design
A transitional kitchen design comprises various elements that set it apart from the rest of the kitchen designs. A basic framework of contemporary and modern features paired with traditional/farmhouse accents. 
For instance, using geometric patterns or clean lines in countertops, cabinets, backsplash design is key here. You can add a rustic vibe by installing industrial lighting or long pendant lights. 
A classic example of a transitional kitchen design is to have the same backsplash tiles all the way to the ceiling. The use of white hues is dominant in this type of kitchen. With neutral color tones and bold earthy accents, you can bring the entire design together. 
Here, you don't want to make everything stand out. Focus and invest in a few pieces that can take the cake. At the same time, the rest can blend everything in place.
Cabinets
The right cabinet enhances your kitchen and keeps your house organized. In a transitional kitchen, shaker style or recessed door cabinets are quite the theme. 
Use a neutral color palette like white, gray, or light tan for your cabinets. You can also choose bolder, darker accent colors for your lower cabinets or exposed shelves to make a statement. 
Similarly, adding a splash of color is a great way to enhance a transitional kitchen's beauty. On the contrary, whether you're anticipating a full kitchen remodel or just need a quick change in environment, replacing your kitchen cabinet hardware is a great way to spice up your kitchen.
If you had a traditional kitchen, refinishing the cabinets with neutral colors and adding metallic pull handles is a great way to tie the whole space together.
You can also choose oil-rubbed bronze to evoke an old-world country kitchen glam or a soft copper undertone for an antique appearance. 
Countertops
While the cabinets are looking fresh, it's time to look for a beautiful, durable countertop. Add an element of nature/natural material to bring your transitional kitchen into cohesion. 
Whether you prefer granite or Neo-classic marble, there's a variety of countertop surfaces to choose from. But the preferred choice when looking for countertops is – marble, granite, or limestone surfaces. 
When it comes to natural stone countertops, there are no two pieces alike. They are timeless and a gorgeous addition to your transitional kitchen design. 
Another transitional kitchen design tip is to not forget about the edges. While square edges are popular, round edges might be a safer bet if you have kids or toddlers.
Fixtures 
Sinks
Your kitchen sink endures a lot — dirty dishes, heavy scrubbing, and soap buildup. That's why you should consider quality, material, size, and mounting types when picking out a new sink. 
A transitional design can also include various sink styles, from quaint farmhouse models to contemporary stainless steel looks. 
If you have quite a traditional farmhouse design, a stainless steel sink and appliances can be a good transitional kitchen design choice. Stainless steel sinks are popular in contemporary and transitional kitchens. 
They have a polished look and are scratch-resilient. They're even a popular choice for household cooks and chefs, too.
On the other hand, if you're opting for contemporary and modern design in most of the kitchen, installing an apron sink can be an aesthetic choice. 
You can also go for a roomy addition to a contemporary kitchen, like the classic "farmhouse" sink, aka the apron-front sink. This type of sink has a deep basin and an apron-like front, which adds a rustic charm to your kitchen design.
Faucets
A quick transitional kitchen design tip is to update the faucets while remodeling your space. A faucet can add a beautiful touch and function to your kitchen design.
A transitional faucet blends the rounded shapes of transitional design with the clean lines of contemporary design — e.g., a low-arc copper or gold undertone faucet with a bell-shaped spout head or a clean-lined, high-arc faucet.
Decor and Smart Storage Solutions
Do you have a few signboards, antiques, flea finds, trip souvenirs, and more waiting to be displayed? With the help of floating and exposed shelves, you can feature your prized possessions right in your transitional kitchen design. 
Open up your kitchen with floating or exposed shelves. If you want to save up the much-needed wall space, you can choose these narrow shelves that are bound to stand out without taking up much space. 
They are also available in a variety of colors and styles. Adorn them with vases, canisters, bowls, and candles work well with these shelves.
Once you have your kitchen ready, it's time to think about organizing. Here's how you can take advantage of precious kitchen space via cabinet storage.
A transitional kitchen consists of wicker baskets, wire racks, tiered spice racks, and more. You can create storage space out of thin air with wire racks. They work effortlessly to store bulky items, boxes, antiques, cleaning supplies, and veggies.
You can even maximize your storage by utilizing available corner space. Add Lazy Susans and swing-out shelves to store accessories, pots, pans, and other food items. You can even layer them on top of each other for added storage space.