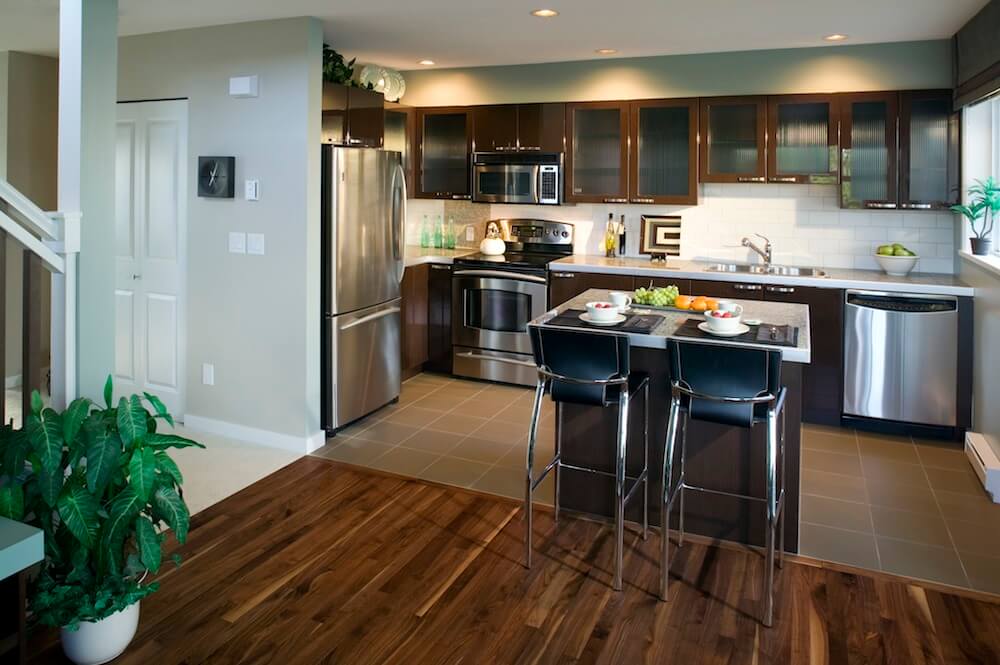 Planning a kitchen remodel involves a lot of moving parts. One such moving part is the kitchen remodeling cost. After all, you need to plan your kitchen remodeling budget in order to plan your financing and begin your kitchen remodeling process.  
The average cost to remodel a kitchen is between $6000 – $32000. On average, the remodel can vary between $100 – $400/ square foot, depending on the size and length of your remodel. 
Kitchen Remodel Cost Breakdown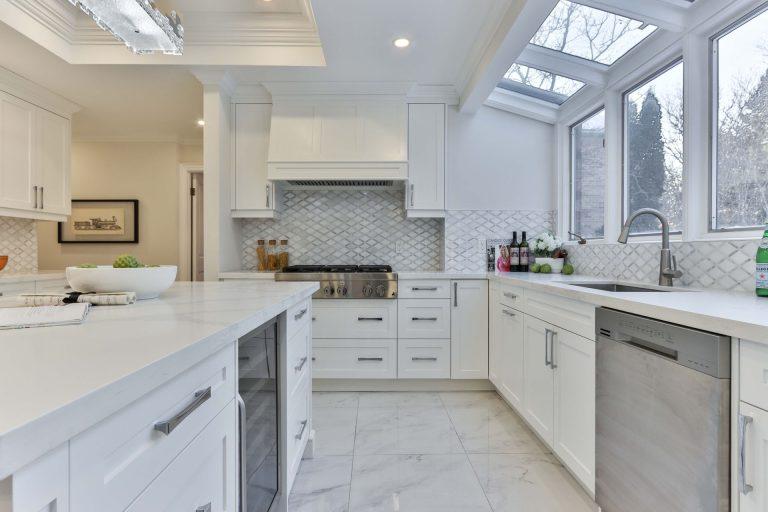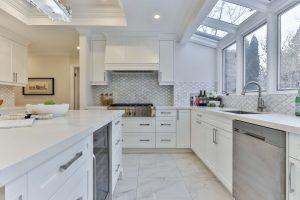 Consider each phase of your kitchen remodel carefully before rushing into a complete renovation. Here's a rough rundown based on the average budget (%). 
Cabinets & Hardware: 24%

Appliances 19%

Countertops 15%

Demolition 1-3%

Doors, Windows: 4%

HVAC: 4%

Walls, Ceilings, Trims: 3-5%

Design Fees: 4%

Electrical and Lights: 6% 

Plumbing, Faucets, and Fixtures: 8-9%

Flooring: 5-8%

Paint: 2%

Miscellaneous: 1%
Similarly, the scope of your kitchen remodel will also dictate the kitchen remodeling costs: 
Average Costs: $16,600

Low-range Cost: $6000

Mid-range Cost: $12,500

High-end Cost: $32,000
Typical Cost Breakdown
Here's a breakdown based on what a typical kitchen remodel costs. You can estimate yours based on the features and alterations your kitchen requires. 
Cabinets: $9250

Countertops: $2750

Appliances, Electrical, and Plumbing: $2750

Walls and Decor: $750

Floor Covering: $1750

Labor: $8250
Important Questions To Answer Before You Remodel
Each kitchen remodel is crucial and unique to you. But, before you get down to the nitty-gritty, you need to ask yourself some of these questions. By doing so, you'll be able to gather a clear understanding of what you want out of this remodel. 
Are you happy with your existing layout and plumbing? 

Do you have to replace your old appliances?

How will your kitchen look post remodeling? Why and what major functional changes do you require? 

Do you want to consult a real estate professional or interior designer for guidance before making any major changes? 

How much are you willing to spend? 

Will you require professional help? 
#ProTip
You should spend anywhere between 5 to 12 percent of your home's value to remodel your kitchen to gain the maximum return on investment.
Costs To Redo A Kitchen
So are you planning to upgrade a few elements instead of renovating the kitchen? Well, that's certainly a great way to add value and minimize the hefty kitchen remodel costs. 
Re-doing your kitchen has a lot of perks and will be great to enhance your way of living. So, how much does it cost to redo certain aspects of your kitchen? 
Here, you'll be paying more for the products and services to add comfort and increase your home's value without spending much. Let's look at the average cost of a few remodeling aspects. 
Repairing Electricals: $2500 – $4000

Faulty Plumbing: $2000 – $3000

Reface Cabinets: $1000- $4000

Install Countertop: $900 – $4000

Repaint Walls: $200 – $300

Change Hardware: $150 – $700
Small Kitchen Remodel Cost
A small kitchen(10 x 10) remodel costs $75-$100/ square foot. From installing a new sink, refinishing the cabinets, to switching out your flooring; here's our small kitchen remodel cost breakdown:
$2500 – $4000: Installation, Labor

$2250 – $4000: Countertop, Faucets, Sink

$1890 – $3500: Appliances 

$900 – $1200: Flooring

$70 – $300: Cabinets

$1200- $1500: Doors, Windows, Vents

$200- $300: Paint
Large Kitchen Remodel Cost
When you are remodeling a kitchen, it can cost you anywhere between $16,000 – $20,000. Here's our cost breakdown of a 200 square foot kitchen with minor layout changes, stock cabinets, new appliances, granite countertops. 
$1000: Layout

$6400: Cabinets

$3200: Appliances 

$2400: Countertops

$1000: Demolition 

$1600: Electrical Update 

$1200: Plumbing Update

$1000: Flooring

$1000: Drywall

$200: Paint

$200: Backsplash 

$800: Lighting
What Is The Most Expensive Part of A Kitchen Remodel?
As you might've noticed above, different aspects of your kitchen remodel cost different. For instance, in a large kitchen remodel you can pay around $6400 for cabinets alone while the second most expensive aspect is the appliances at $3200! This makes cabinetry the most expensive aspect of a kitchen remodel.
In an upscale remodel, choosing kitchen cabinets can take up nearly 20 to 40 percent of the entire budget. Although that is indeed a large amount, remember that the cabinetry plays a vital role in your kitchen aesthetics and storage capacity.
How To Save On Your Next Remodel?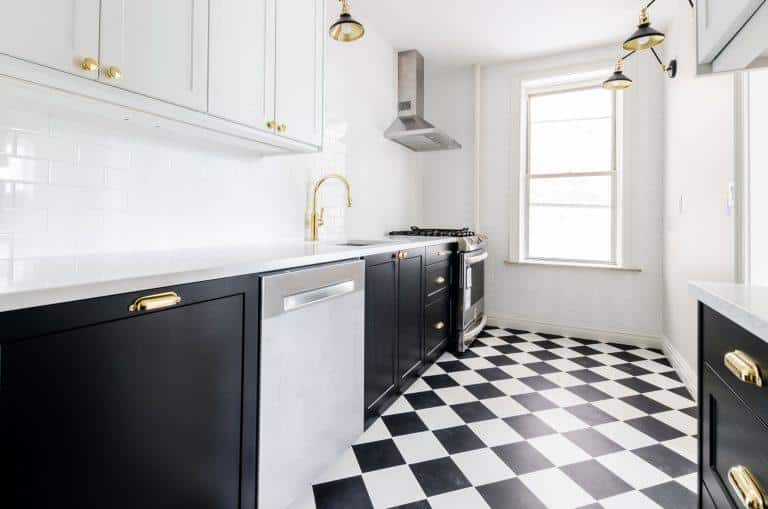 Renovating your kitchen can be one of the most expensive undertakings in your home. However, there are several ways where you can save your money if you're remodeling your kitchen on a budget. 
Change Cabinet Color and Finish 
Did you know that cabinets are the most expensive part of a kitchen remodel? Changing the color and finish of your cabinets is the easiest way to remodel your kitchen and save some money. It will give it a whole different appearance without the major headaches of construction. Plus, when you paint cabinets, you have to change the hardware by filling in the existing holes and selecting from a wide array of decorative hardware. 
Imagine going from dated oak cabinets to a striking new paint color like deep charcoal highlighted by beautiful brass hardware. It is the fastest, most efficient, and cost-effective way to transform your kitchen. 
Keep the Existing Layout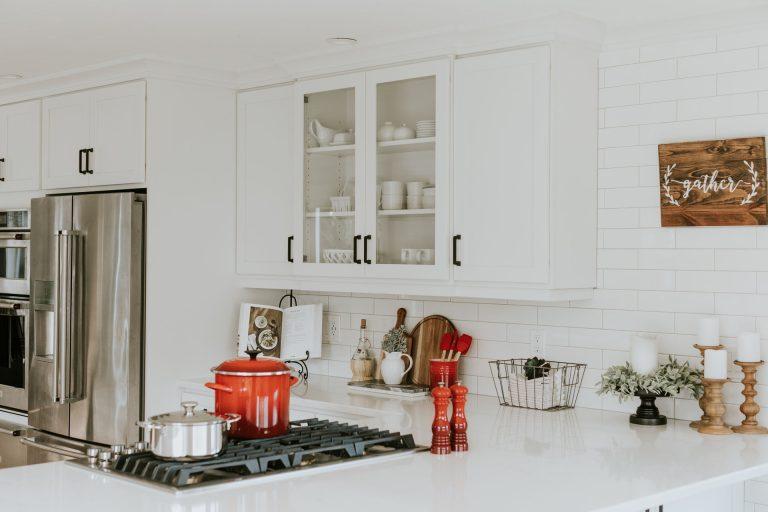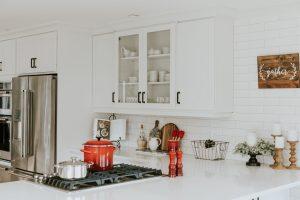 The place where your sinks, major appliances, and work surfaces sit is essential for the functionality of your kitchen. Changing that layout will increase your budget because it means extending plumbing or adding electrical, maybe even removing walls to make that layout work for you. 
Anytime you have to move or extend plumbing, your costs go up! That also means a lot of additional construction and an increase in your costs, so if your kitchen layout works for you today, consider keeping it to minimize those extra costs. You can replace the cabinetry, change the countertops and the backsplash and still keep the layout to minimize the kitchen remodel budget.
Add Architectural Elements 
Maybe the best way to dress up your kitchen is to add something to it, and we've got some great examples of what to add and where. First off, try adding architectural elements to cabinetry. 
It looks great under upper cabinets and adds an element of sophistication to your cabinets at a low cost. Secondly, why not add some decorative feet to your cabinets. 
It is so easy to do, and it makes it look like you've got furniture pieces instead of stock cabinetry. 
Use Double-Duty Appliances 
Using double-duty appliances means you will have fewer appliances, which equals more room for cabinet storage and work surfaces. Instead of having a microwave take up valuable real estate, why not consider a combination microwave and over the cooktop vent. 
Manufacturers make this particular appliance look great, so save the extra cost and locate it above the stove. Another example is using a slide-in stove instead of purchasing a cooktop and a separate built-in oven.
Isolating the space below the cooktop for a separate appliance brings up your appliance cost. Plus, the slide-in option is usually less expensive than buying these two items separately. 
Install Open Shelving
Let's face it. Cabinetry is expensive! Perhaps you can forego some cabinetry if you're on a budget. Having open shelves give you easy access visually and physically to all of your kitchen needs, but it also helps your bottom line. 
Not only does it help you save on kitchen remodeling costs, but open shelving also adds a ton of character to your kitchen design.
Backsplash Splurge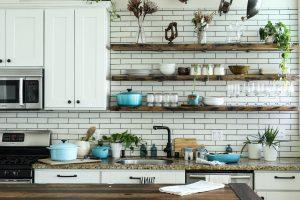 Every kitchen needs a backsplash; it can define the overall look of your new kitchen. But it can also be a costly addition to your budget. 
Instead of cutting out that beautiful design element altogether, consider adding it in small doses. Consider consolidating the bang for your buck by installing a backsplash tile at your stove. 
It's a great focal point, and it means you can add a less expensive option to the rest of the kitchen without sacrificing the design. The key here is to splurge for a small area instead of nixing the whole idea. 
Repurpose Furniture
A new kitchen island is a great way to add character and save money by repurposing some other furniture. You can incorporate an old harvest table or a chest of drawers, maybe even some low bookcases with a common top for a work surface. 
There are many ways to incorporate other pieces of furniture, and if you're handy and a thrift shopper, you can create a pretty kitchen island like no other. 
You can save money and still have the kitchen remodel of your dreams.  You have to be creative and splurge in the right places. Kitchen remodeling is an expensive affair and with the right tips and tricks, you can make every penny count.