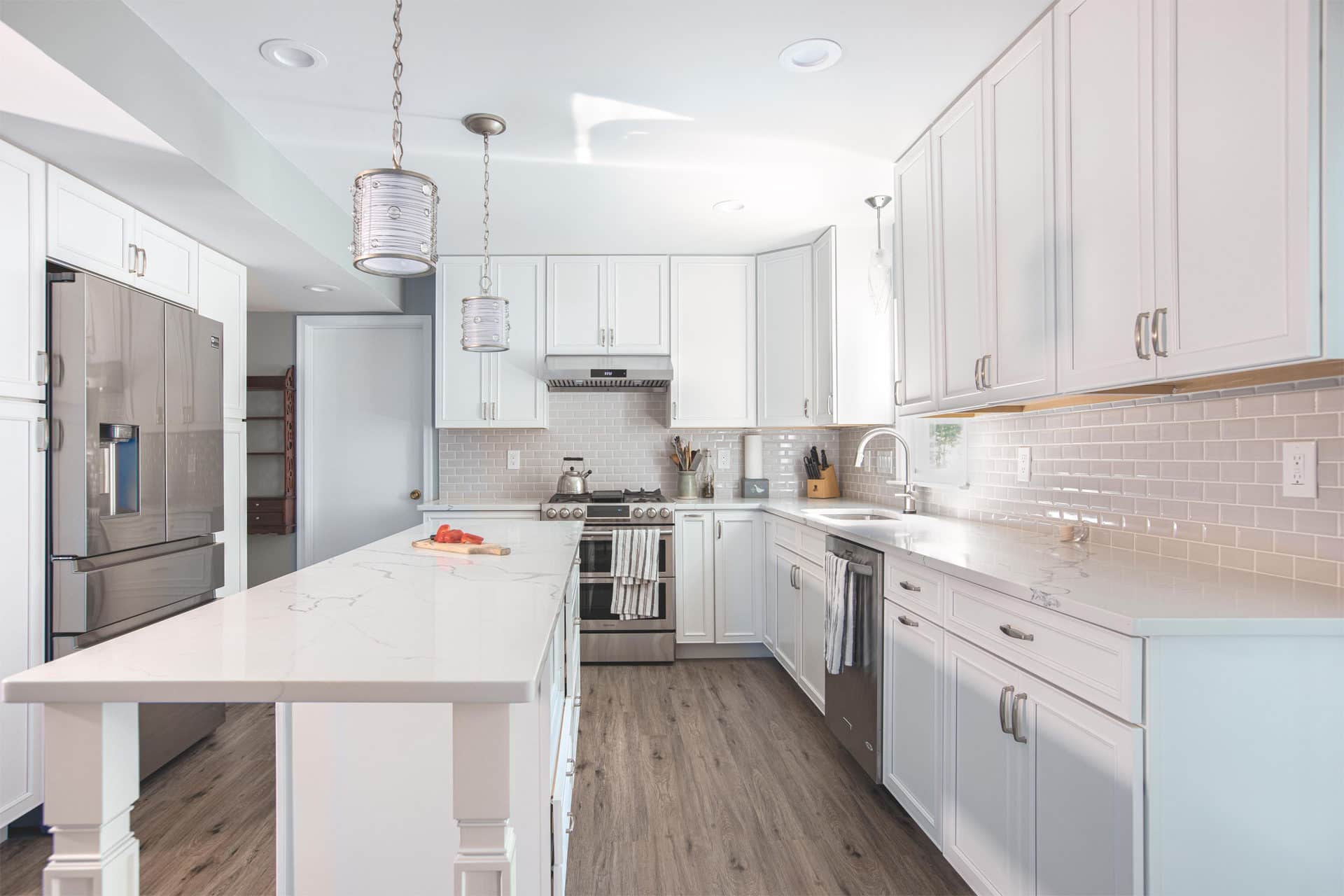 Kitchen cabinets are no doubt the most expensive as well as the essential part of a kitchen remodel. There are endless kitchen cabinet sizes, styles, finishes, and designs for you to choose from. Standard prefabricated sizes fit many requirements, while custom cabinets can accommodate various styles and sizes. It's important to consider these factors while remodeling your kitchen.
Purchasing cabinetry may seem like a challenging task, but it can prove to be an enjoyable experience with proper guidance. So, where do you start? Here are the primary steps of this kitchen cabinet guide to help you find the ideal cabinetry to fit your kitchen's functionality and meet your design needs. 
The Cost of Kitchen Cabinets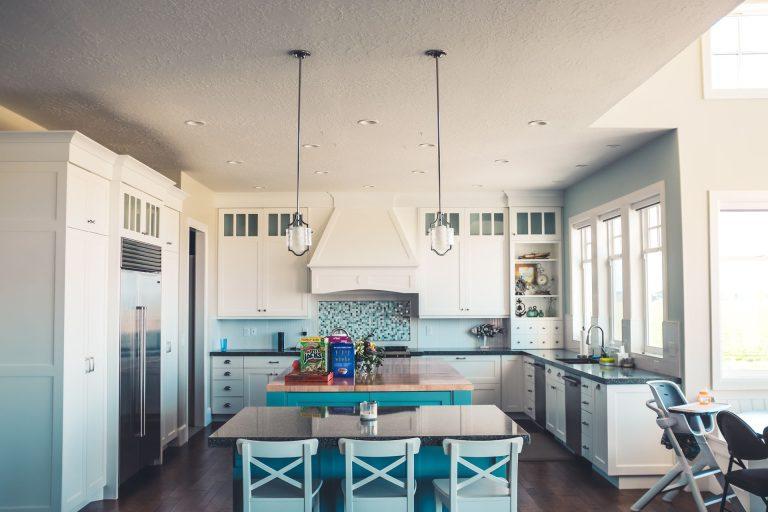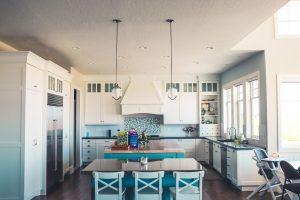 In a recent article by Home Guide, data shows, "an average homeowner will spend $3,200 to $8,500 to replace their kitchen cabinets of average quality in a standard size kitchen. The average cost of kitchen cabinets ranges between $160 and $380 per linear foot for stock or semi-custom styles, and up to $1,000 per linear foot for custom cabinetry." 
Cost To Install Cabinets
The average cost to install kitchen cabinets during a kitchen remodel ranges from $3000 – $9000 for normal to mid-grade materials. However, for high-end custom cabinets, it will range between $12700 – $22000. 
The average cost of different kitchen cabinets per linear foot will be-
Stock: $100 – $250

Semi-custom: $250 – $580

Custom: $550 – $1200
Identifying Your Design Style
The kitchen cabinetry you choose can make a bold statement or blend into the background. What do you want your cabinets to say about your style? Modern, comfortable, or stylish? The decision of your kitchen cabinets will rely heavily on the style and design. 
Here are a few categories in this kitchen cabinet guide to consider as you think about your space. 
Casual / Transitional

Modern / Contemporary 

Classic / Traditional 

Rustic / Farmhouse 
Transitional
Casual transitional styling is a balance between relaxation and refinement. It shows an appreciation for freedom and nonconformity and self-expression. Typically, cabinets with clean lines and simple cabinet door frames, and flat center panels fit the bill. 
Contemporary 
Contemporary or modern style rely on sleek, smooth, and polished surfaces. You can define this look as clean, bold.  You'll also notice that slab door styles tend to be the preference for kitchen remodels.
Rustic
A rustic cabinet design resonates with comfort. Cabinets are often built with materials that look weathered or softly distressed and may feature knits in the wood as well.
Traditional 
You can best sum up traditional cabinet style as a look that is ornate, decorative, and resplendent in rich finishes. Here, the cabinet styles typically feature raised center panel styling and rely on elaborate hardware and detailed molding treatments. 
Different Types of Kitchen Cabinets

Stock Cabinets
Stock cabinets offer a limited selection of accessories, styles, finishes, and hardware. They also have an entry-level price point, and you can get them relatively easily, making them the best option if you're remodeling your kitchen on a budget.
They are also typically easier to install than semi-custom and custom cabinets. While custom-made options may be limited, you can count on a durable finish. The cost of stock kitchen cabinets generally ranges from $150 – $250/ linear foot. 
If you're searching for cabinets to fit a basic kitchen layout or have a starter home, stock cabinets are the best choice for you. 
Semi-Custom Cabinets 
On the other hand, semi-custom cabinets are available in standard sizes but allow some modifications to the original specifications at the mid-range price point. They even offer size modifications in depth, width, and height.
It reforms the space and uses fewer fillers, which offers more functionality through storage space options such as pull-out shelves, Lazy Susan's, and vertical dividers. The cost for these run at $250 – $550/ linear foot. 
Semi-custom cabinet brands also offer several accessories, styles, finishing techniques such as glazing and distressing. If you're looking to renovate your current cabinets and want flexible personalization options at manageable price points, semi-custom is ideal. 
Custom Kitchen Cabinets
You can design and handcraft custom cabinets you desire, making them the flexible option for customization. They offer an immense amount of options, making it the ideal choice for high-end kitchen remodeling projects.
However, custom cabinets have the highest price point ensuring exceptional construction quality and superior natural hardwoods. Custom cabinet sizes are versatile and flexible, making it easy for you to design around non-standard appliance sizes. 
If you have a generous budget and don't mind waiting a little longer for your cabinets, this option is the most preferable for you. You can get into custom cabinets for about $550/ linear foot, but the more specifications and design changes occur, the higher the price will go up. 
Regardless of the type of cabinets you choose, you can feel confident you're not sacrificing quality on any level. 
Explore Kitchen Cabinet Material Options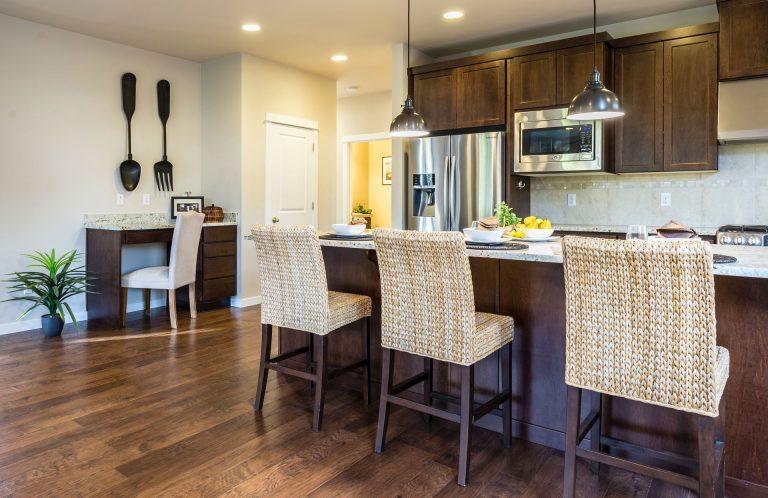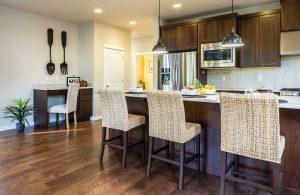 These are two of the most common material categories as a part of the kitchen cabinet guide: 
Natural Hardwoods. 

Compound Materials. 
Natural Hardwood
The benefit of using wood for kitchen cabinets is the distinct look as no two pieces are identical. Grained patterns, color variations, knots, and even pinholes make them all unique in their own way. 
Some wood like cherry will even deepen and become richer with age. If you like slight variation and a natural feel, hardwood is a good cabinet option for you. 
Compound Material
Laminate, thermofoil, eco veneers, acrylic all fall under compound materials. Compound materials offer a good variety of looks, from glossy to contemporary to those that mimic the look of natural materials. 
With several colors and textures, a compound material may be an affordable option for many kitchen cabinet designs. 
Cabinet Color and Finish Options

Solid Color Look
For solid color cabinets, you can choose from many kitchen cabinet finishes. Paint and acrylic are two beautiful selections for the extensive range of colorations. Besides, pure style and thermofoil will offer a defined palette of trend-forward colors that feature easy-care at an affordable price. 
Light Medium – Dark Finishes 
To enhance the look of natural hardwood, use a light or medium finish to highlight the natural tendencies of the wood grain. Darker finishes will still show the grain texture, while color variations aren't visible through the stain. 
Glaze
Glazed finishes add a unique look to cabinets by highlighting door and drawer details. Some glazed techniques will also deepen the finish color or make it appear more rustic. 
Premium Finishing Techniques
These finishes will include distressing, heirlooming, hand-brushed finishes, depending on the cabinet brand you choose. These techniques add a one-of-a-kind imprint to the choice of your cabinet. By determining the details you're drawn to, you'll be more confident when shopping for cabinets. 
Take some time during your kitchen remodeling process and learn more regarding cabinets before you decide.
Constructing Your Kitchen Cabinets
For constructing your cabinets, there are a few different options; framed, frameless, and inset. Let's break down each one. 
Framed
In this typical American style of cabinet construction, you can attach the cabinet doors to a face frame. It gives the cabinet strength and sturdiness. 
This overlay of doors in the face frame comes in two options. Full overlays overlapped most of the face frame and partial overlay, which overlaps only a portion of the face frame. 
Frameless
This type of European cabinet construction is sometimes known as "full access" cabinetry because it offers greater accessibility by eliminating the face frame. Instead, it relies on thicker box construction for stability. You can use full overlaid doors because you can attach hinges directly to the sides of the cabinet box. 
Inset
Inset cabinets feature doors and drawers that fit inside the face frame. It will create a clean and modern appearance. Ensure the doors are precisely cut to fit perfectly within the frame. Inset doors are often attached directly to the cabinet.