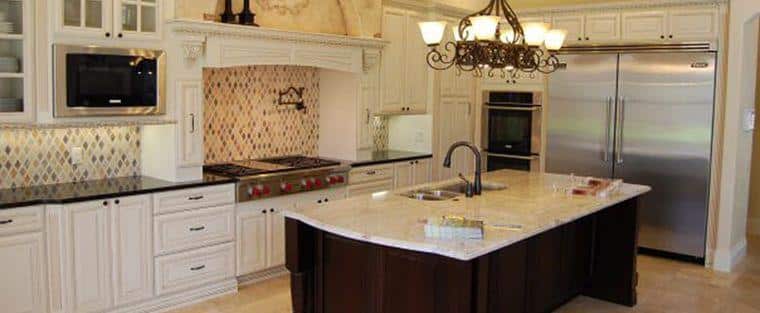 Choosing the Best Finish for Kitchen Cabinets
Kitchen cabinets have a significant contribution to the look and function of the kitchen. You need to give it a lot more attention when choosing one for your kitchen. They are not all the same. You might have given emphasis to the size, style, and color, but probably little thought to the finish. Yet the finish is probably the next most important thing to material when choosing cabinets. The finish will not only greatly affect the look of the cabinet, but it provides the first line of protection against the conditions of the kitchen. This article will focus on the common finishes for kitchen cabinets, and the benefits of each one.
Protective coating
Sometimes, the finish is enough to provide the protection cabinets need against the heat, humidity, grease, and dirt that is constantly present in a kitchen. However, in most cases there is an added layer used over the cabinet material. This is the coating, and one will always be appropriate. For solid wood cabinets, for example, a coating of linseed or other type of oil should do the trick of sealing the pores and keeping moisture out of the wood. Some manufacturers choose clear or tinted polyurethane, which provides a more durable seal.
Cabinets are seldom made completely of solid wood however, because they are quite expensive. In most cases, the cabinet box, at least is made of particleboard, medium density fiberboard, or other types of engineered wood. Oil will not work so well for these types of materials. For these, polyurethane or paint will do better. For either type of coating, cabinetmakers use at least two coats. Other manufacturers apply a sort of film over the surface, such as veneers, laminates, and vinyl wraps. These usually mimic the look of wood, which would make particleboard look like solid wood. Others may be a solid color or other patterns. Depending on the type of coat applied, the look of the cabinets can match the overall design of the kitchen.
The type of coating you use will affect the actual finish of the cabinets. You could go for matte, high gloss, or semi-gloss finish. Find a quick description of each finish below.
Matte finish
A matte finish is not very popular with many homeowners because it doesn't have the nice reflective surface. In fact, a matte finish tends to absorb light a bit, so it looks a bit flat. However, if you are looking for a traditional or rustic look to your kitchen, a matte finish may be the perfect choice for you. Traditional cabinet door styles tend to be a bit more ornate, so a matte finish will not be overkill in the drama department.
A matte finish could still work in a modern kitchen, however, if you are looking for a sort of low-key effect. A flat-finished cabinet provides a depth and character, which is the reason a matte finish gets more traction in European homes than a gloss finish.
The great thing about a matte finish is it camouflages small scratches, imperfections, and even dirt on the surface, making them hard to see unless you look closely. Matte cabinets also have this smooth, uniform look with no glare because it is not reflective, so it can impart a soothing effect.
However, you may not want a matte finish if you have a low, dark or small kitchen, because it does not help in making it look brighter or bigger at all. Some people also find it a bit on the boring side, and keeping it clean is a bit harder because the surface is not completely smooth.
Gloss finish

The most common type of finish for homeowners today is the gloss finish, and the trend began about 50 years ago. It goes very well with modern kitchens that usually have flat-paneled cabinet doors. Gloss finishes come in various degrees. A high gloss finish is 100% reflective, almost mirror-like.
A 100% high gloss is particularly common in small, white kitchens, because it helps brighten up the room, making it look more open and larger. If your kitchen gets very little light, or has a low ceiling, white cabinets with a high gloss finish is the perfect choice. If white is not your choice, you can also achieve the same effect to some degree with colored cabinets, as long as it is a light color, so light colored wood will work with a small, dark kitchen.
The great thing about a high gloss finish, aside from brightening a room, is that it is easy to clean. A quick swipe with a clean cloth daily is often enough to keep it in pristine condition. Busy homeowners can appreciate that.One disadvantage of a high reflective finish is that it also picks up any other color in the room. This can have an effect on the appearance of the cabinets. For example, if you have a white kitchen and a red toaster, your cabinets will take on a pinkish hue.
A gloss finish also shows up dirt, grease, and thumbprints quite easily, although they come off easily anyway. However, you cannot wipe away scratches and imperfections, which are quite glaring in dark cabinets. If you do want a high gloss finish to your cabinets, choose light or white colored cabinets for best, and most efficient, results.
Semi-gloss

If you are not sure if you can handle either matte or gloss finish, you can strike a middle ground with a semi-gloss finish. It is still reflective, so it is still a good choice for dark kitchens and easy to clean. However, it is not so reflective that it highlights smudges and imperfections on the surface. This is a good choice for most kitchen styles and cabinet colors, and a happy compromise if you don't like a flat or ultra reflective surface.
Conclusion
If you are unable to make a final decision when choosing the finish and coating for your kitchen cabinets, either in isolation or as part of kitchen remodeling, you might be able to get some help from professionals. GBC Kitchen and Bath is just the company you need for any remodeling project. We sell only the best products from the top manufacturers and suppliers in the country and have a proven track record in completing bathroom renovations on time and on budget.
When you contact us for your planned upgrade or remodel project, no matter how small, the first thing we will do is give you a free design consultation and quote, so you are already ahead without spending a dime. We can promise the best customer service, expert fabrication and installation, and speedy execution of any project so that you stay on budget and the project stays on deadline. You will never get that from big box stores.
We guarantee the quality of our products, and you can see it for yourself in our showrooms in Rockville Maryland and Alexandria, Virginia. We service the DC, Virginia, and Maryland areas, specifically Alexandria, Arlington, Washington, Tyson, Vienna, Falls Church, Fairfax, Springfield, Burke, Bethesda, and Rockville,
Contact us today to get a free quote for your kitchen upgrade and remodeling needs.