Why a Vent Fan is Necessary for Your Bathroom Upgrade
A bathroom upgrade is a great idea if you have the budget for it. Any improvement for your bathroom can up the value of your home, usually in excess of what you actually paid for it. However, the one thing that many homeowners forget to put in is a vent fan.
A vent or exhaust fan is a simple device. It uses a mechanical process to sucks air from a room, drawing it outside through a duct. If you forgot to put one in during your last upgrade or renovation, you can easily put one in without much cost, and you should. It is one-bathroom upgrade that can really pay dividends.
Importance of bathroom vent fans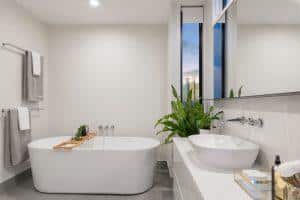 You probably know that a vent fan is a good way to get rid of any smells you don't want lingering in your bathroom. The most important use of vents is completely different. It is to remove as much humidity from the bathroom.
Warm and moist is the usual condition in most bathrooms, especially if you have a very small or no window. You might blame the steam from hot showers for this. But it is still the same in bathrooms with no showers or tubs, such as a powder room. The humidity is due to water, which is always present in a bathroom. It is even worse if you keep the door closed, and most people prefer to keep it that way. Without a way to get out, evaporated water and steam will just stay inside the room.
This is a problem because dark, wet conditions encourage the growth of mold and mildew. You will know this is true if you keep any towels inside there. After a while, you will notice your towels will start smelling funky.
Aside from microscopic flora, wet conditions can also wreak havoc on any wood you have in the bathroom, most particularly the ceiling and doors. Water damage is a serious problem that can rack up some hefty repair bills. Prolonged exposure to wet conditions can also lead to peeling wallpaper and rusty fixtures.
A vent fan can help keep the air moving and extract much of the wetness in the bathroom to prevent these problems. In fact, some states require homeowners to have vent fans in bathrooms as part of the building code to promote safe environments. Your remodeling contractor will let you know if this requirement applies to your area and the type of vent fan you need if it is.
How vent fans work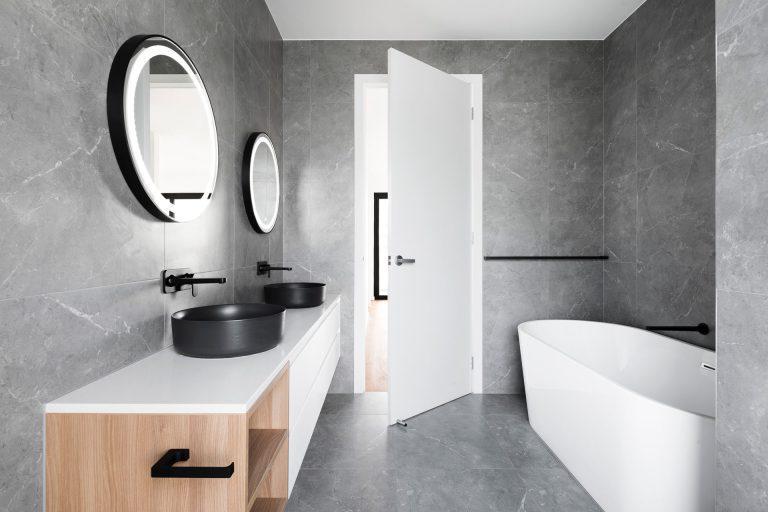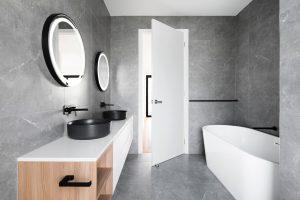 There is nothing complicated about the mechanical action of vent fans. It works the same way as a regular fan, which draws in air or sends it out using fan blades with a tilt of between 12 and 15 degrees. The strength of the air movement will depend on the number of the blades and the speed at which it spins. While in use, the vent fan will draw in air and push it through the duct continuously, which should eventually get out into the open through a roof or wall.
Technical specifications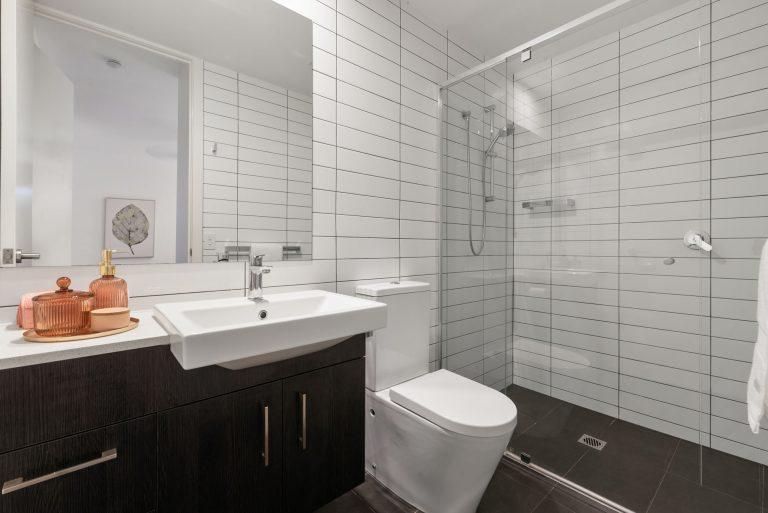 The building code will specify the type, how and where you should a vent fan in your bathroom. However, even if vent fans are not required in your area, here are some general guidelines to help you choose the right one for your bathroom.
Speed rating
Vent fans have different speed ratings expressed in cubic feet for minute or CFM. The CFM determines the amount of airflow you can expect for a certain size room. The higher the CFM, the stronger the vent fan will suck out the air, so you need a higher CFM for larger rooms.
As a rule, you have to match the CFM with the square footage of the room if it is more than 50 square feet. For example, if your bathroom is between 10 and 50 square feet, you need a vent fan with 50 CFM (or 50 cu ft/min). If your bathroom is 80 square feet, you need a vent fan with 80 CFM.
However, this rule is for bathrooms with a standard 8-foot high ceiling.
Site
Most people place vent fans just inside the bathroom door to keep any smells from getting out. However, the best site for the vent fan is as near as possible to the source of humid air, such as over the sink, shower, or tub. You just have to make sure that it is not accessible to anyone in contact with standing water to avoid electrocution. If this is unavoidable, choose a vent ran labeled safe for wet conditions.
Codes
The National Electrical Code for bathrooms apply whether your area specifically has requirements for it or not. This mean you need to dedicate a circuit for your lights and vent fans in the bathroom that is separate from circuits for your outlets and water heaters. You should also make sure the installer grounds the switches properly.
Conclusion
You need vent fans in your bathroom, and the best time to put them in is during a renovation. To be on the safe side, get a licensed contractor such as GBC Kitchen and Bath to carry out your bathroom upgrade.
GBC Kitchen and Bath is just the company you need for any remodeling project. We service the DC, Virginia, and Maryland areas, specifically Alexandria, Arlington, Washington, Tyson, Vienna, Falls Church, Fairfax, Springfield, Burke, Bethesda, and Rockville,
When you contact us for your planned upgrade or remodel project, no matter how small, the first thing we will do is give you a free design consultation and quote. So you are already ahead without spending a dime. We can promise the best customer service, expert fabrication and installation, and speedy execution of any project. So that you stay on budget and the project stays on deadline. You will never get that from big box stores.
We guarantee the quality of our products. You can see it for yourself in our showrooms in Rockville Maryland and Alexandria, Virginia. We sell only the best products from the top manufacturers and suppliers in the country. And we have a proven track record in completing bathroom renovations safely, on time and on budget.
Contact us today to get a free quote for your bathroom upgrade and remodeling needs.