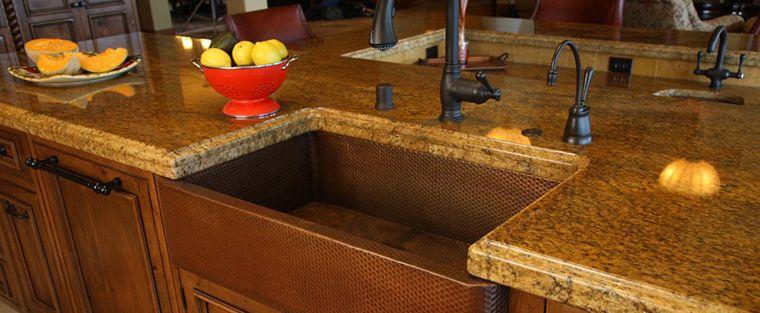 Which Sink Should You Choose for Your Kitchen Remodel?
"Everything but the kitchen sink" is probably the way most people think when making decisions about their kitchen remodeling. It is the last thing on their minds because it seems like such a little thing. However, that would be a mistake, because a kitchen without a sink wouldn't be much of a kitchen. Finding the right one for your kitchen deserves more attention that you might normally give it. Below is a rundown of the pros and cons of different types of sinks to help you decide.
Undermounted
One of the most popular types of homes today is the undermount sink, mainly because many kitchens today have granite or engineered quartz countertops. Undermount sinks attach to clips under the slab, right where the cutout should be.
Putting the sink under the lip of the counter instead of over it gives the whole setup a clean profile. There is nothing to interrupt the smooth surface of the counter as there are no sink rims. It also means you can simply sweep any mess or water from the counter to the sink without having to worry about any of it getting stuck under the rim.
However, undermounted sinks require support from underneath as clips are not nearly strong enough to handle a full load of water and dirty dishes. You also need precise cutting of the granite or engineered quartz countertop for the sink cutout, or it will not align properly, and there may be gaps for gunk and other debris to get through.
You can try to DIY, but it might be harder than you think. It is probably better to get a professional fabricator and installer to handle it for you.
Top-mounted

The most common type of sink is the top-mounted sink, mainly because it is the most cost-effective. This type of sink is also known as a rimmed or drop-in sink because that is what you do: you drop it in to a prepared hole and let the rim rest on the counter take on the weight.
Top-mounted sinks are easy to install as long as the cutout is spot on. You can do the cutout yourself for a laminate or solid surface counter if you have the appropriate tools, but probably not if you want granite or engineered quartz kitchen counters.
The obvious disadvantage of top-mounted sinks is the rim. You cannot simply sweep stuff from the counter to the sink. You have to make sure to check and clean it regularly to make sure nothing is starting to grow under there.
Drainboard sink

This type of sink combines a sink and a drainboard, which is great for small kitchens where a separate place for drying dishes may not be available. The sink and drainboard is a single unit, and come in different sizes. You need to choose one you are getting because the fabricator will have to take precise measurements to fit in both the sink and drainboard.
While it is space-saving, the sinks do tend to be smaller than other types of sinks. The drainboard sinks also permanently take up counterspace. However, the real problem with this type of sink is that all of them are top-mounted, so you still have the same problem of gunk getting stuck under the rim. It also makes it harder to clean the counters.
Single basin sink

A single basin may sound like a bit of a cop out as most homeowners would prefer two sinks. However. A single basin sink that is large and deep enough to hold family-sized pots and pans is actually much more efficient than two smaller sinks any day. A farmhouse sink is a type of single sink that many homeowners like because they do the job for cooking and washing up large meals for family and parties.
A large sink may be a problem if you have a small kitchen, however, as it takes up quite a bit of counterspace, and you may not have space for a countertop drying area. The best solution would be to incorporate a hanging drying rack into your kitchen design.
Double basin sink
A double basin sink used to be a must-have for many kitchens. You use one for washing, and the other one for rinsing. However, if you have a dishwasher, you won't really need two sinks, so its popularity has waned somewhat.
However, if multi-tasking is your thing, a double basin sink can still be of use. You can reserve one sink for food prep or thawing out frozen stuff, and the other for washing dishes. The downside is most double basin sinks tend to be on the small size, so big pots are a problem.
Some sink manufacturers do produce double basin sinks that have one larger than the other, so you can choose those. Alternatively, you could choose to have one large basin in the middle of the kitchen, and a smaller one in a separate area, such as a kitchen island.
Conclusion
Other types of sinks are available for your consideration, but these are the most popular ones. If you have trouble picking one out for your kitchen, you can get the help of professionals. GBC provides free design consultation and cost estimates for a complete kitchen remodel or anything else you have in mind.
GBC Kitchen and Bath is just the company you need for any remodeling project. We sell only the best products, including sinks from the top manufacturers and suppliers in the country and have a proven track record in completing kitchen renovations on time and on budget.
We guarantee the quality of our products, and you can see it for yourself in our showrooms in Rockville Maryland and Alexandria, Virginia. Our service the DC, Virginia, and Maryland areas, specifically Alexandria, Arlington, Washington, Tyson, Vienna, Falls Church, Fairfax, Springfield, Burke, Bethesda, and Rockville,
When you contact us for your planned upgrade or remodel project, no matter how small, the first thing we will do is give you a free design consultation and quote. So, you are already ahead without spending a dime. We can promise the best customer service, expert fabrication and installation, and speedy execution of any project. You stay on budget and the project stays on deadline. You will never get that from big box stores.
Contact us today to get a free quote for your kitchen upgrade and remodeling needs.