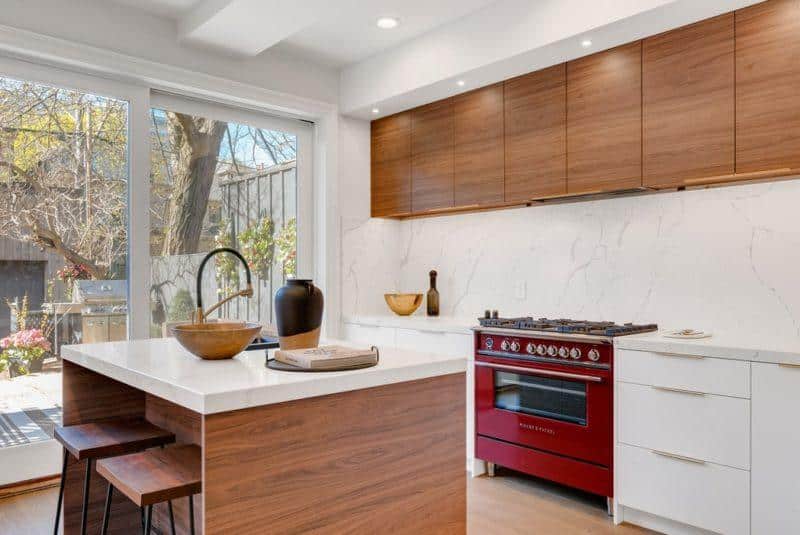 A kitchen remodel is a significant but rewarding decision. For instance, if you're planning to sell your house, most people see the most significant value in a well-remodeled kitchen than an old one. For this reason, you also have to pay attention to the kitchen design. While traditional kitchens provide subtlety, a modern kitchen remodel has excellent potential and elements that will never go out of style. 
Modern Kitchen Remodel: Busting Myths
It's a common myth that a modern kitchen design is cold and bland, but they can be warm and inviting. Similarly, with its monochrome color scheme, minimal cabinet hardware, sleek flooring, and metallic finishes, your modern kitchen remodel will be one for the ages. 
Scroll through to see our selection of a few key elements to keep in mind while remodeling your old kitchen and giving it a contemporary edge. 
Modern Kitchen Remodel Guide
Plan the Construction Costs for Your Modern Kitchen Remodel
When it comes to a modern kitchen remodel, the number one thing to do is get started on a budget. The two highest costs for construction are plumbing and electricals.  There's a continuous high demand for labor, and it's proving to be a booming industry, year after year. The big-ticket items in your renovation are – cabinetry, construction, countertops, and appliances. 
Don't breeze over what each item will cost; instead, research and find a clear number to swiftly plan your remodel. It doesn't matter if you plan on buying expensive tiling or natural stone countertops. Sit down, have all your numbers together to have a more realistic view of your budget. 
Plan every detail of your modern kitchen remodel. Don't grab a sledgehammer and start at the walls without planning every bit of it. Make sure everything is selected, priced, and delivered. This is something that can quickly inflate your budget and cause stress. 
Warm the Kitchen Space 
A modern kitchen is all about a minimal and sophisticated approach. People often think that modern kitchens are cold and sterile, but it's quite the opposite. While choosing your layout, focus more on creating a clean, functional, and calming environment paired with your style. 
The secret to a striking contemporary kitchen is seamless fixtures, neutral colors, and natural light. This combination will make your modern kitchen more cozy and welcoming. Also, try to inject a perfect balance of warmth and pop of color to your modern kitchen remodel. 
Focus on the Backsplashes 
Through time, the backsplash of your kitchen has seen many upgrades. From ceramic tiles to more luxe mosaic tiles, kitchen backsplashes have undergone many changes. Not only that, textures and different patterns also, have become prominent in backsplash designs. 
Higher backsplashes are recommended for a progressive kitchen remodel. You can take it to the ceiling to create a visual distortion from all the cabinets and appliances. It will make your new, improved kitchen layout more open and airy. Don't hesitate while choosing textures and colors to create a unique, luxe design. 
Add Modern Cabinets & Countertops
Modern cabinets and countertops are something where you can either save or splurge. 
Countertops: 
The most important aspect of a kitchen remodel is the countertop. It's your go-to for cooking, prep work, homework, or a quick bite. It's the foundation of your kitchen renovation. Similarly, when talking about modern countertops, a lot depends on the material, finish, and overall design. 
The love for countertop materials like quartz, granite, or marble is increasing day by day. These will cost you top dollar but will elevate your contemporary remodel in spades.  You can choose either polished or honed finishes to correct any scratch marks on your countertops. One new trend is opting for leather finishes for a more sophisticated appeal. 
Cabinets: 
Just because you opt for a modern kitchen remodel doesn't mean that you can't experiment. You can mix and match materials to add your own unique, personal preference, and lifestyle. If you plan on keeping your traditional kitchen design, you can still add contemporary, updated cabinets for a refreshed look. 
The only thing chic in a modern kitchen is black cabinetry. It creates a more streamlined look than any other color. If black is a no-go, you can add wooden cabinets for a more mid-century modern design. You can even combine your marble countertops with wood cabinets for a perfect modern mashup. 
Add Modern Appliances 
It's quite obvious to start thinking about upgrading your kitchen appliances while remodeling. Progressive kitchens are made of modern-day, up-to-date appliances too. It was fun to cook the traditional way, but it's best to make the most of it with technology rapidly changing. 
Similarly, Bluetooth sync appliances, automated lights or finger touch, and swipe controls are all statement features. Incorporating these will have you living like the Jetsons in no time. 
On the contrary, if spending a considerable bulk of your budget on tech is not for you. One can add stainless steel appliances or make small changes like wifi-control to give it a futuristic edge.
Fix Light Fixtures
With so many big-ticket items on your plate, it's easy to put light fixtures on the back pedestal. Doing so, you'll be making a big mistake. Light fixtures can easily pack a punch and are essential for your kitchen to function correctly. These ultra-modern, aesthetically pleasing fixtures can both enhance and brighten up your modern kitchen remodel. 
Black pendant lights, gold wall sconces, industrial lighting, or a statement chandelier are all popular choices for you to consider. These fixtures add a little edge and glamorize your modern kitchen.
You'll be surprised to notice that moving a few key elements and refinishing a few fixtures can help you bring your old kitchen back to life. Equally, with careful planning of your modern kitchen remodel, you can achieve a luxurious, high-end kitchen and stick to your budget.