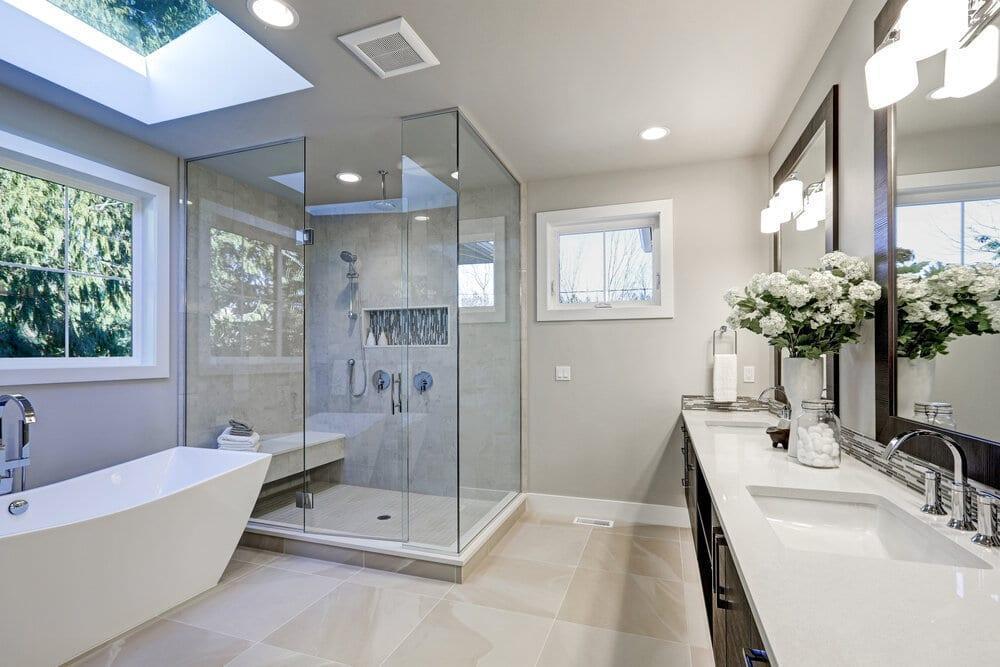 An affordable bathroom remodel sounds too good to be true, right? It's true that a bathroom remodel is expensive otherwise, but with some tricks and some DIY, you can even bring down the price to as low as $12k-$15k.
But before we go further, let's consider all the things involved in a bathroom remodel. There's the inconvenience of not being able to use your bathroom, hiring a remodeling contractor, planning and budgeting, and so on. In other words, it's taxing. Wouldn't saving money at least curtail one headache?
I know what you are thinking — why even bother with small changes if the process is almost the same as a big project? First of all, a minor remodel has a higher recoup value than a major one. Secondly, it can have a more impactful functional and aesthetic value because you will be forced to cut it down to the basics. This applies only if your bathroom is not worn out or old, though. Thirdly and most importantly, you don't need to get any permits for the remodel or make critical changes like plumbing. This can save you a lot of time, money, and hassle.
Keeping that in mind, in this blog, I share with you some tricks to do an affordable bathroom remodel under $15k with ease. The key is: Spend only on things that drastically need a change or are inexpensive otherwise.
1. Add Hand-Painted Patterns to the Walls
Adding hand-painted patterns to the wall is a great way to spruce up your bathroom. Choose a herringbone pattern that will create the semblance of a classy wallpaper accent wall. It doesn't get more affordable than painting your bathroom wall yourself.
Embellish the area with glass floating shelves that add storage and also act as a subtle backdrop for the beautifully treated walls. 
2. Add DIY Wood Vanity
Add depth to your bathroom with natural wood vanity, with the wood framing the mirrors above as well. Take the definition a step ahead with slated open shelves for visual interest. Complete the picture by adding pretty bins and baskets to store towels and bath salts. 
Think out of the box for an exclusive bathroom space. How about a creative twist on the age-old traditional vanity? How about one that uses an antique sewing machine to rest the vessel sink on?  We have also seen some homeowners use spare particleboards as a vanity top. It's possible to do things like this, especially if you want something unique. For those, who want to keep it standard, you can always opt for a standard basin for this.
3. Get Creative with Your Shower Curtain
Brimming with creative juices? Hand-paint your dull shower curtain for a new look. Even better, turn the basic drapery into customized shower curtains using craft material. 
4. Cover an Area with Mosaic Tiles
Choose a specific section of the shower area like the one you use for storing essentials. Fill up the space with glass mosaic tiles. All the more effective if the rest of the area is done up in a white mosaic. It's bound to grab some attention.
5. Redefine Your Powder Bathroom
Introduce your powder bathroom to a classic white pedestal sink that will replace your old oak vanity, and add oomph and semblance of space to the room. The powder room takes on a new avatar at less than $600!
6. Add Accessories 
There is so much you can do when you are being budget-conscious. You can focus on the usually neglected aspects to add an edge.
For instance, you can opt for classy ceramic shop dishes that cost around $7.49. In the same vein, you can get ceramic toothbrush holders for as little as $12. There are pretty hand towels available at $28. Brass wall-mounted toilet paper holders can be bought at $24.95, towel racks at $49.99, shower curtains at $29.99, and bamboo shower caddy at $40. All these, put together, can add up to a beautiful bathroom.
Not enough space on your counter? You can use the wall to install wall-mounted tumblers at $28 and pretty soap dishes that serve as elements of decor. There are shelves and brackets that you can buy online that are less than $50 and give you functional storage space besides serving as a style quotient in your space.
7. Update the Tub Deck
Is your tub deck saddled with black and white tiles? If so, it's time to give it a makeover. Get white marble to replace the black and white. You will have to shell around $375 for the job, and that will be one of the critical budget items in your bathroom remodeling task.
Revive your old and worn out wooden flooring by painting it. Not everyone is besotted with the lived-in look that often comes with wood. Paint over it as a DIY job, and save both time and money. It doesn't take more than a weekend for the task, and it's so much fun! 
Opt for either traditional oil-based enamel paint or new latex-based enamel wood paint. You can even add checkered designs and any other pattern of your choice to the topcoat.  
10. Add a Rug 
Complement your bathroom with a beautiful rug to break the monotony of a not so trendy floor. If you have enough space in your bathroom, add more than one rug in different tones to add an accent. Place them in different parts of the bathroom like at the foot of the bath, in front of the sink, etc. Take care to add anti-slip padding under it to save it from water.
11. Add Supporting Elements
Add a few white shades with satin nickel base to add a sleek statement with tailored lines to your bathroom. A vintage mirror in the gold frame completes the picture with elegant charm.
12. Dramatic Lighting
Why should dining rooms have all the fun with chandeliers? Hang one in your bathroom for glam overhead lighting for mood and style!
13. Paint Your Bathroom
A simple task as repainting your bathroom can make your bathroom feel new and fresh. Play your mood on your walls with your favorite texture and tone. Take care that you use mold and mildew-resistant formula to protect your work from humid conditions.
14. Update Hardware
Updating the hardware in your bathroom can be a tremendous cost-effective step to upgrade your space. Swap out the drawer pulls to give a brand-new look to your kitchen. Opt for a smooth feel with a bar pull or alternatively add character with colorful ceramic knobs.
15. Place Storage Baskets
If your bathroom doesn't have the space for a linen closet, pick up a few decorative baskets and place them in corners. Keep bath, and hand towels rolled up in the baskets. The baskets add to the storage as well as appeal within.
16. Refresh Your Tub
Are you stuck with an outdated tub? Or maybe it has begun to pit, chip or scratch? 
Ripping out your tub and replacing it with a new one will be super expensive. Alternatively, you can spend $300 for putting in an acrylic liner if you prefer. But there's a cheaper option than this too.
Revamp your bathing space by painting your tub a beautiful color with a special epoxy! You can make your bathtub as good as new by refreshing the color. Use a specialty kit labeled for tubs and tiles, generally available at home centers for about $25. Remember, using simple paints won't work as they will not be able to sustain the daily heat and moisture. With epoxy, you can expect long-lasting durability.
17. Suspended Mirrors
Use rope and pulleys to suspend mirrors for rustic charm in your bathroom and for covering up unwanted windows. Wooden framed mirrors add beauty to your bathroom and are an easy and cheap addition.