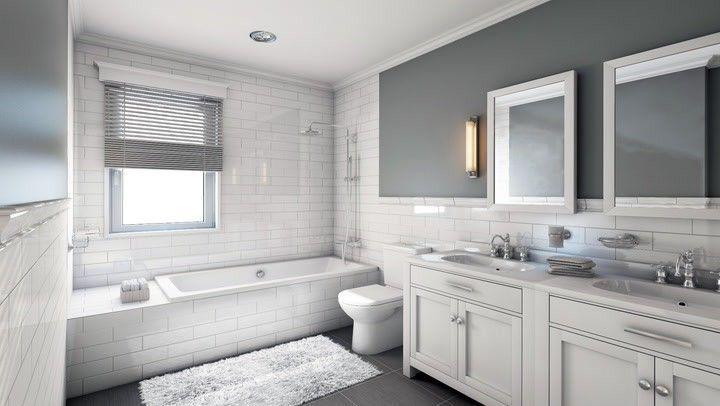 Bathrooms are your sanctuary. The only place in the world you can go to be fully alone. Be it a pampering session, a self pep talk session, a mental and physical cleansing ritual — you find all sort of inspiration in its enclosures. So, it's fair to say that the cozier your bathroom, the happier your days are likely to be.
But then, you also have to consider that remodeling it is a costly affair and you have to take calculated decisions. It all comes down to proper planning and sticking to the allocated budget while also keeping the resale value in mind. In the same vein, we are sure you want a bathroom that is unaffected by trend fads and stays in style for years to come. After all, you don't get many chances to do that right, isn't it?
So the key is to go with a design that's classy and eternal when remodeling your bathroom. This move not only helps you in attaining your dream bathroom but it also helps in ensuring that your decisions are worth it in the long-term.
We've got you covered with this guide as we break down the bathroom remodel ideas that will totally pay off in the future. All you've got to do is take notes to manage costs effectively and to keep that resale value in check.
1. Replace/Resurface Your Tub & Shower
Pretty sure we all love hot and long baths in the tub, especially after an exhausting day. But when's the last time you checked the condition of your tub? While it may be functioning well, you got to ensure it looks good as well.
If not, then get your tub resurfaced to make it look brand new. You don't need to buy a brand new tub to replace the old one if it's still functioning. You can save some bucks this way too. Or if you prefer, you can switch to a luxe option like a steam shower too. In fact, more and more people are opting to not have tubs in their bathrooms these days because using showers is more convenient, less time consuming and saves space too.
But hey, if you are the type who absolutely can't do without tubs, by all means, have one in your master bathroom. To switch things up, you can go for a Sunken bath or a Clawfoot freestanding tub. But if you're open to the concept of a new shower, then I suggest you jump right to it. This switch is a worthy move that will definitely help with your ROI.

2. Replace Your Sink/Vanity
Not all of us have the luxury of time in the morning. Especially when you need to put on makeup, and the husband needs to shave at the same time. I mean, we have all been there, right?
You can avoid this by having a double sink vanity. Honestly, it saves a lot of time and it's just really convenient to have another sink while the other is being used. It's an investment that will definitely be beneficial in the long run.
Now, I'm sure we can all agree that the vanity is the showstopper of your bathroom. While it's great for storage, it also sets the stylistic tone of the space. So, if your vanity is in need of its due maintenance and has visible wear and tears, it goes without saying that it's time to invest in a new one. The longer you delay it, the worse it might become. And if you are going to have to replace it anyway, why wait?
Just be mindful that before you go shopping for a new vanity, you already have the measurements in hand. You need to know where it will go and what size you will need. And it goes without saying that the material for your vanity top matters too.

3. Timeless Tiles
Tiling your bathroom wall is a much better option than simply painting it for way too many reasons. One, it lasts way longer and isn't prone to water-damage, and second, it is also easy to maintain as a result. However, to get a good ROI, you have to pick the right tile designs. More often than not, people pick dull and lifeless tiles, and that just puts everyone off.
We recommend keeping it simple and going for a design that is timeless and soothing. Not only will it look spectacular, but you will also be able to create a spa-like ambiance. Ultimately, be sure to pick tile patterns that go with the overall theme of your bathroom. It could be in a color that matches the theme or you could get a contrasting choice — so long as it works out as a whole and you're happy with the end product.

4. Lighting
It can't be stressed how important it is to have proper lighting in the bathroom. One only realizes how crucial these are when one has to put on makeup on a cloudy day. Dull lighting can cause minor accidents like nicks from shaving etc too. Besides, a dim environment is a put off for everyone, including potential buyers.
So, it goes without saying, good lighting is an absolute must in every bathroom. If you are on a tight budget, you don't need to go out of your way to include these either. You can avoid fancy designs and go for the practical and stylish task lights instead.

5. Fixtures
When most aspects of your bathroom have already been polished or replaced to look brand new, don't forget the fixtures. Old fixtures against new items make the bathroom look bad and put your resale value on the line. When you look at the bigger picture, they make for a minuscule expenditure in comparison to the rest. So why risk it?
Instead, think of them as the cherry to a cake. Basically, just how garnishing denotes that the food's ready to be served, fixtures give the bathroom makeover the last finishing. After all, every inch of your bathroom is important. Even these little things count towards creating a final look that satisfies you and works in favor of your resale value.

6. Flooring
The right flooring is crucial in a bathroom, especially with the constant presence of moisture and the frequent temperature changes. Needless to say, you should get a durable and waterproof flooring for the bathroom.
However, it's always best to check the condition of the flooring to know when it's time for a change. If the shelf life is still good, you might just be able to get new tiles to revive it. Or perhaps, you could get by with replacing just the damaged areas. On the flip side, you might also look at this as a chance to opt for an easier to maintain or more durable flooring material for the whole bathroom too. Either way, use your discretion to make a call.
Be mindful that your decisions will affect the outcome of your bathroom, and this will impact the ROI too. Therefore, you got to make smart decisions and consult an expert when you are unsure about anything. After all, your bathroom remodeling ideas should work in favor of you rather than against you in terms of investment. So we would suggest thoroughly thinking everything through before proceeding.