5 Hidden Light Options for Your Kitchen Remodel
Sometimes, you may want lighting in your kitchen that isn't "in your face." This is where hidden lights come into play. There are several ways you can improve the lighting in your kitchen without taking up unnecessary ceiling space.
And in doing so, you can create a kitchen design that's contemporary, seamless and open. If you want a kitchen layout that's uncluttered, then hidden lights is the perfect way to give a complete experience.
In the following guide, we'll cover some of the hidden light options you can use for your upcoming kitchen remodel.
Let's look.
1. You Can't Go Wrong with Recessed Lights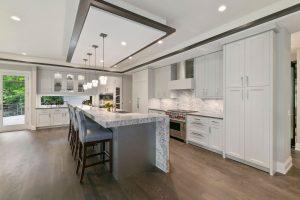 There are many things you should love about recessed lighting. For instance, they're easy on the wallet and easy to install in the right kitchen layout.
These lights are pushed into your ceiling, giving your ceiling a nice clean look. The only thing you see are the lens and trim ring around it. If you're dealing with a kitchen with a low ceiling, then this is the perfect choice for your lighting.
Just keep in mind that recessed lights cast a harsh circle of light in the area below it. To help tone down the lights, you can install a dimmer switch. Some also go with gimbal lights to add flexibility.
2. Give Side Lights a Shot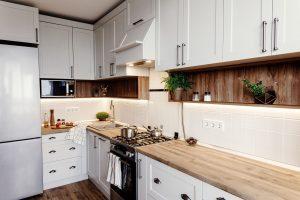 Say you don't want lights installed into your ceiling – another option is to go with side lights. These look like notches in the wall, projecting lights downward. It illuminates the floor, as well as the rest of the room.
There are other ways you can add these lights to your kitchen space. For instance, you can install it sideways on your ceiling or install it into the wall and have it pointing upwards, giving an ambient light source.
Once installed, these lights are only about 95% visible. All you see is the trim – the body, bulb and lens are all well-hidden. They're very flexible to use, which is a great thing. However, it does take up wall space, so keep this in mind.
3. Opt for the Seductive Tray Ceiling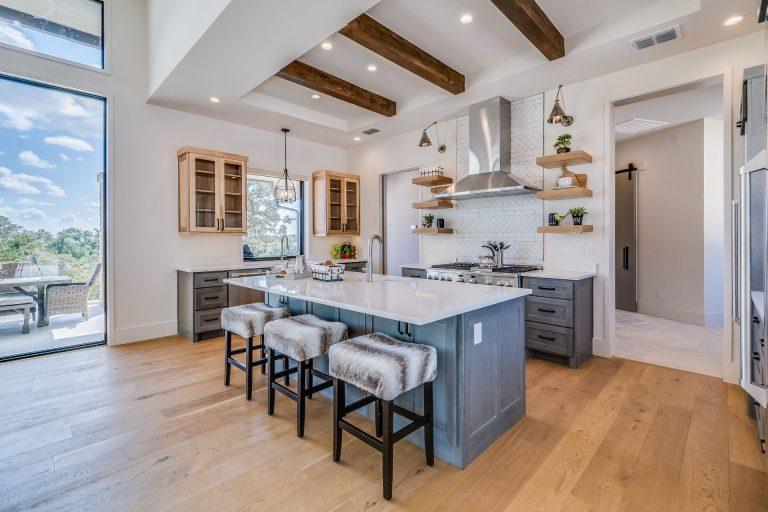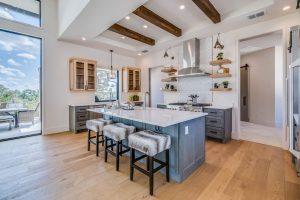 If you're really in love with ambient lighting, then tray-based lighting is for you. To pull this off, you need open air soffits at the top of your walls. The illumination flows through the small gaps.
Surprisingly, there are no expensive or complicated lights. Just rope lights are used. What's great about this option is that the lights are 100% hidden. You won't see any part of the fixture, just the lights.
The lighting is unobtrusive and soft. The downside is you'll need a carpenter to build the trays for the lighting.
 4. Why Not Recessed Floor Lights?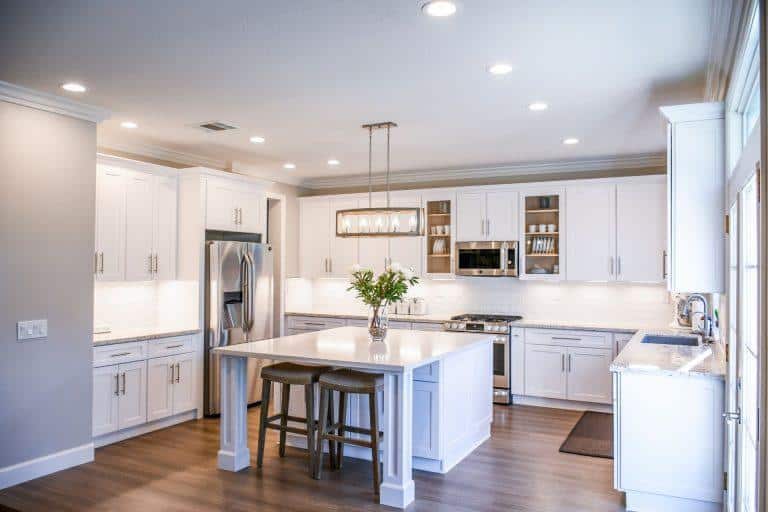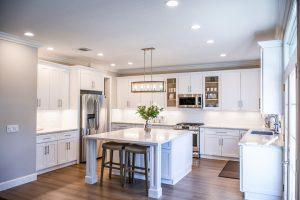 Now, if you really want to get creative with your kitchen lighting, you can opt for recessed floor lights. Whoever said lights must extend from the ceiling or walls? You'll commonly find these styles of lights inside of movie theaters, galleries and museums.
However, this doesn't mean you can't install them in a residential property. What's great about recessed floor lights is that they're unique, making your kitchen the talk of the town.
The downside is that these are best installed during a new construction or major kitchen remodel. However, you may be able to retrofit it depending on the structure of your home.
5. Check Out Drop Ceiling Soffit Lights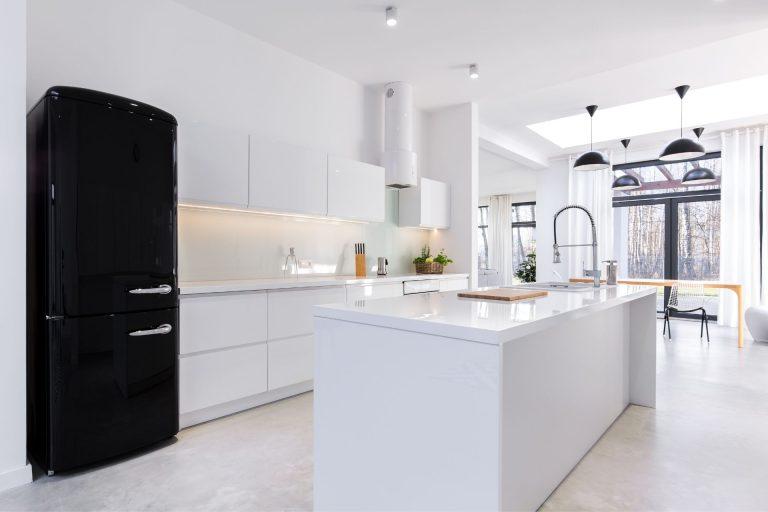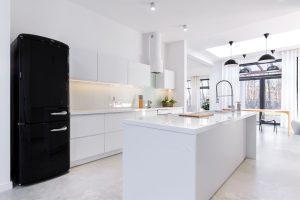 You won't find drop soffit ceilings in many homes. This requires an ample amount of ceiling height to incorporate. When you do find residences with drop ceiling soffits, they normally have recessed lights installed.
You don't have to have exposed lights in your soffits. You can have hidden lights that are sandwiched between the ceiling gap.
This way, the lights are 100% hidden and offer a nice soft ambient light. Do note that building drop ceilings can be difficult, so you'll need a crafty contractor for the job.
Undergoing a Major Kitchen Remodel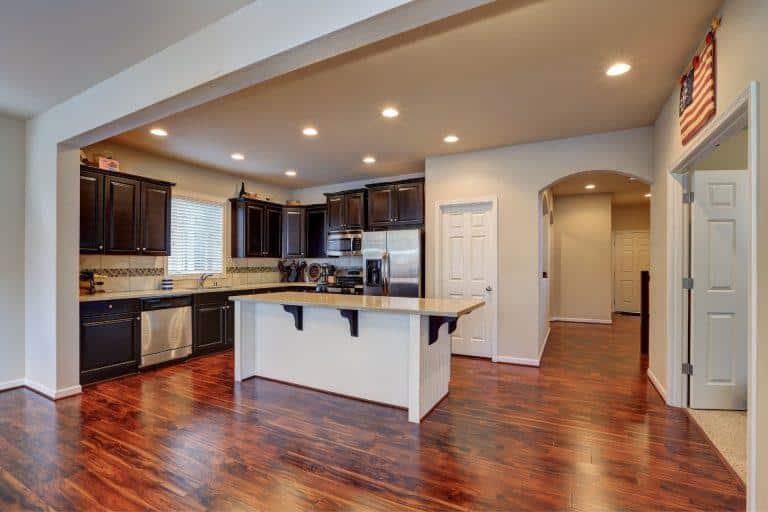 The best time to get the exact kitchen you want is during a major kitchen overhaul. Giving your cooking space the do over it deserves means giving it a complete overhaul. Everything must go so you can start from scratch.
But to get a quality kitchen, you need quality materials and products. This is where GBC Kitchen and Bath comes in. We have some of the best products and materials on the market.
Many of our kitchen remodeling customers come to use for complete kitchen makeovers. This consists of replacing the cabinets with cabinetry from leading brands like Medallion Cabinetry, Forevermark Cabinetry, Waypoint, Fabuwood and Design-Craft.
Then we also have high-end natural and engineered stones, such as granite, marble and quartz. These derive from leading manufacturers, such as Cambria, Silestone and Caesarstone.
We also offer a host of other products you can use for your kitchen renovation. Some of these items include sinks, faucets, hardwood, tile and laminate. These all come from top-notch brands and have brand warranties intact.
You can visit our local showroom to see our products firsthand. Our contractors will fabricate the materials you need to meet the specifications of your kitchen dimensions.
Why Choose GBC Kitchen and Bath
At GBC Kitchen and Bath, we have licensed, bonded and insured contractors who can assist with your kitchen remodels. Our experts are experienced in doing complete overhauls that consist of replacing the floors, countertops, cabinets and fixtures.
The craftsmanship we offer is unsurpassed and our rates are unmatched. The areas we service include Vienna, Falls Church, Tyson, Fairfax, Springfield, Rockville, Alexandria and other cities in Maryland and Virginia.
Free estimates are available to all customers – give us a call today to get started with your quote!