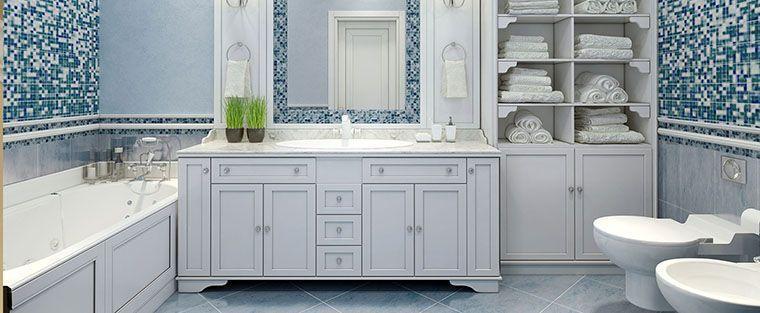 7 Shelving Ideas for Your Bathroom Remodel
Keeping your home organized is key to maintaining its harmony and comfort. But when you have too many items to store, it can become rather hectic. This is especially so for bathrooms.
If you're dealing with a lack of storage space in your restroom, then it's time to make some adjustments to the space. One option is to add shelves to the room.
Now, there are many ways you can incorporate shelves into your bathroom design. We're going to cover some of these ideas right now.
So, let's get to it!
Recessed Bathroom Shelves
No, not all shelves have to protrude from the wall, eating up even more space. If you're remodeling a small bathroom or just want to save space, then recessed shelves are a great option.
It's the perfect addition to bathrooms with modern designs. This will make your bathroom appear smooth and harmonious. And in some cases, it'll help to expand the space visually – the opposite of what protruding wall shelves would do.
Light Industrial Shelves
Sometimes, homeowners add shelves for aesthetic appeal vs organization. If you're looking to stow away just a few items you have lying around, such as little bottles of hand soap or decorative bathroom supplies, then this is for you.
The metalwork can have a nice design that adds a feminine touch. Typically, these shelves are made with monochrome that's either black, white, or gray.
Recessed Glass Shelves
Now, we already covered recessed shelves, but not like this. You can recess the glass shelves into a marble or granite surrounding for a luxurious, neat look. If you decide to put this in your tub area, you can further widen the space by installing mirrors for the tub surround and along the walls surrounding it.
All the glass and reflections will give your bathroom the appearance of a larger space, which is ideal for smaller restrooms.
Bathroom Shelving Nook
Some bathrooms have weird shallow spaces, which you can use to install a shelving nook. You can then use this to store toilet paper, towels, soap, and other bathroom products.
You can opt for three shelves that are painted the same color as the walls. Use it to store your cleaning supplies to get quick access (and to keep it out of reach of children).
Shelves Behind the Toilet
You can get very creative with this idea. While there are shelf products on the market that are designed to sit above the toilet area, there's another way you can achieve the same look.
For instance, you can pt. for a ladder shelf – transform a ladder into a shelf system you place behind the toilet. And voila! You have a unique shelving unit for your bathroom décor.
You can opt for a wooden ladder that you can paint or leave plain. This is an excellent option if you don't want to put holes in your walls or invest in a lot of construction to build your shelving system.
Also, the placement is ingenious – you can always reach for more toilet paper whenever you run out!
Open Cabinet Shelves
What makes this shelving design different is the fact it's installed on your bathroom countertop. If you have a large vanity, you can have it span across the counter without disrupting your sink and mirror space.
It's a practical design that gives you quick and easy access to the toiletries you need.
Buffet-Style Shelving Unit
If you're into custom shelving designs, then this one may appeal to you. The buffet-style shelving unit looks a lot like an armoire with glass doors, commonly found in dining rooms.
There are two columns and four rows of shelves to accommodate all your bathroom storage needs. Plus, you can implement two drawers on the bottom to hold additional items.
It's ideal for contemporary style bathrooms. Also, the unit can reach to the ceiling or close to it.
Upgrading Your Bathroom with Storage Space
When you have a team of professionals on your team, you can easily upgrade the design of your bathroom. At GBC Kitchen and Bath, we have designers and other experts that can help with the process of your bathroom remodel.
This includes selecting and installing cabinetry in your restroom. If shelves aren't really your thing, you can always install cabinets on available vertical wall space. We have a great selection of cabinets you can see in our local showroom.
We carry cabinets from top lines, such as Schrock, Forevermark, J & K, Wolf Cabinets, and Fabuwood. You'll also find a host of other quality products available, such as stone countertop slabs like granite, marble, and engineered quartz.
These come from top manufacturers, such as Silestone, Caesarstone, and Cambria. Each of our products are backed by brand warranties to ensure your purchase is safeguarded.
Our licensed, bonded, and insured contractors will fabricate, deliver, and install the products you purchase. We get praise from our customers because our delivery is much faster than big box stores. Since we're a local company, you can come to our local showroom to see all the products we carry.
Some of the other items we have available include hardwood, tile, backsplashes, carpets, vanities, sinks, faucets, and knobs & pulls.
Whatever you need to make your bathroom design comfortable, we can provide. Get in touch with us today to get started with your free estimate!