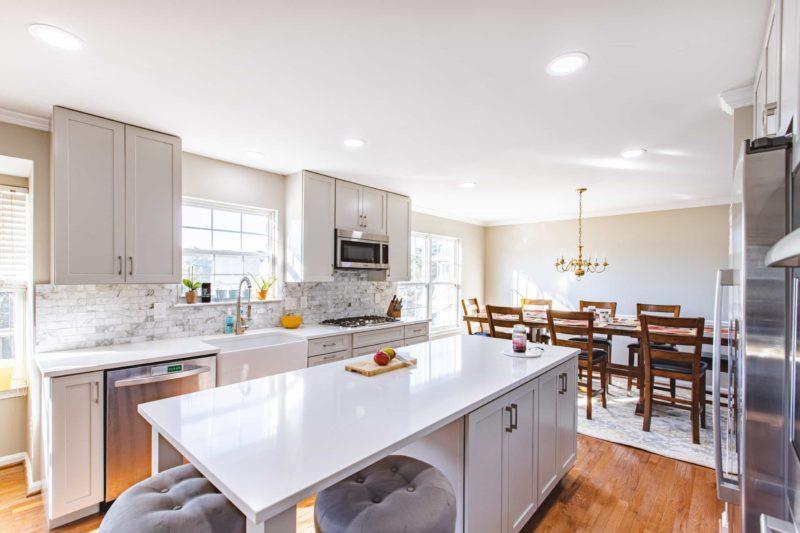 Remodeling your kitchen is a once-in-a-lifetime investment for many. As rewarding as it may be, it's also easy to make some common kitchen remodeling mistakes that will end up ruining your goal of a dreamy kitchen.
A kitchen remodel may seem easy and straightforward, and it is if you avoid these kitchen remodeling design mistakes. Because some of them will cost you time, some will cost you money, and some of them will be downright devastating. 
Poor Planning
Work Triangle 
To design a functional and efficient kitchen layout, the concept of the kitchen work triangle is essential. You must follow this kitchen work triangle that decides where to place the cooking range, refrigerator, and the sink.
A triangular arrangement of these three items often works best. When these three elements are close to each other, the imaginary lines between them make the kitchen efficient to use.
You can place your dishwasher right next to your sink and at a couple of arm lengths from your refrigerator. Appearance is one thing, though remember that your kitchen is an area of function. 
Lack of Countertop Space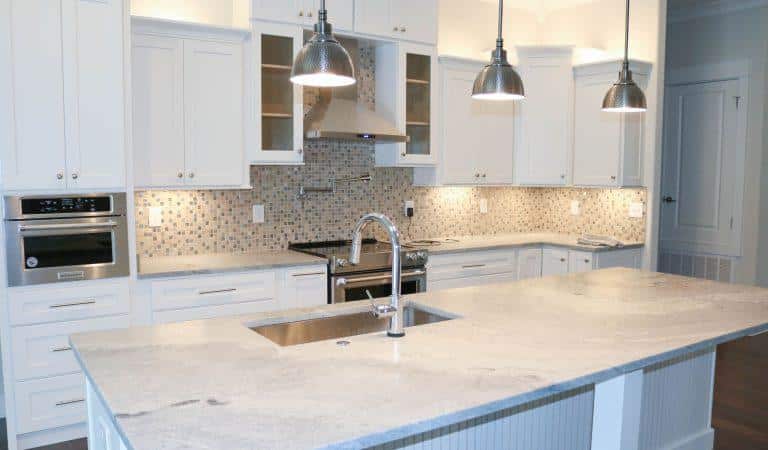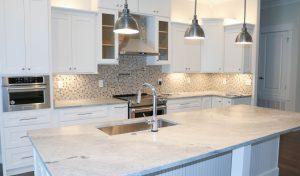 When you remodel your kitchen, you can recommend keeping at least 150 inches of usable countertop space. It includes lower cabinets that are at least 24 inches (60 cm) deep and have 18″ of clearance (45 cm) space above the countertop. This space can also include islands.
Furthermore, these are the spatial requirements for countertop space next to appliances: 24″ next to one side of the sink for prep work and 18″ on the other side. 15″ of countertop beside the refrigerator, usually on the handle side. 
12″ of countertop on one side of a cooking surface and 18″ on the other. If you have more room, that's great. These are the minimum requirements for a fully functioning kitchen.
Also, make sure you opt for a durable, low-maintenance, scratch, and spill-proof countertop material. Mainly, marble, quartz, solid surface, and granite are the top kitchen countertop choices. On the contrary, limestone countertops are not a wise choice if you're consistently cooking heavy duty meals. 
If you have a tiny kitchen, don't make the kitchen remodeling mistake of squeezing in an island in the middle of your kitchen. While kitchen islands increase your preparation area, they take up a lot of room. Make sure you have at least 36″ around the island for passage, or it might be better to leave it out of your remodel altogether. 
Furniture That Doesn't Fit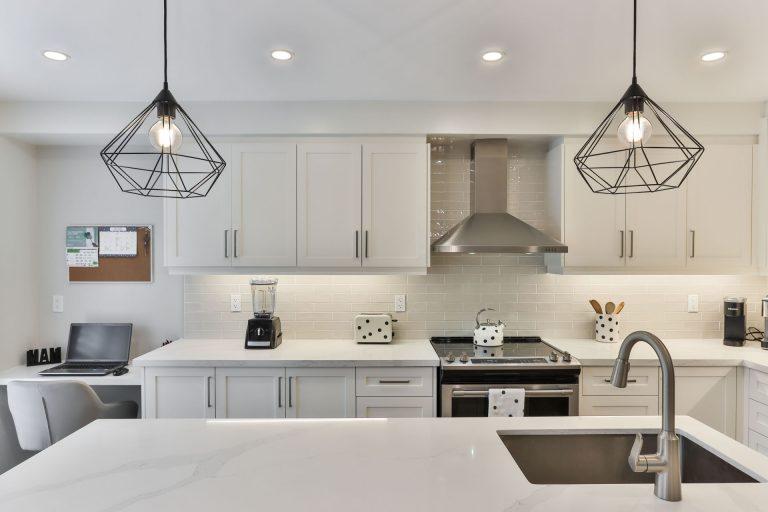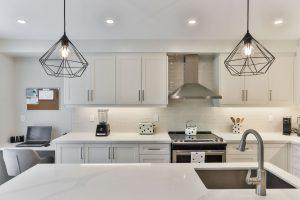 When a countertop space doubles as a seating area, allow at least 30″ space per stool for comfortable seating. You don't want your guests knocking their elbows with each other all night long, do you?
You also need to include sufficient legroom when remodeling your bar/countertop area, mainly 15″.
Plan for 36″ countertop height and 12″ of leg space for 42″ counters. This space will allow you to kick your legs freely underneath the counter space without hitting the cabinets in front of you.
Also, specify the right size stool for that space. Make sure you measure everything first and keep it in mind when you're shopping. 
Overspending
Another of the common kitchen remodeling mistakes homeowners often make is overspending on things you don't need. Before undergoing a kitchen remodel, see if you can reuse anything.
Take a look at your base cabinets and see if they're in good shape. Often, base cabinets are still structurally sound, but the face or the door panel is a little dated or more traditional than you want. You can easily get away with refinishing your kitchen cabinets if they're in good shape.
In this case, you can custom make new door panels or look for prefabricated doors in the sizes that you need. It will give you a completely new look for a fraction of the cost. 
Wrong Flooring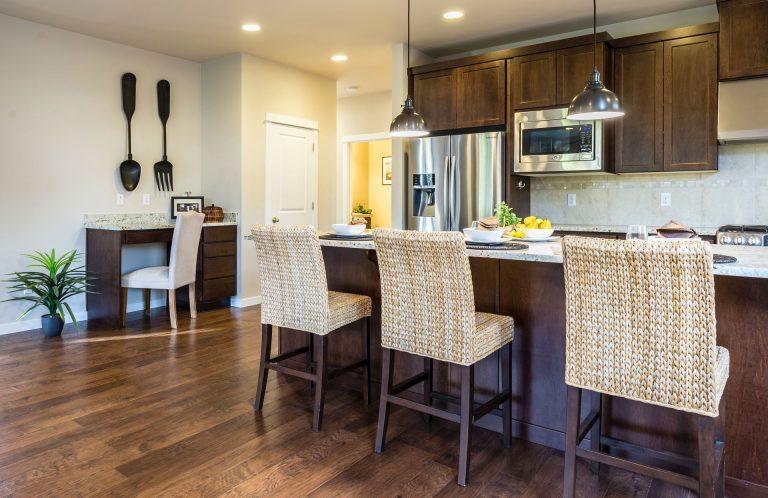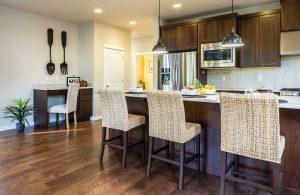 Kitchens are busy, high-traffic, wet areas, so you want to focus on a specific finish that's durable and has an anti-slip finish. Also, it needs to be moisture-resistant, and perhaps, scratch-proof. Thin and cheap materials can't bear the weight of heavy appliances. You must look for something strong while choosing your kitchen flooring.
Super smooth tiles will be slippery once you spill water on them. Look for waterproof or water-resistant flooring. You can install engineered hardwood, laminate, and even luxury vinyl plank in your kitchen. 
We know you're wondering which flooring is best for your kitchen? The newer types of engineered wood and laminate all come with a water-resistant finish. If you're trying to choose between luxury vinyl plank, engineered hardwood, or laminate, look through the manufacturer's labels to help guide. 
Going Overboard With Shelving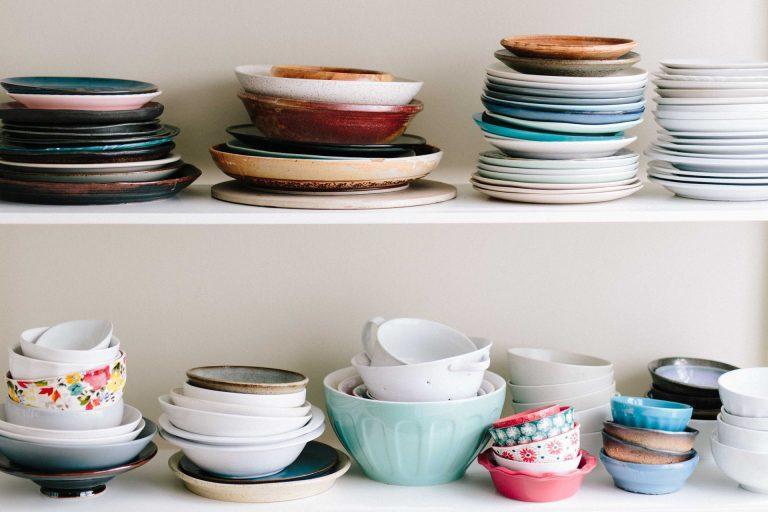 Open shelving can look stunning in a kitchen, especially if you have some impressive dishware to display. But having visual access to everything can also look cluttered.
Moreover, your kitchenware will quickly gather dust if you don't use it every day. To avoid this kitchen remodeling mistake, you can include a mixture of open and closed storage. This way, you can parade the porcelain and put the sippy cups in the drawer. Convenient, right? 
Impractical Hardware and Fixtures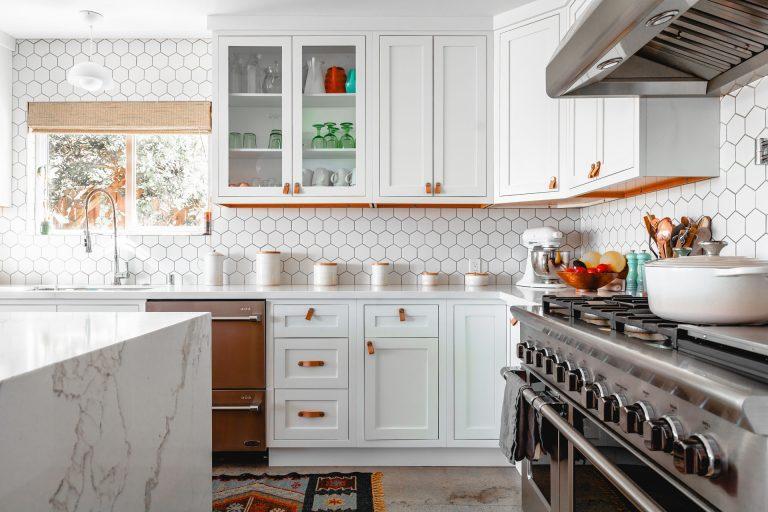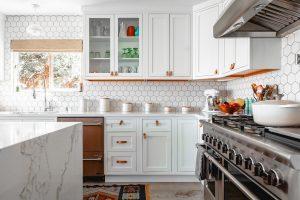 It's far too common to choose fixtures that looks cool and trendy but doesn't operate like you need them to. It includes tiny knobs that may not be ergonomic to open with ease, sleek handles that look streamlined, but it is difficult to maneuver with wet hands.
Reserve stylish hardware for standard cabinets that open quickly, and install pool handles that you can latch onto for drawers and appliances that require a bit more effort to open. 
Buying Without Trying
Not known to many, but this is among the more kitchen remodeling mistakes.  Requesting samples is an absolute must before committing to a significant design in your kitchen, especially if you're shopping online.
Ideally, it is critical to see all of your finishes together. This way, you can ensure all the colors, textures look exactly like you want them in your space. 
Finishes can look a lot different in a showroom versus your own home. Majorly, this happens when the surrounding lighting and your furniture changes up the look.
Following Trends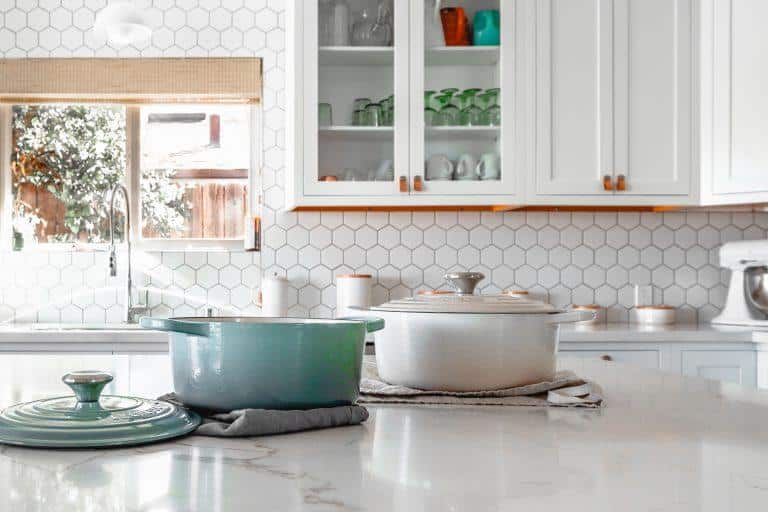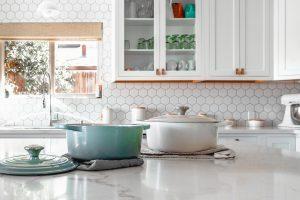 Now, this can be a kitchen remodeling mistake or boon, depending on how it's done. It's a great idea to stay on top of kitchen remodel trends; you can see what's out there, but kitchen renovations are expensive.
On average, most homeowners only remodel or renovate their kitchen every 7 – 10 years. You want to design your kitchen in a way it's classic, timeless; one that you won't get bored off too soon. 
If you want to incorporate the latest finish or a bold, dramatic color, it's safest to add them through accessories, accent walls, and small home appliances. You can also swap them out easily if your style changes. 
On the flip side, don't play it safe. Everyone loves a bright white airy kitchen, but white can look sterile, really fast. To jazz up that white kitchen, you can look for a statement countertop or backsplash. Think about the fixtures and hardware to inject a bit more personality into the space. 
Overall, kitchen remodels may take time, patience, and a lot of money. It will be a shame if you devote all three to your remodeling project just for it not to turn out the way you want. Thus, follow our tips to curb these kitchen remodeling mistakes that most homeowners make.