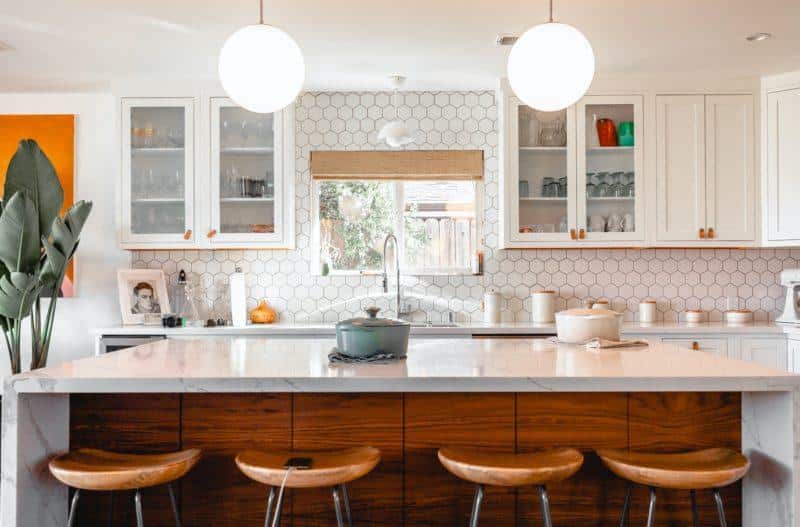 The overall design of your kitchen plays a huge role in how your house functions. Unsurprisingly,  more and more homeowners are focusing on kitchen remodeling designs. You'd be surprised to learn that even the tiniest of changes can have the most significant impact.
Like our own lives, our kitchen needs a breath of fresh air (or merely a new coat of paint) at times. A proper kitchen makeover seeks to do justice to the overall aesthetics and functionality of the kitchen.
Whether you require an economically sound fix or a luxurious remodel, going through various kitchen remodeling designs can help you find inspiration for the best thing your kitchen needs. This list presents our choices for the best kitchen remodeling designs.
Install Additional Storage Space in Your Kitchen
Storage space plays a vital role in kitchen remodeling designs. Not only do improperly designed kitchens leave a lot to be desired, but they also offer very little room to adjust large sized cooking equipment. As a result, mixers, blenders, and other similar items collect dust in the closet or basement.
You can rectify this issue by incorporating extra storage space into your kitchen. For example, tables with tiers conveniently provide additional prep space and also allow you to put selected appliances on display. That gives your place a unique look that suits both traditional and modern kitchens. Thus, it is featured in several contemporary kitchen remodeling designs.
Use Glass Jars to Store Bulky Objects
Another trend growing popular in new kitchen remodeling designs is that of glass jars. You can use them to store bulky items like baking ingredients and cereals on a floating shelf. That not only helps you conserve space in your pantry but gives it a visually appealing look as well. You can buy coffee and spices in bulk and store them in clean mason jars.
Look Out For More Creative Spaces
Creative space could come in many forms. For example, you could use the space over your stove for placing an iron pot hanger or French scroll. You can put up hooks under your shelves to hang mugs.
Doing so will also help you free up space on the shelf to store your ceramics and glasses. At the same time, you can try to look for places to hang your oven mitts, utensils, towels, and other frequently used objects. A number of popular kitchen remodeling designs make use of these concepts.
Try Using a Rolling Kitchen Island
In case you have a moderate-sized kitchen that can just accommodate a little roll-around, you could try going for a rolling island with locking tires. These islands are available in a variety of sizes and shapes.
Large kitchen islands provide convenient space for entertainment, children to have snacks, and several people cooking together. You can choose an island with cabinets or drawers to get additional space for more organization. You will also be able to move the island wherever you need conveniently.
Go for Eco-Friendly, Sustainable Wood Flooring
The green movement is more popular than ever and has found a place in contemporary kitchen remodeling designs too. By virtue of sustainable wood flooring, homeowners are hoping to connect better with nature as well.
Admittedly, real wood flooring can be rather costly. In that case, you can consider going for a comparatively cheaper engineered wood floor as well.
Turn Backsplashes and Sinks into a Focal Point
In older times, sinks used to be merely technical elements to store unclean dishes to be washed. However, modern kitchen remodeling designs show a significant change in the approach towards sinks now.
Contemporary kitchens are now featuring luxurious, more bottomless bowls crafted from stainless steel, stone composites, and copper. Apart from this, you can easily customize your kitchen backsplash. It is safe to extrapolate that the popularity of glass tiles will continue to grow as well.
Switch to Professional Grade Appliances
Contemporary kitchen remodeling designs are increasingly showing a preference for commercial grade appliances. If you are aiming for a quality makeover, and have a healthy budget at your disposal, then you can go for it.
Investing in an induction cooktop or commercial-style range can enhance your kitchen significantly. Apart from that, it will also greatly increase the resale value of your home.
Use High Quality and Easily Manageable Countertops
Kitchen countertops from the days of old were almost invariably laminates. However, that trend has dramatically changed over time, as modern kitchen remodeling designs testify. Admittedly, natural stone granite counters still retain significant popularity among homeowners.
Nonetheless, customers are showing a much stronger preference for quartz composite materials now. Not only are these far more resistant to stains and mechanical abrasions, but they are much easier to maintain as well.
Pay Attention to the Tiny Things
Quite often, in every sphere of life, little things tend to make a lot of difference. This holds true in kitchen remodeling as well. Cooking is a beautiful art, and every home chef needs quality inspiration as well. Try to look for innovative methods of displaying objects that represent you and your house's personality.
For instance, you can use an open shelf to put artwork, glassware, and decorative bottles on display. Use hooks to hang mugs and cups, or a clock. You can even use them to put up a little miniature garden by using jar planters.
Choose Kitchen Cabinet Finishes
Kitchen cabinets take the most space in your kitchen and hence, they also have a significant impact on your kitchen's design. When you're choosing kitchen cabinet finishes, you can transform the design of your kitchen drastically.
You can choose from different finishes like matte, gloss, and semi-gloss finishes for your kitchen cabinetry. The type of finish that you choose will also help elevate your kitchen design. For instance, a matte cabinet finish is more suitable for a modern kitchen remodel as opposed to a traditional one.
Try to Get Professional Design Help
Renovating an outdated pantry can be a challenging and tedious job that requires significant skill. By virtue of their experience and expertise, specialists in this field can significantly help you with this. 
Similarly, they can guarantee you quality kitchen remodeling services at reasonable prices. Their technicians will be appropriately licensed, bonded, and trained for this very job. And since they are professionals, they will always be eager to put in their best efforts for you.