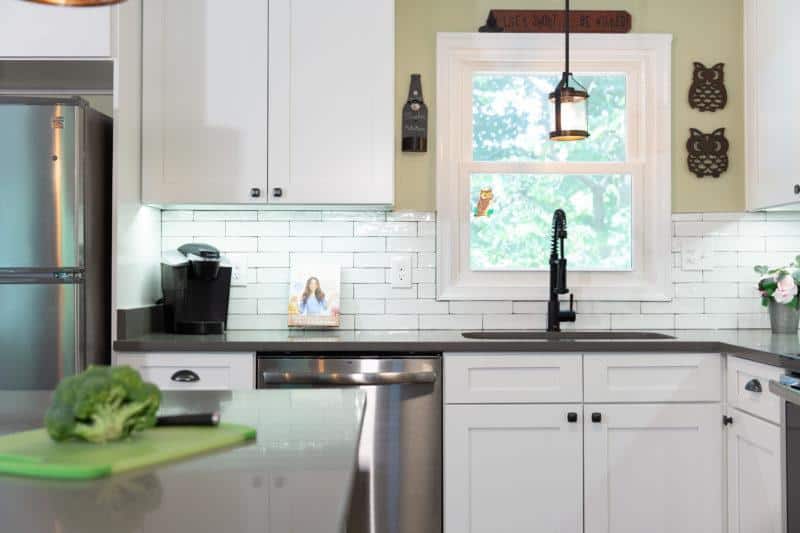 One of the most challenging choices when you design your kitchen is your choice of a backsplash. Every homeowner has a different style, needs, wants, and different types of kitchen design. It always plays a factor in what kind of setting you have and which backsplash you should get. Let's discuss some popular kitchen backsplash ideas worth investing in. 
Before we do that, let's talk about backsplashes. The backsplash transitions from the upper cabinets down to the countertops and it should help keep your kitchen clean and functional. 
The kitchen backsplash is also the ultimate place to add a premium touch to your kitchen. It also protects the kitchen walls from moisture, and mold along with nasty oil stains. Also, it serves as the focal point where style meets function.
So before investing in a backsplash, it's essential to consider these four factors: material, durability, cost, and design. You also have to make sure your backsplash blends in well with your countertops and cabinetry remodel.
Not just that, it can help you express your style. Backsplashes are available in different styles, colors, and shapes. As a key element in your kitchen, a great deal of thought and planning goes into the material and its design. 
Install the Countertops First
When you're remodeling your kitchen, it is best to install countertops before the backsplash. This not only ensures more seamless tiling but also allows you to view your countertops in your space before finalizing the backsplash designs. 
Tile Kitchen Backsplash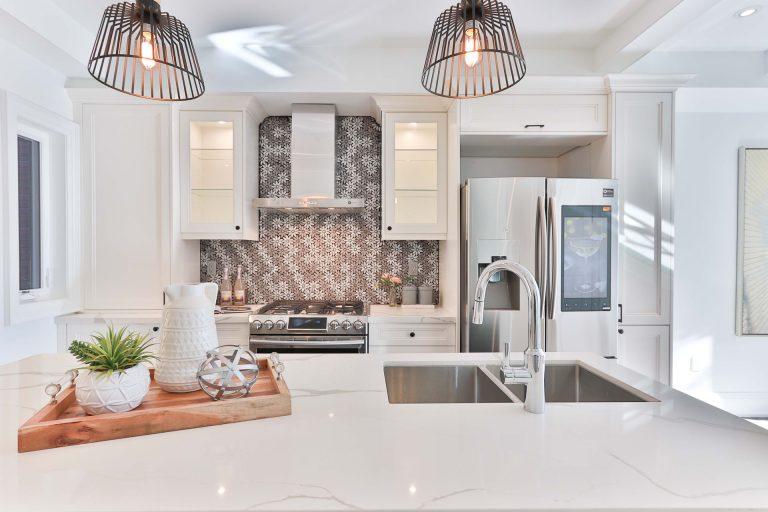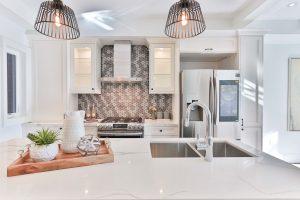 There are several backsplash materials like natural stone, granite, tiles, concrete, and glass. Subway tiles are the most popular backsplash tiles as they are affordable, clean, and come in various colors.
Similarly, ceramic tiles are also used as backsplash tiles because they are the most economical. They also come in complementary sizes, with more extensive field tiles for the floor. 
If you want the premium feel of natural stone but don't have the budget for it, you can substitute it with tiles. Tiles come in a variety of colors and can mimic natural stone designs for less. 
There are many tile surfaces to choose from – glass, ceramic, granite, and even metal. They come in different cuts, colors, and patterns. While placing these, create harmony between the hood, cabinets, countertops, and even the flooring. 
Lighting is another feature you can add to your kitchen backsplash to create a warm and visual interest in your kitchen design. Its collaboration with your backsplash will add to the functioning and aesthetics of your cooking space.
Marble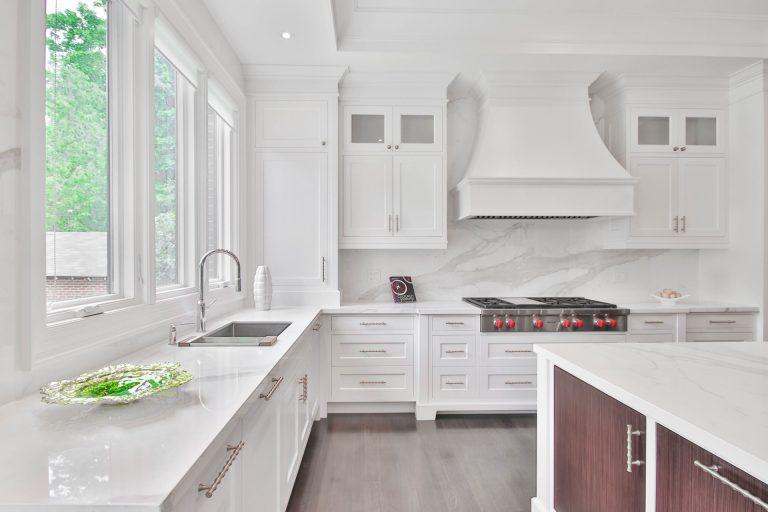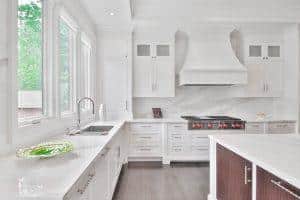 Marble is a versatile and timeless foundation for the kitchen. You can pair your countertops with a complementing marble backsplash. Or you can choose to use the same marble as the countertop for a uniform feel. This will give your kitchen a luxurious feel and elevate the space even more. You can also pair it with simple or patterned glass, ceramic, and porcelain tile for a more casual look. 
But make sure you have a budget set as stone backsplashes can get really expensive. You can choose to either install a whole slab of one design or opt for smaller marble tilings. 
Similarly, whatever you choose will affect your backsplash cost and overall budget. Also, marble tiles will need frequent touch-ups and maintenance as they can crack and scratch easily. 
Granite
Granite has the most detail per square inch, so don't mess up your kitchen design with an intricate backsplash. Select one of the lightest colors on the countertop to use for your backsplash inspiration.  Granite will also help keep your kitchen light and fresh. 
Quartz and Quartzite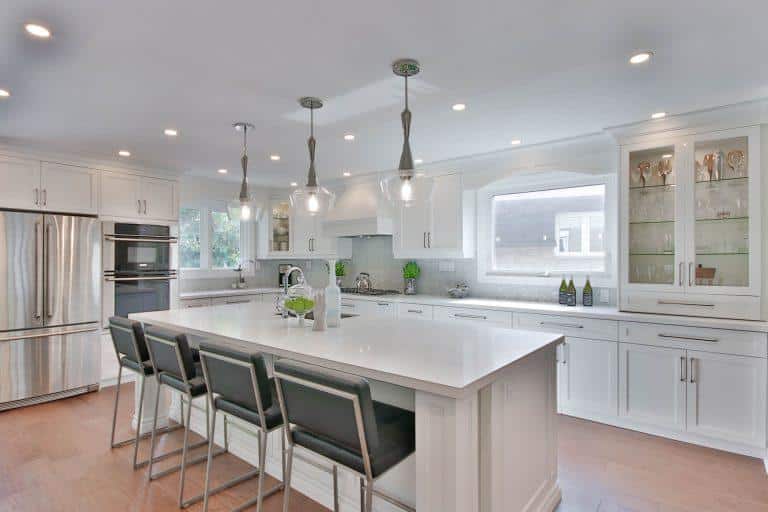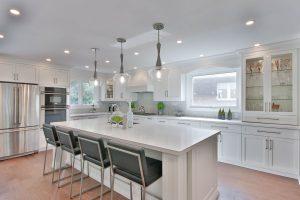 Quartz and quartzite can vary between marble-ish designs or come in more varied granite textures.
You add a pop of excitement to your backsplash when you have a clean countertop canvas. Similarly, if you have a more dramatic countertop, you can choose a clean white quartz backsplash and let it shine. 
Solid Surfaces
Solid surfaces offer functionality and simplicity. Our advice is to select a backsplash that won't overpower its functionality. So a glass, ceramic, or porcelain tile is ideal.  It is advised to keep it clean and modern, but have fun with the installation pattern. 
Glass Tiles
A beautiful yet less popular option is a glass tile backsplash. Glass tiles are difficult to install and are on the pricier side of the spectrum. 
They crack easily and can expand or contract much more than other subway tiles. They're slightly transparent and have a coating on the back. So, you need to get a clean cut and avoid chipping the back. 
But with glass tiles, you can go crazy with your color scheme. If you plan on adding an abstract, bolder look, you'll be spoilt for choices. You can play along with the design choices without it being overwhelming to the common eye. 
Wood Backsplash
If you have a traditional or rustic kitchen design, a wood backsplash is a great option to elevate that natural look. You can use reclaimed wood, engineered wood, or even plywood as your backsplash. 
Also, it's the most convenient to install out of all the kitchen backsplash ideas. Simply cut the wood, paint it to your desired color, and place it horizontally over the back wall. Lastly, seal it and let your rustic, warm addition shine. 
Choose the Right Pattern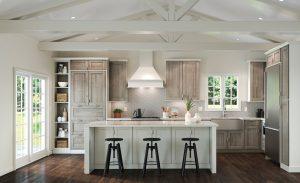 Now that you have your backsplash material in check, let's talk about a kitchen backsplash's design and shapes. With several options available, hexagons, rectangles, squares, and diamonds are the most popular choices.
In recent times, rectangular and hexagon tiles are much loved by homeowners for their backsplashes. You can lay them out quickly and create your desired pattern. You can create interesting interlocking patterns with both these tile shapes based on the layout. 
Alternatively, square tiles can't produce different patterns but are used to create a dimensional backsplash design. Also, they come in various patterns that you can use to create unique kitchen backsplash ideas.