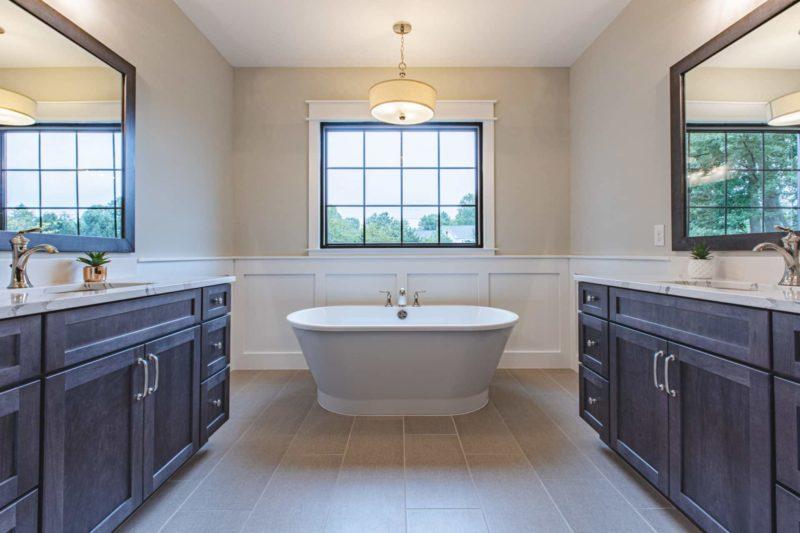 If there's a room that needs a little luxury, it's the bathroom. Your bathroom is one of the most useful and functional rooms in any home. Some new and top trends in bathroom remodeling in Arlington have emerged in the last few years.
More often than before, homeowners slip away for those long baths as the means of relaxing or just getting away from all the stress of the day. 
Arlington has several themes and trends that you can work with to make your bath experience pleasant and peaceful. Consider these top trends in bathroom remodeling in Arlington for your next remodel. 
1. Rise in Gray Tones
In traditional houses, gray tones are cold and unwelcoming. Today, architects and designers have mastered the art of making the space feel incredibly soothing. 
White and gray tiles is among the top trends in bathroom remodeling in Arlington. The trick to working with gray tones is to counterbalance its coolness. You can do this by adding warm wood tones or choosing a gray shade on the spectrum's warmer end. 
If you want to take your design to the next level, try incorporating concrete. They are used all over in sink basins, countertops, floors, and walls. 
2. Use Spa-like Designs 
Are you obsessed with taking a nice long bubble bath while listening to great music? You can create a relaxed vibe by simply adding dimmer lights and lighting some candles around. 
Similarly, if your goal is to create a spa-like vibe, there are certain elements you should add to your new bathroom. Yes, we're talking about neutral tones, plants, wood, candles, etc. By adding these simple everyday items, you can create a calming experience. 
Whether you use reclaimed wood or simply use new hardwood, make it look aged. A wall of reclaimed or aged wood paneling can add loads of texture to your space. Remember, the stain color or finish you will have a huge impact on the final look. 
3. Incorporate Marble Tiles
White and gray marble continues to be a strong popular material on our list of top trends in bathroom remodeling in Arlington. Marble has a reputation for being one of the most luxurious home design materials. Marble tiles are extremely durable and can last for generations if maintained properly. 
With that being said, no wonder marble bathrooms never go out of style. Here's a quick tip: use marble to add a little bit of drama to the bathroom. Keep in mind that the rest of the decor should be as simple as possible. You don't want your remodel to look a bit overdone. 
On the contrary, man-made materials like quartz and porcelain tiles that look like natural stone will be popular in Arlington this year. 
4. Mirror, Mirror on the Wall
Mirrors are extremely beneficial in enhancing your space's style and design, making it one of our top trends in bathroom remodeling in Arlington. There are tons of different mirror styles; contemporary, antique, modern, and vintage, just to name a few. 
A mirror creates an illusion of space. It's a piece of artwork, so it adds a little bit of style, it adds light, and lastly, it's a hiding storage space. Large, oversized mirrors are a sophisticated design statement but also a practical way to maximize natural light. 
5. Tech Innovations
It's 2020, and we possibly could not leave this trend out when technology is bigger than ever. It gets a little pricey, but more and more Arlington designers are incorporating it into their latest remodels.
Think 'thermostatic LED wall-mounted stainless-steel shower panel.' Wow, that was hard to say! It's a new design shower to create a simple and minimal look. Another cool addition to your new bathroom could be the hands-free lighting control mirror. It is integrated with voice-assistance and will give you access to your favorite Alexa features like music, shopping, work emails, and more. All you have to do is ask!
That's a wrap on the top trends in bathroom remodeling in Arlington which will help you find the best look for your next remodel.