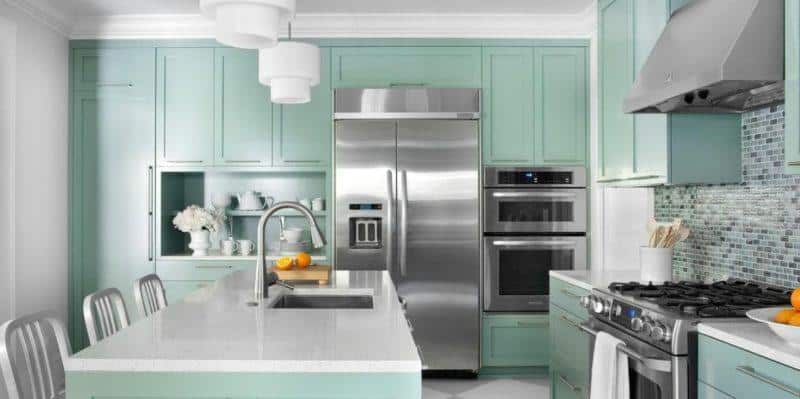 Remodeling your kitchen is an important decision to make. There are so many things that you have to consider. Among those things, one of the most important decisions that you have to make is about your kitchen cabinets. Cabinets not only play a crucial role in every kitchen, but they also take up the most square footage. Hence, it's important that you select the right cabinet design because it helps set the tone for your kitchen.
We know, it can be challenging to pick out from all the cabinet designs. That is why we have compiled a list of the most popular cabinet designs in kitchen remodels to help you get started.
Also Read: Choosing the Best Finish for Kitchen Cabinets
Popular Kitchen Cabinet Designs and Why You Should Choose Them
1. Shaker-Style Cabinets
Shaker cabinets have been popular for quite some time now and rightfully so. Shaker cabinets are the favorite choice of homeowners when it comes to choosing a new cabinet design for kitchen remodels.
How popular? Around 61% of homeowners choose shaker cabinets for their remodeled kitchen.
Shaker cabinets have recessed paneling with basic hardware. If you are going for a classic theme for your kitchen, these are considered to be the best choice by many remodelers.

2. Two-Tone Cabinets
We are well aware that all-white has been the standard for a while in kitchen cabinetry design. However, colors are making a splash. Data suggests that more and more homeowners are moving towards non-white kitchens.
One of the most common ways to do this is to opt for two-tone cabinets. Most homeowners opt for a light color for the upper cabinets and a darker color for the lower cabinetry.
Two-tone cabinets bring some personality into the kitchen and give it a fresh edge.

3. Transitional Design
While the two-tone design is considered new-age, it is actually a timeless cabinetry design that never fails to impress. As a result, transitional design continues to be a favorite among homeowners.
In essence, the transitional design combines two or more designs into one. And it's not rocket science to figure out why homeowners love it. Since most homeowners have a hard time choosing just one theme — they find it easier to combine two together.
The transitional design also allows you to pick and choose different elements from different styles. You can pick the clean aesthetic of modern kitchens while also going all out with a rustic design. The choice is yours. It is this choice and flexibility that makes transitional design such a timeless phenomenon.

4. Incorporating Technology
Your cabinetry design has to reflect the changing tides of time. One such change is technology. Technology has made rapid advancements over the past decade and your kitchen is not isolated from the ripple effect.
Cookbooks have been replaced by online cooking videos on phones and tablets. More and more homes are now incorporating technological needs in their cabinet design. Increased use of personal devices in the kitchen has paved the way for accessible charging ports and docking stations.
Similarly, the use of personal assistant devices also requires a dedicated space and some technical configuration, all of which is finding its way into cabinetry design.
5. Accommodate Appliances
Even with the most seamless of cabinets, one thing always stands out: the appliances. For many, it takes away from the meticulously designed theme of the kitchen. Well, not anymore.
Cabinet design has moved towards inclusivity. Homeowners are opting for custom cabinetry which blends in their appliances. This is done by introducing custom panels.
These panels blend the appliances with the cabinetry and give your kitchen a seamless and integrated look. Integrated appliances also help maintain the overall flow of the kitchen without any interruptions or distractions.
6. A Minimalist Makeover
An increasingly popular trend or rather a lifestyle has grabbed everyone's attention. Minimalism and all that comes with it (and all that doesn't) has been a strong buzzword in recent years.
In the world of cabinet design, minimalism stands for achieving a clean aesthetic. Out with ornate designs and over-the-top elements and in with subtlety.
Minimalist cabinet design almost always does away with design elements like handles and hardware. One-push cabinets are all the rage in this design theme. It adds to the sleekness and clean aesthetic of this trend.

7. Open Shelves
Over the years, the size of an average kitchen has reduced considerably. This has forced homeowners and designers to innovate. For many, the charm of upper cabinets is not what it used to be. They tend to make an already small kitchen feel smaller. Hence, open shelving.
Open shelving helps open up a kitchen space. Not only does it provide a reasonable storage option but it also serves as decor. Many homeowners remove a portion of their upper cabinetry and replace it with open shelves. It makes the kitchen feel more airy and expanded.
Be careful with what you choose to place on these shelves. Stick to durable yet beautiful items and keep fragile ones safely tucked away in cabinets across your kitchen.

In Conclusion
Just like everything else, cabinet designs keep on evolving. Year after year, there's always something new for homeowners to incorporate. These popular cabinet designs are a testament to the way cabinetry has evolved and keeps on evolving over the years.
If you are thinking about remodeling your kitchen, these cabinet designs are a good starting point. They can help you find the right style, inspiration, and theme. These popular cabinet designs can help ignite inspiration for your design goal and give you the kitchen of your dreams.