Six Clever Strategies to Use Space over Wall Cabinets
Planning a kitchen remodeling is an exercise in math. You need to know quite a few standard measurements such as the minimum size of a work aisle (42 inches), distance between appliances (3 ft to 7 ft), and the correct height for a countertop. In many cases, wall-base cabinet pairs serve as the point of origin for these measurements.
Cabinets also have standard installation measurements. The distance between the base cabinet (including kitchen countertops) and wall cabinet is normally between 18 and 20 inches. This is low enough to provide easy access to the wall cabinet contents for most people, and still have enough space to keep and use small appliances as well as use the workspace comfortably. Of course, you can make some adjustments depending on your height, but you should not make the wall cabinets too high because other people that use the kitchen may have a problem.
That also brings up how much space you will have between the top of the wall cabinet and the ceiling. In most homes, the standard ceiling is 8 feet high. A standard wall cabinet is 36 inches in height. Typically, this means you have about 6 inches of space just hanging out there, being useless. You need a ladder to reach it, and all it really does is gather dust.
However, that does not have to be the case. Here are six clever strategies to use that space over wall cabinets.
1. Get a non-standard cabinet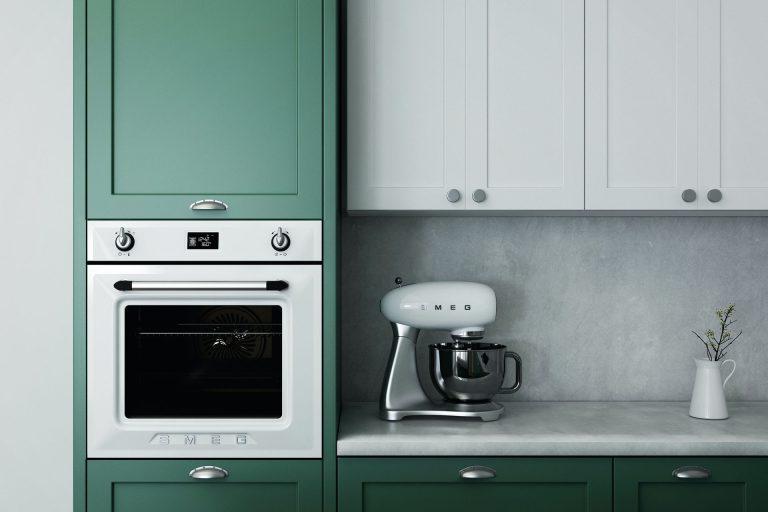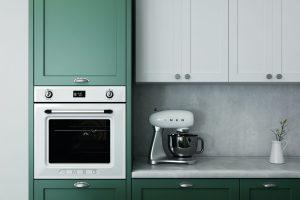 The standard height for a wall cabinet is 36 inches, but it can go all the way to 42 inches. This is the best way to make up the difference and get rid of that awkward space. It is also a great way to maximize your storage space and give the kitchen a more finished look. You may still be left with a small gap, especially if the ceiling is not completely true. However, you can easily hide that by putting in inexpensive crown molding to up the stylishness of your kitchen.
2. Close it up with beadboard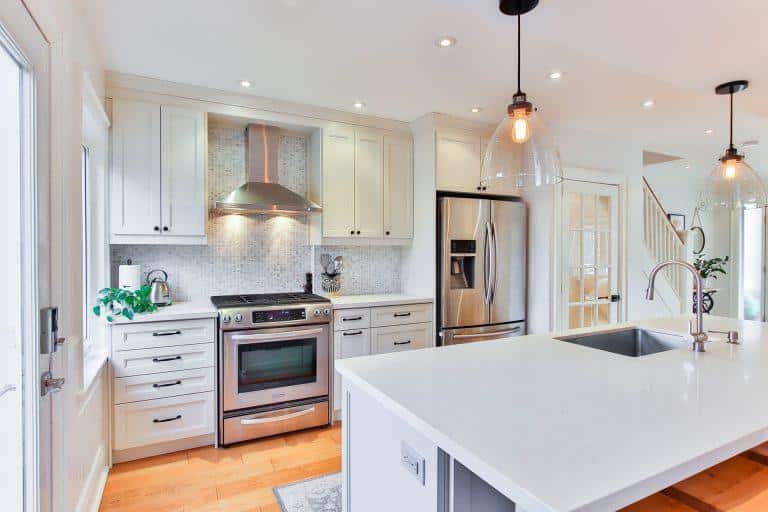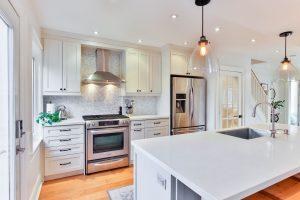 If your ceiling is a bit higher than 8 feet, a taller cabinet may not reach high enough to cover the gap. You can make up the difference by putting in beadboard and capping it off with crown molding. The architectural details of beadboard can give your kitchen an interesting look while closing off that unsightly gap permanently. You can paint it the same color as your cabinets to blend it in, or a complementary color to give it more dash. The important thing is keeping that space from gathering dust you will have to clean out periodically.
3. Use it as a book nook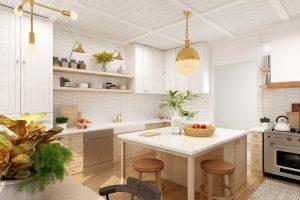 If you can't afford to waste even a bit of space in your house, you can use that space to store your cookbooks and other books, or even your household accounts ledgers and receipts. It is a convenient place for you to keep them out of the way and still within easy reach when you need them. However, you may want to keep anything with paper away from sources of heat and steam such as your stovetop and refrigerator to avoid ruining them over time.
4. Basket case, literally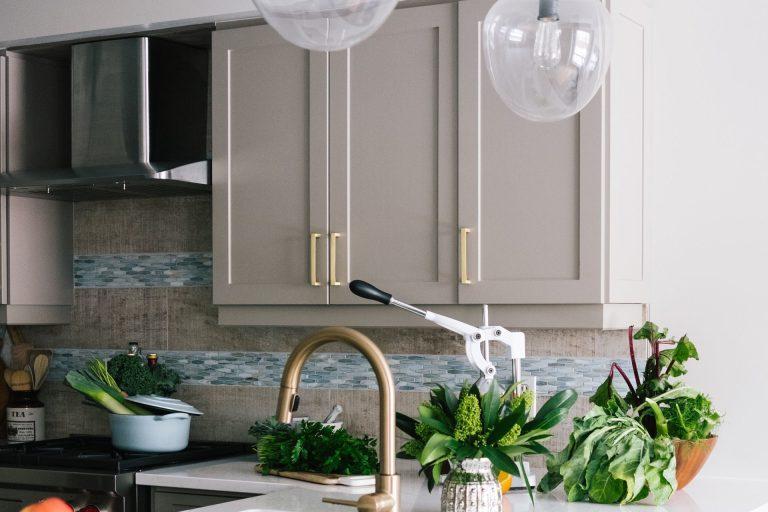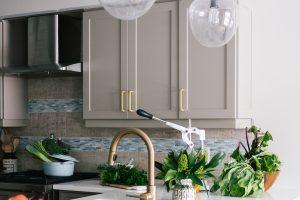 Another way to use that gap to answer your storage needs is as a repository for stuff you don't use but can't throw away. Pack them up into decorative boxes or baskets and line them up along that wall. You can also use those nifty plastic cases or shoe boxes that are ideal for storing stuff because they protect your things from dust.
5. Add in some plant boxes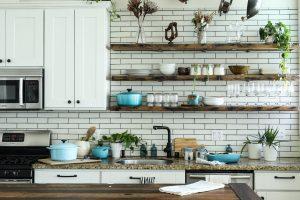 Who doesn't want a bit of green in the kitchen? In fact, feng shui dictates that any gaps near the ceiling, which is where stagnant energy collects, is best addressed by putting in something living such as plants. Plants not only look pretty, they help filter the air and add a little nature into your home. Choose plants that thrive in warm, humid conditions with little or no natural light. If you're not sure what those are, ask your local nursery for suggestions.
Plant These 10 Indian Medicinal Herbs In Your Kitchen Garden #naturalcure #naturalremedies

— naturecuredigest (@naturecurediges) June 17, 2016
Plant boxes can make it a breeze to keep plants tidy, and putting in slow-release watering containers means you only have to replenish it occasionally. If that still seems like a lot of work for you, you can stretch a point and put in fake plants. All you have to do is take them down occasionally to wash off the dust and grime once every six months or so.
6. Flaunt it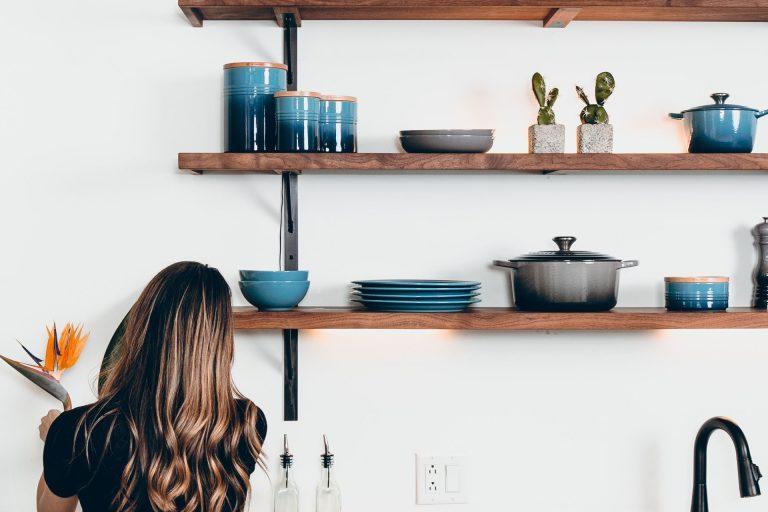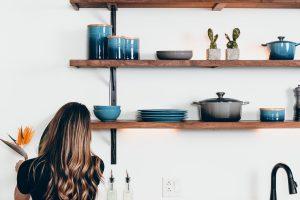 Funnily enough, if the gap between your wall cabinet and ceiling is at least a foot and a half, you can actually make the best use of it as a way to display your Coke collection, old brass or copper kettles, or even artwork. If you or someone in the household is into pottery, you can put those up as well. It is also a good place to arrange decorative wine bottles artistically to capture the light and provide some depth to your kitchen.
Conclusion
Sometimes you will get those pesky gaps in your kitchen remodel, so make sure you incorporate a strategy for dealing with it in case that involves some professional help. In any case, you want to make sure the people that install your cabinets know what they are doing, so find a reliable contractor.
GBC Kitchen and Bath is just the company you need for any remodeling project. We service the DC, Virginia, and Maryland areas, specifically Alexandria, Arlington, Washington, Tyson, Vienna, Falls Church, Fairfax, Springfield, Burke, Bethesda, and Rockville.
When you contact us for your planned remodel, the first thing we will do is give you a free design consultation and quote, so you are already ahead without spending a dime. We can promise the best customer service, expert fabrication and installation, and speedy execution of any project so that you stay on budget and the project stays on deadline. You will never get that from big box stores.
We sell only the best products from the top manufacturers and suppliers in the country and have a proven track record in completing kitchen and bathroom renovations on time and on budget. We guarantee the quality of our products, and you can see it for yourself in our showrooms in Rockville Maryland and Alexandria, Virginia.
Contact us today to get a free quote for your kitchen remodeling needs.