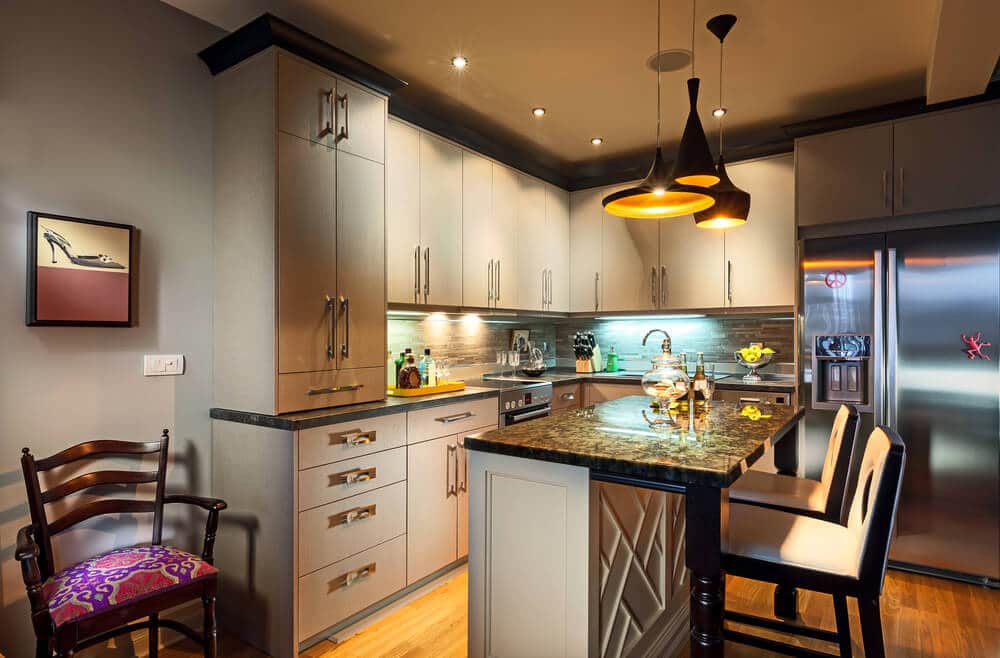 An affordable kitchen remodel sounds too good to be true, right? Let me assure you that it is, in fact, very possible. Obviously, you'd need to adjust your expectations, and you can't be expecting to add the most high-end appliances to the mix. But you can very well get a decent kitchen that functions well and is pleasant to work in. 
Remember, that expensive doesn't always exclusively mean classy. You can have similar results in a decent budget too. And there are added benefits too. Take returns, for instance. Since most kitchen remodels are done for recouping ROI later on, it makes sense to invest in moderation. While an updated kitchen adds considerably to a home resale value, the same can't be said for exorbitant spending.
Minor adjustments can save the day (besides your wallet). For instance, say you are stuck with outdated cupboards, and you are simply sick of seeing the same pieces day in and out. How about just replacing the doors if the framework is in good condition, instead of replacing the whole thing? I told you, an affordable kitchen remodel is indeed possible with few tweaks!
Having said that, there are other factors like how long do you plan to live in your current house. If you plan to move in a few years, it's foolhardy to invest in those heavy-duty updates too. To help you create a beautiful kitchen within an affordable budget, we have listed down some of the best budget-friendly remodeling ideas.
1. Use the Bed Slats for Wall Rack
Pick a set of bed slats and hang them on the wall with a couple of wall hooks. It's the cheapest solution you'll find anywhere in terms of adding extra storage to your kitchen. You also end up saving your old bed slats from being dumped into the bin. 
If you're not too keen on using the bed slats, you can also use those leftover pieces of plywood cut into the desired pieces. All you need is S- hooks for hanging the bits and pieces, and you're good to go!
2. Paint Your Kitchen Cabinets
Painting your cabinets is the easiest and the cheapest way to cover up the flaws of your existing cabinets, and refreshing them instantly. This is provided that your cabinetry is just old, not damaged. If it's damaged, you know what you need to do.
If painting can do the job, great! Take inspiration from lush Mediterranean greenery, and paint your cabinetry a citrus hue to match the doors and the window frame. Or opt for a black and white palette with the cabinets painted in a matte that's jet black to go with the countertop done in white Carrara.
Alternatively, let your hexagonal tiles and wood-burning stove create a cozy picture with cabinets painted in a sage shade.
3. Freshen Up Your Kitchen Countertops
Kitchen countertops take many blows that eventually wear them out. Freshening up your kitchen counters can instantly revamp the space. Other than this, it's the first element you come across as you enter the kitchen; and thus, this works a long way to impress your buyer as well. 
Granite, Concrete, and Quartz slab will bust your budget, considering that we are aiming for a cost-effective solution. Let's leave aside the oddballs like zinc, stainless steel, paper composite, or glass too. They aren't always favorable for investment. So, where do we head next if we're looking to save money? 
There are plenty of cheap solutions that will give a bang for your money, and add a design statement to your space in the same go. Pre-laminated slabs, ceramic tiles, tile granite, wood countertops made with solid wood and wood veneer are a few great countertop options to consider. 
4. Consider Open-Shelving
Open-shelving is one of the trendiest and cost-effective ways to upgrade your kitchen. All you have to do is nix a few of your upper cabinets and replace them with shelves instead. There are plenty of ideas available that help to build the concept in your kitchen.
Floating shelves made from stained or reclaimed wood give off rustic vibes and are a hit within farmhouse-style kitchens. Then there are live-edge shelves with bark visible here and there that look super cool and add a great rustic charm to your space.
Use corner space to run open shelving and store microwaves and other kitchen gadgets that you want to keep out of view. The idea works best when it talks less about design and more about function. For instance, if your kitchen doesn't have a pantry but has the wall space to sport it — use open shelving to serve as a well organized visible pantry.
5. Update the Hardware
Watch your kitchen grow in style with the latest cabinet hardware. Just be careful that you don't go overboard when shopping; especially when you have a huge kitchen with lots of cabinets.
Try brass pulls, or vintage styled pulls to infuse personality into your kitchen. Leather and brass handles are a hit at the moment.
6. Lift the Mood with Accessories
Accessories will give an instant facelift to your kitchen. 
Use the open-shelving concept to flaunt selected items. Re-arrange your counter so that only the exclusives are on show. Show off your crockery, glassware, and cups by displaying the same on a dresser. 
Refresh your tired chairs by opting for peppy new cushions. Pretty blinds, tablecloths, and even tea towels create a strong impact in your kitchen. Bins covered in beautiful fabrics add charm to your zen.
7. Add Sconces
Sconces placed above the open shelving make a great ambient statement.
Dramatic ceiling lights set the right mood in your space. Oversized metal pendants add the right industrial touch to your kitchen and make a statement too. Choose the smaller ones and hang them in threes for a wonder optical impact. Alternatively, hang a single piece over the island or a table for a focal point, and complete the picture with both task and mood lighting.
8. Change the Backsplash
A backsplash is often considered the primary design statement of your kitchen. 
Give your kitchen a makeover by altering your backsplash. Tiles can be a good budget buy to add flair to your kitchen. Moreover, tiles are available in a variety of colors, materials, and textures that you can pick from to infuse your individual design vocabulary on your wall. Choose from the standard size, mosaic, or brick and from a range of materials that include ceramic, glass, and stone.
9. Change the Faucets
The faucets in your kitchen add a distinctive character to your cooking space. Bring definition to your kitchen by opting for a stainless steel design for that contemporary feel or the one in brushed brass for an aesthetic look or the deep black one to make a real statement.
For a traditional touch, there's the one with porcelain livers in gold.