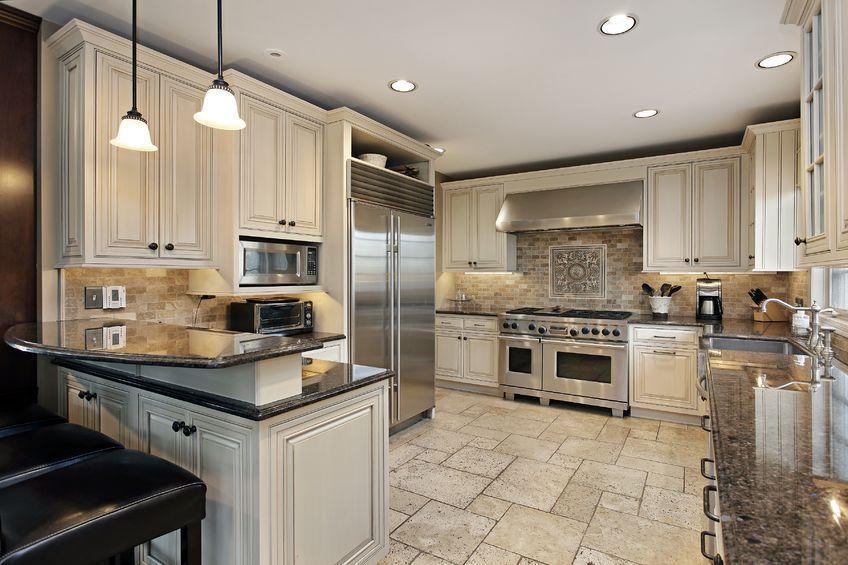 If you've been looking for design inspiration to remodel the kitchen on Pinterest, that's great! You deserve to have a kitchen remodeling that you can be proud of. But amidst all that, don't forget to take things beyond the aesthetic. A functional kitchen is way more important than just a beautiful kitchen. Why not take your search up a notch up by narrowing down on the kitchen remodel ideas that are actually worth it?
And we don't mean just aesthetically or in terms of the added convenience they offer — we also mean in terms of money. The idea is to create a kitchen you like working in, in a budget that you can afford, while also ensuring that you gain a return on your investments. It's the details that count when it comes to remodeling. Just like everything else, not every investment has equal returns; so elements need to be picked carefully. The right changes in your remodel can boost up your ROI while the wrong ones will cause a staggering fall.  
Compromising on quality by opting for cheaper options for a kitchen remodel will not do you any favors either. The items won't last long, and it will only have a severe effect on your ROI. Besides, can you imagine the hassle of replacing those items in just a few months?
So, needless to say, the best thing to do is to have a healthy balance by playing it safe. Don't splurge, and don't be stingy. You want decent returns but you don't also want to spend so much that nobody is willing to pay for your exorbitant spending. To save you the hassle of drawing the line for yourself, we have listed down kitchen remodeling ideas that genuinely pay off as per data that we've gathered over the years. Hundreds of house remodeling reports also back up our data. Here are the top updates for your kitchen remodel:
Top Updates For Your Kitchen Remodel
1. Painting Your Kitchen Walls During Your Remodel
Sometimes it's best to take a step back from the nitty-gritty and look at the bigger picture. Your kitchen is an essential place in your home, as many family moments are created and cherished in the kitchen. 
And for it to be that place, a lot goes into it too. There's kitchen cabinets, countertop, appliances, and so on. But for these elements to stand out, your kitchen needs the right color scheme. Based on the wall paint, you can then choose the right color for kitchen cabinets and countertop too. In a way, your walls play an even more significant role in setting the kitchen design scheme that other things simply follow.
Our suggestion? Break the monotony and try a different color than the current one for your remodel. Take a risk and go bold on your color options, so long as the color matches with the theme of the kitchen. Classics like white and neutral shades work just fine too.

2. New Kitchen Cabinetry 
Your cabinets form a third of the kitchen — making it one of the first things that people notice. It doesn't make a great impression if your cabinets are dull, worn out or worse, chipped and falling off the hinges. 
Bring your old cabinets back to life by giving them a fresh coat of paint or resurfacing them for them to be in a better state. If your cabinets are too worn out, then get them replaced. Replacing your kitchen cabinets does wonders for your overall kitchen appearance and your ROI as well. 
A new kitchen cabinet certainly highlights your kitchen remodeling project as it is the literal showstopper of your kitchen. 

3. New Fixtures For Your Kitchen
Old and worn-out fixtures don't look great against new and fresh cabinets. Therefore, they also need to be replaced to match the new aesthetic of the kitchen. 
Minor details, as such, really help in ensuring that your kitchen is in its prime condition and will last long. All it takes is a little maintenance for your kitchen to look at its best and function well. 

4. Energy-Efficient Appliances in Your Remodel
Equipping your kitchen with fancy and expensive appliances is not the best move if you want a good resale value. Sure, they look great, but if they are too complicated to use, then it will be an expensive mistake.
Instead, energy-efficient appliances are highly appreciated.  Not only are they simple to use, but are also favorable for your ROI. Do get the right products that suit your kitchen theme so that the appliances blend in well with the overall kitchen theme. The appliances are supposed to be a recessed feature of your kitchen — they don't necessarily have to stand out.
The simplest things in life are much useful in terms of usage. And do you a huge favor in terms of your wallet. Plus, maintenance won't be costly when you opt for appliances that are practical for your daily usage. 

5. New Countertops in Your Kitchen Remodel
It's a no brainer that countertops play a huge role in your kitchen and your resale value. The hot favorites for countertops are granite and marble. But if you want an alternative that's equally good as its peers, quartz does a pretty fantastic job too.
Quartz is better than natural stone and is highly durable. It's nonporous, which makes cleaning hassle-free, and on top of that, there are numerous gorgeous designs to choose from to match your kitchen design.
Also, quartz is very low maintenance; making it the perfect countertop and the best investment for most kitchen owners. 

6. Bold Backsplash in Your Remodel
By now, I'm sure you understand the significance of colors and designs in showcasing your kitchen. And a unique backsplash is a perfect way to add style statement to your kitchen using that understanding.
While your kitchen may look beautiful in its uniform and color-coded theme, the backsplash can be one special addition to add an edge. It stands out and yet can blend in, all depending on your preference. 
Besides, don't forget that it serves a more practical purpose of protecting the walls from stubborn stains and spots too. This makes cleaning an easy chore, and your walls will always be clean and protected; thanks to the backsplash. 
Since backsplashes are not very pricey, you can even do it on your own to cut down the cost. Additionally, they are also effortless to maintain — proving to be an absolutely worthy investment for the kitchen.

7. New Flooring in Your Kitchen
A lot of movement happens in the kitchen, and your flooring gets worn out faster and easier than expected when it's not maintained correctly. Flooring is another great reason to have a kitchen remodel.
Investing in the right flooring would help with your ROI. The best flooring type to go for is vinyl, as it is waterproof and extremely easy to clean. On top of that, it's affordable, and maintenance is low; making it the ideal choice for a long-lasting kitchen flooring.
Our suggestion would be to avoid hardwood flooring as it's not suitable for long-term usage in an environment with lots of moisture. It rots quickly and requires frequent maintenance for it to last. Tiles and concretes are viable options as they are also waterproof and heat resistant. However, the floors can get cold and hard and are not preferred by some people. This scenario could be a potential setback in your resale value.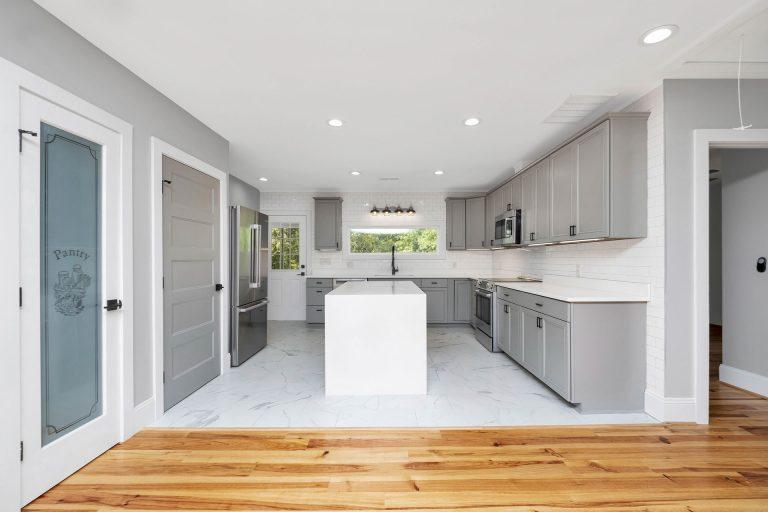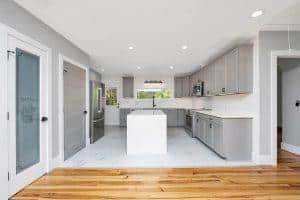 8. Statement Lighting in Your Remodel
Your kitchen may be stunning, but if it lacks brightness and your lighting does not do justice to displaying the beauty of your kitchen, you will lose out.
We're not talking chandeliers and disco balls, although if that's what you want, go ahead. Your resale value might make you want to think twice, though.
Opt for pendant lights or minimalistic light designs to beautify your kitchen and, at the same time, to light it up. Lighting is an essential element in your kitchen — not only to highlight the kitchen but also for practical purposes. Accidents can easily be avoided with sufficient light. 

Final Word
A bright and beautiful kitchen is very welcoming for yourselves, your guests, and the new homeowners; which is a bonus for your ROI. A kitchen remodel can change everything.
With everything said and done, it comes down to your decisions and how you plan to remodel the kitchen. The resale value is a priority but not a top priority. The top priority is your needs and desires. So remodel your kitchen as you wish, but also keep in mind its effect on the resale value as a good reassurance that you're making the right decisions.