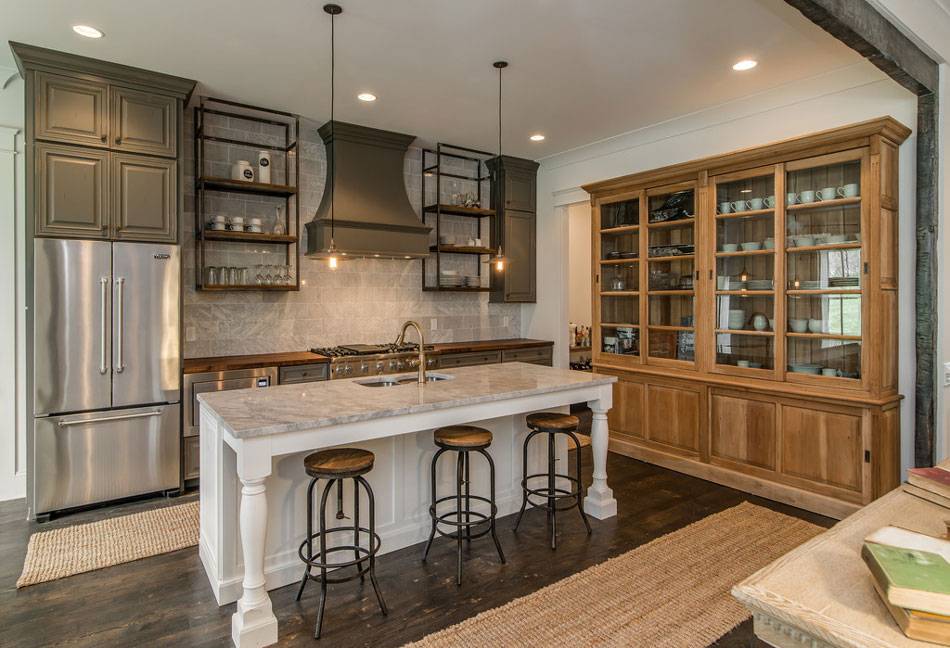 Planning a kitchen remodel? Are there clear signs that scream your kitchen needs an update? Or maybe your kitchen has just started to become an eyesore after a few years.
The truth is: It's all well and good. For many homeowners, kitchen remodeling is not an option but a dire necessity. For others, it may be a way to live out their dream of a modern, high-tech and visually gripping space. Whatever your reason, you deserve to have a space you feel comfortable and happy working in.
Now, let's tell you that you are not alone in this. In fact, according to the Washington Post, there were 2 million kitchens remodeled in the US alone in the year 2017! Doesn't this crazy hype around the kitchen tell you how important the place is? In fact, the contemporary kitchen is a world away from its traditional counterpart. A complete visual delight, the place is a hotbed of socializing, entertainment and juicy gossips. Wouldn't you want to turn the spotlight on?
Not to mention, that it might be important for the workflow of your kitchen too. The new technology has led to a complete change in the way people use appliances. From the latest sensor-equipped fixtures to the hidden appliances to the new concepts in storage systems — the kitchen has seen quite a 180-degree change over the last few decades.
Now, I know what you're thinking: "Yeah, yeah. We get that it's good and increases resale value of the house. It doesn't mean I have money just lying around for it". Believe me, we get it!
In fact, Kitchen remodeling is one of the most expensive home improvement projects, despite its many upsides. As per the statistics of the latest HomeAdvisor report, kitchen remodeling is typically ranged somewhere between $12,589 to $33,067; with $21,668 being the average cost. The cost could further shoot up depending on the changes you want done in your kitchen.
Wondering where to get this kind of money? There are a number of finance options that you can consider for your kitchen remodel if you have made up your mind.
Kitchen Financing Options that Use Equity in Your Home
If you are looking for a finance option that helps you to obtain the money quickly and easily for your kitchen remodel project without paying a whopping interest, use the equity you have in your house to procure a loan.
A home equity loan or a home equity line of credit (HELOC) is a plan that uses up your home as collateral. The option comes with the perk of a low-interest rate and is easy enough to get. However, if you fail to pay up the monthly installments, you may run the risk of losing your home.
1. Home Equity Loan (HEL)
Under a home equity loan, you make use of the equity in your home to borrow a large chunk of money. The complete amount is paid to you in advance where after you cannot borrow any more. As the interest rates under HEL are fixed, you need to make regular fixed payments every month over a specified period of time.
On the bright side, HEL comes with its own set of benefits too.  As the interest rates are fixed, the monthly payments will always be the same. Also, there is a possibility that whatever interest you pay will be tax-deductible. However, you need to consult your tax advisor on this. Since you end up getting a large sum of money, it is a huge help if you are planning a remodel on a big scale.
On the downside, the option uses your home as collateral. Additionally, there may be closing costs and other fees to pay. Also, you will need to ascertain the equity of your property before even getting one. You may need an appraisal, which may add to the cost.
2. Home Equity Line of Credit (HELOC)
A HELOC or home equity line of credit is like a second mortgage that lets you borrow money based on your home's equity. So, repay and repeat. Basically, you draw the amount from your home's equity and repay the complete amount or some of it every month just like you'd with a credit card. Your home equity is the home's value minus the amount you owe to the mortgage lender. To get a HELOC, you need  a debt-to-income ratio that should be in the lower 40's or even less or a credit score of 620 or more. Finally, your home value should be at least 15% more than what you owe.
Like credit cards, most HELOC's come with variable APR's. This means that your interest rate can go up and down as per the market trends.
Now, a HELOC is ideal for those projects that need major repair. Use these for extensive remodeling projects that add to the value of your home. HELOCs have lower interest rates than credit cards too.
The downside is that you may end up losing your home if you fail to make the payments. Besides, you need to have solid equity to qualify for a HELOC. The rate of interest is higher than the home equity loan.
Kitchen Remodel Financing Options Without a Collateral
1. Financing Directly with Contractor Financing
You can ask your home contractor for a loan. The financing is generally done through an external source or a third party lender.
The great thing is: It's possible to arrange an interest-free loan through your contractor. The only snag is that if you are unable to pay off the loan before the stipulated period, you may have to pay interest backdated to the day as per the loan agreement.
Also, be careful that you don't end up losing your right to withhold the payments if you find that the work is not up to the mark. You should negotiate a fair contract in all cases. Once you decide to finance your project through a contractor, make it a point to dig his financing history by speaking to the other clients. Also, try and compare the terms offered by other players in the market.
2. Financing with Personal Loans
Personal loans are the easiest option around for financing for your given project in the current scenario.
Online platforms have made access to these loans even easier than ever before. These loans do not ask for any collateral and are typically unsecured loans offered by national as well as local lenders. However, they differ in terms of debt from home equity. The rate of debt for personal loans is higher when compared to home equity loans too. Yet, some individual lenders offer loans at much lower rates.
The beauty of these loans is that they are super quick to obtain. In fact, it's possible to obtain them on the same day or even within a few hours. The interest rates too are less than credit cards. They don't bear any impact on your mortgage in any way.  You don't end up losing your home if you fall behind on payments.
On the downside, personal loans are more expensive than equity loans. Furthermore, these loans may considerably lower your credit score. Some companies have a fixed limit where they let you borrow only up to $35,000 or $40,000, which implies that if you need more dough, you need to look for other alternatives.
3. Financing with Credit Cards
Credit cards are the easiest means to finance your remodel project. This is especially useful if you plan to make use of a credit card that charges 0% interest for a specific promotional time period. This helps hugely where you can divide the big expenses of a home remodel over multiple payments. Many of these cards come with the benefit of reward points and purchase protection too.
However, most credit cards charge a whopping 15% interest rate or even higher after the introductory 0% offer is over. This can be a huge setback. Be mindful that the interest rates on the credit cards are not tax-deductible in any way either.
Another option is store-branded credit cards. But before you indulge in this option, just ask yourself how often do you shop from the particular store, if it is convenient for you to pay off the balance every month to avoid paying the interest, and if the card offers any additional benefits.
4. Financing with Personal Savings
Nothing can beat this option. No interest to be paid. No risk of losing your precious home and the best of all, no sleepless nights trying to figure out the ways to pay that next installment.
Yes, we know it's not easy. There is already the mortgage on your house and other daily expenses to meet up that are heavy enough as it is. Despite this, if there is a chance that you can rake up sufficient funds by saving, don't think twice! It's the most reliable option.
Making the Final Decision For Your Kitchen Remodel
There's only one rule to making a call about finances — check your own wallet and your own expenses. In other words, make a decision based on your personal circumstances. What may work for someone may not even be an option for you. Generally speaking, consulting an expert may give you some ideas if you have any lingering questions. Ultimately, you want to pick something with a low-interest and something with manageable installments for your kitchen remodel.