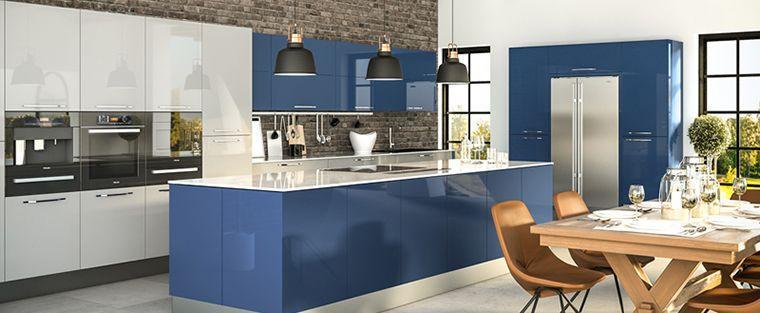 Kitchen Trends You Need To Know for 2018
So you are seriously thinking about finally redoing your kitchen. Maybe you are planning on selling your home, and you've heard that an updated kitchen can give you some good returns on investment. Maybe you have this idea of turning your kitchen into a place of business. Or maybe you are just tired of a kitchen that just is not working for you anymore. In any case, a kitchen remodel is certainly in the works, which means you need to know what kitchen trends are making the circuit in 2018. After all, you want to make sure you're spending money on a remodel that will stand the test of time. Here are some of the top ones to help you in your final design.
Gadget friendly
It should be no surprise to anyone that one of the more persistent trends in kitchen design is accommodating gadgets. In most cases, this simply means building in a charging port and docking stations in a strategic location in the room. "Smart" kitchens where appliances talk to each dreamed up by forward-thinking designers may seem like a great idea, but is not yet in the horizon, cost-wise, for most homeowners. However, making your kitchen more gadget friendly by putting in these small changes is a step in the right direction as people spend most of their time in the kitchen with their gadgets.
Light things

Another small but impactful trend in the kitchen is the addition of LED lights. LED is truly an amazing innovation that improves your kitchen's energy efficient as well as esthetics. LED lights used to be quite expensive and limited in variety, but they are now much more affordable and available in all colors, shapes, and forms. It even comes in multicolor models, where you can change from bright daylight to warm white by flicking an ordinary light switch the right number of times. You can use it for all your kitchen lights, including under-cabinet and inside cabinet lighting. Placed strategically, the lights can instantly change the look and mood of your kitchen, and even turn it into an entertainment center if you have an open floor layout.
Large and deep
The days of the double sink is fast running out. Two smaller sinks occupies more space than one larger and deeper one, which is why farmhouse sinks are coming back into fashion. Most people have no real need for two sinks side-by-side today with their modern lifestyle, and farmhouse sinks can more comfortably accommodate large pots and pans. However, some people are not too sold on the apron-front design of farmhouse sinks, deeming it too country-looking for their taste. If you're one of them, choose a large, under-mount sink instead, which makes it easier to clean countertops. Either kind of sink will look great with natural or engineered stone countertops.
If you prefer to have a separate sink for food prep, you should put it at some distance from the main sink. This way, two people can work at the same time without bumping into each other.
Hardware upgrade
Kitchen faucets and other hardware are often an afterthought in a kitchen renovation, but that should not be the case in 2018. There is a definite upsurge in preference for kitchens with unique or unusual hardware that still function perfectly. Choosing the right faucet can upgrade the feel of your kitchen without significantly adding to your cost. Some favorites in this department are the high pressure spray arms and extendable faucet, but it really depends on the faucet and other hardware that captures your eye.
Open shelving
No kitchen can do without some type of storage, and standard kitchen cabinets are still the preferred method for providing that function. However, there is a movement towards incorporating open shelving in many kitchen designs to open up the space.
Many people are moving to tiny condo units or small apartments because of rising real estate prices and busy work lives where maintaining a large house is out of the question. Consequently, keeping clutter to a minimum and making a small kitchen look bigger is a priority, and that is exactly what open shelving does when it allows the eye to move right to the wall. In addition, you can immediately see the contents without opening and closing numerous cabinet doors looking for something in particular.
The downside to this for many homeowners is they have to keep it neat and tidy (or at least in artistic shambles) at all times. There is no hiding a mess in open shelves as opposed to closed cabinet doors. The best compromise is to have a careful mix of open shelves and cabinets. Select the items you put in open shelves carefully to make sure they contribute to the overall look and feel of the kitchen. A modern kitchen, for example, will look better if you stack some modern plates and shiny pots along the shelves. It will take some trial and error and practice to get it to look right, but it will be well worth the effort.
Conclusion
Kitchen trends come and go, but the trends for 2018 discussed above are likely to persist for some years to come. When the time comes for your kitchen remodeling, keep them in mind.
For any kitchen remodeling, however, the most important decision you will make is choosing the right contractor to help you. GBC Kitchen and Bath is just the company you need. We have the experience, skill, and products from the top manufacturers and suppliers in the country to do the job right.
When you contact us for your planned remodel, the first thing we will do is give you a free design consultation and quote, so you are already ahead without spending a dime. We can promise the best customer service, expert fabrication and installation, and speedy execution of any project so that you stay on budget and the project stays on deadline. You will never get that from big box stores.
We guarantee the quality of our products, and you can see it for yourself in our showrooms in Rockville Maryland and Alexandria, Virginia. We service the DC, Virginia, and Maryland areas, specifically Alexandria, Arlington, Washington, Tyson, Vienna, Falls Church, Fairfax, Springfield, Burke, Bethesda, and Rockville.
Contact us today to get a free quote for your kitchen remodeling needs.