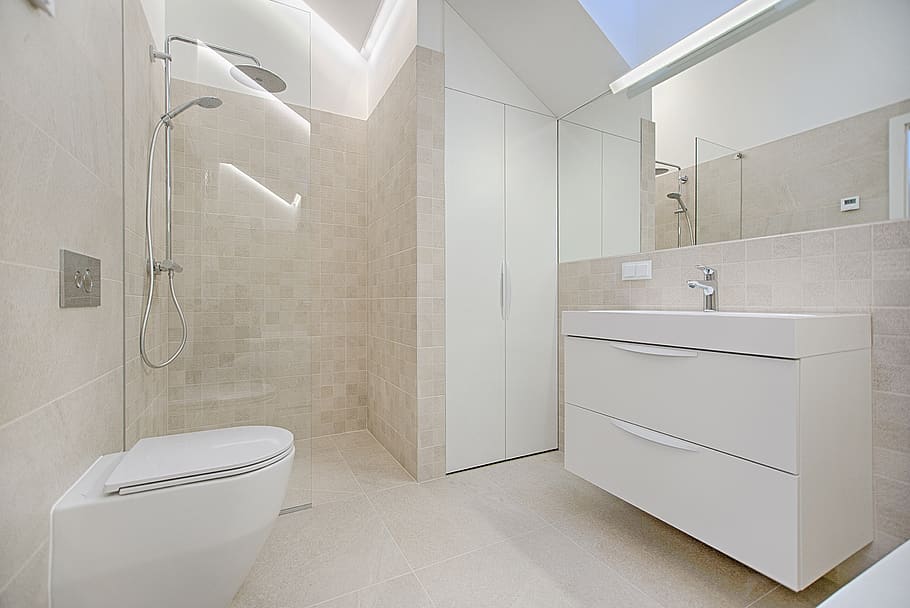 Are you looking to remodel your bathroom soon? A gorgeous, transformed bathroom adds beauty and value to your home as a remodeled bathroom provides high returns on resale. Before you get starry-eyed, you need to think about the bathroom remodel costs involved. Budgeting for a bathroom would be a substantial financial commitment that might leave you spoilt for choice with so many options in flooring, fixtures, tiles, showers, tubs, etc. heating upgrades for the extra oomph. 
Whether you have started a bathroom remodel project from scratch or just gave your bathroom a little facelift, we have created a helpful guide filled with tips, costs, heating upgrades, and ultimately setting up a remodeling cost guide built for success.
Bathroom Remodel Costs
Average Cost of a Bathroom Remodel
The average cost nationwide to remodel a bathroom in 2019 is $10,000. However, most homeowners tend to be $5,000 to $14,000 for a small to medium-sized bathroom. For larger, luxury bathrooms, budgets can exceed $25,000. If you would be able to stretch out that much budget, consider some factors that might be most important to you during the remodel. Some expenses might be absolute needs, some might just be wants, and some could be those you could live without comfortably.
Construction & Labor Costs for a Bathroom Remodel
You might be planning on doing it all yourself. Great work already! You can save a lot of money if you have the time, knowledge, and skills to do the bathroom renovation work DIY style. However, you will probably need to hire a general contractor as a bathroom remodel is not an easy undertaking, even for the handiest of homeowners.
These professionals will manage all aspects of the projects and ensure everything works out. Typically, the general contractors charge a total price and use the payment to cover labor costs, materials, delays, etc. They will even hire subcontractors to handle some things to help with the remodel. All of these form a significant portion of your total bathroom remodel costs.
Average Rates of Subcontractors (will vary depending on your area):
Carpenters – $70 per hour
Handymen – $60 – $90 per hour
Plumbers – $45 – $65 per hour
Electricians – $65 – $85 per hour
Tile Installers – $5 – $10 per square foot
Bathroom Designers – $60 – $160 per hour
Fixtures 
It is necessary to determine the fixtures to replace or upgrade. These would include items like the bath/shower, toilet, and sinks.
Showers/Tubs 
The cost to install an average shower would be between $900-$2000. High-end showers though might cost above $6000. This pricing would include buying and installing valves, showerheads, shower doors, floors, and the surrounding walls. 
Bathtub averages are around $2500, while premium air jet tubs go in the range of $13,500. Most standard shower/tub combos cost about $500-$1000. A huge chunk of your total bathroom remodel costs comes from such decisions.
Toilet 
The average toilet will cost around $100-$400. It might be more or less depending on the functions, style, and brand.
Sinks 
Bathroom sinks are typically the center point of any design. Due to this, they come in a variety of designs- very simple to extravagant. You can find a sink for as inexpensive as $50 or as costly as a few thousand dollars. One more factor to be mindful of is the installation of the sink, as complicated sinks will need more time or ability on the part of the installer, which can have a negative impact on the cost to install thus increasing your total bathroom remodel costs. 
Flooring/Tile 
Tile is the most commonly used floor covering for the bathroom as it is moisture resistant, and you can also clean it easily. The cost of flooring depends on the type chosen, much like any other item. Standard ceramic tiles cost $1 – $5 per square foot. Ornamental mosaic tiles can be as expensive as $100 per square foot if you wish to go for finish flooring. To save some money, use tile on the floors and paint on the walls.
Radiant Heating System 
Picture yourself stepping out of the shower on a snowy day or a cold night, right onto the warmth of a heated floor. You may think underfloor heating is out of your budget and luxury, but heated bathroom floors are not very costly. They only cost $5 – $12 a square foot or around $175 – $420 for the average remodel! Not just that, everyone from your family and your house guests, will be all praises for this incredible upgrade.
Countertops
In a bathroom, you can stay wary of using expensive stones such as granite or marble if you're smart about it. As compared to a kitchen countertop, a bathroom has significantly much less square footage. For instance, a marble countertop for your vanity would cost you about $60 – $100 per square foot, while granite will cost you about $40 – $60 per square foot.
Hardware & Accessories
They are the least expensive components in your total bathroom remodel costs. At any hardware store, you can find a wide selection of towel racks, rings, toilet paper holders, etc. ranging from $10 – $300 depending on quality and material.
Lighting
Individual light fixtures can cost about $40-$100. At the same moment, upscale fixtures can range from hundreds to thousands of dollars. You need to keep in mind the costs of electricians too. Recessed lighting will set you back by $800+. So, seeing that we are spending most of the time getting ready in the bathroom, lighting is a worthwhile investment to make. 
Cabinets
You can use stock cabinets for your bathroom as an affordable storage option if you're looking for a budget bathroom remodel. You can get small cabinets for as low as $40-$90 and larger cabinets cost between $200-$700. However, custom-made cabinets can cost up to $2000+ per cabinet depending on the carpenter's fees and choice of wood.
In Conclusion
Remodeling a bathroom gets exciting and comes with endless possibilities. A considerable part of the remodeling process is to understand the bathroom remodel costs. Similarly, you also have to do your research in finding a qualified contractor, bathroom design, fixtures to fit your needs, etc. while remodeling (and splurging for) the bathroom of your dreams.