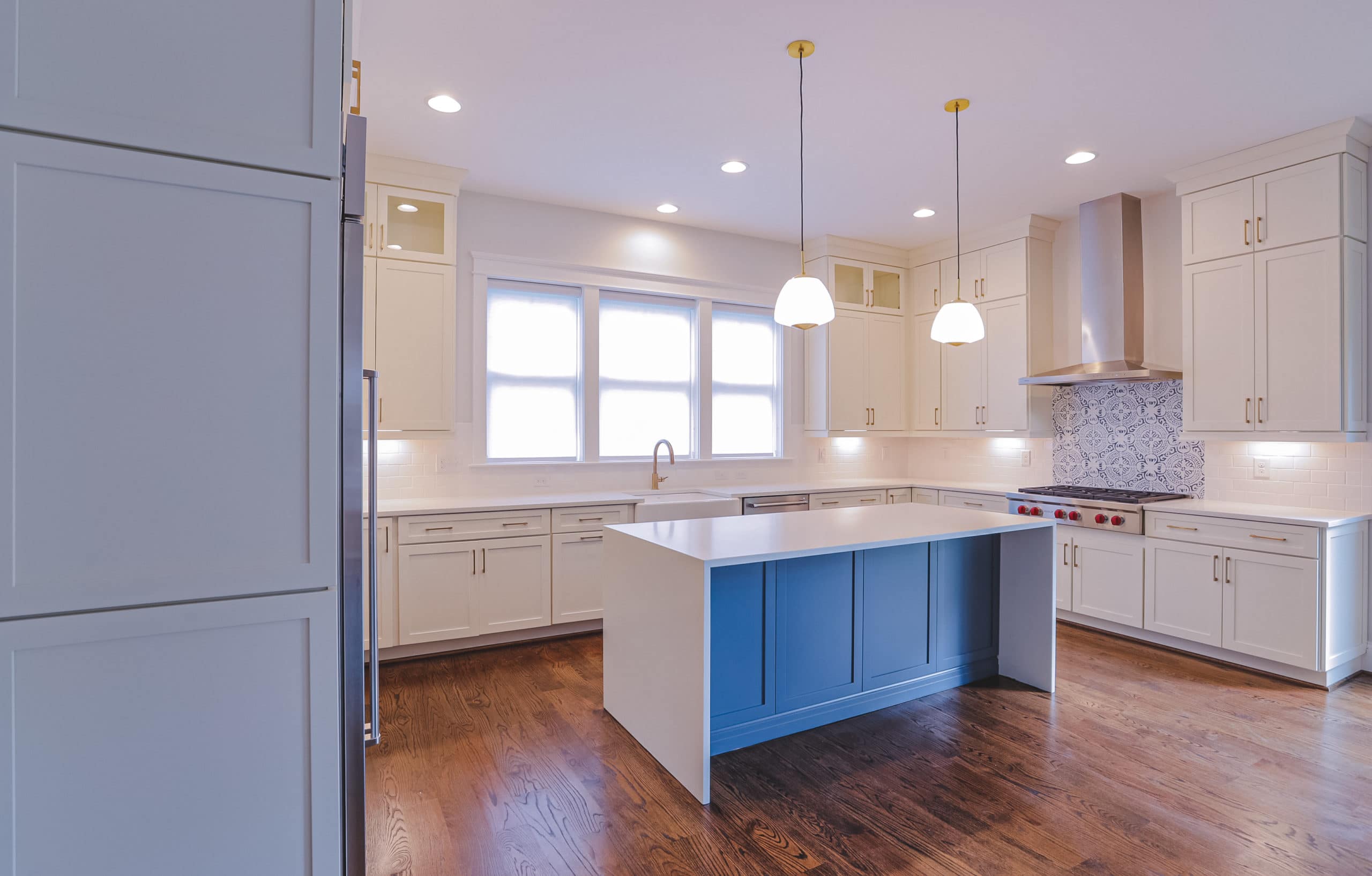 Larger open-plan kitchens have necessitated the addition of kitchen islands as a focal point in the design. Islands in the kitchen can be long and narrow or run parallel to the work area. They can also be neat and round in a small space, or broad and spacious, housing a sink and appliances and kitchen islands, and a plethora of storage. There are several kitchen island ideas that you can use for your kitchen remodel.
Besides looking good and providing ample storage and workspace, islands can improve the ergonomics of the kitchen by making it easier to reach everything you need when preparing a meal.
Here are some kitchen island designs ideas and inspiration with which you can create a new addition to your cooking space that can completely change the kitchen design.
Incorporating Fixtures and Hardware
Islands often serve as the focal point of the kitchen, placing the cook in the center of the design. When all eyes are on the island during mealtimes, every detail – from breakfast bar ideas to smaller details like appliances and hardware – must be well-considered in terms of design.
Extend Your Countertop Material Down the Sides of Your Island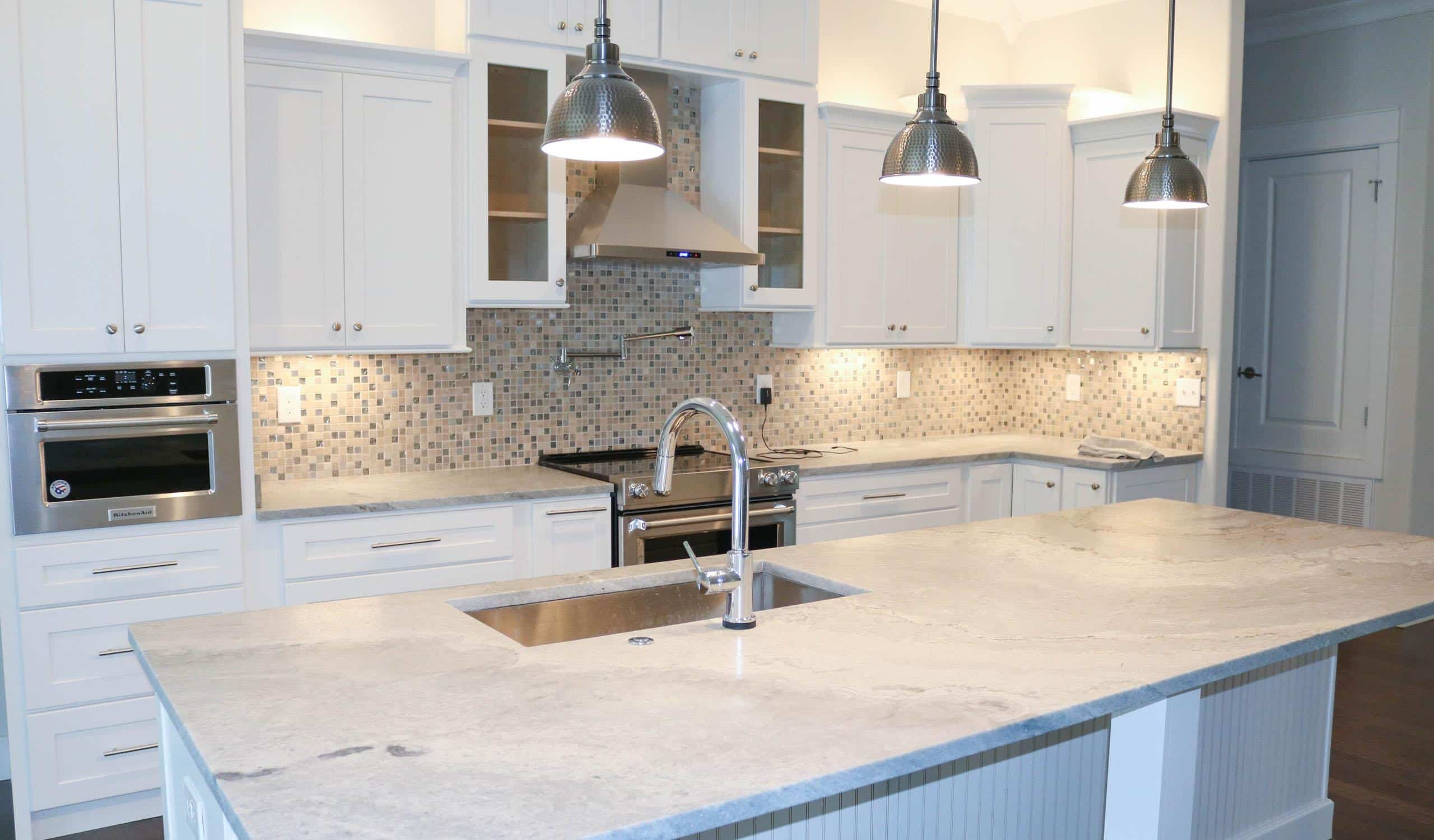 Islands provide numerous functional advantages to the kitchen, but they can also help add character to a transitional kitchen design. On an island, large format materials like granite and quartz work great as the countertop material.
Why limit yourself to just one surface if you've fallen in love with your countertop material? Installing a wrap-around countertop will allow the material to flow down the sides of the island, creating a luxurious sense of seamlessness that is ideal for a very modern kitchen remodel. If you leave the perpendicular side open, you can use it as a space for your island seating ideas.
Don't Overlook the Walkaround Space
Always consider the space you'll need beyond the island when deciding on the right size. Islands are a visually appealing feature in a kitchen, but they can take up a lot of space.
Therefore, when considering incorporating one into a design, it is crucial to consider the available space as well as the circulation area around the island.
A 48in/1200mm gap between the cabinetry and the island is typically required for a scheme that encourages easy flow.
Mix and Match Storage Options
If you're short on storage space in your kitchen remodel, incorporating an island into the mix opens up a world of possibilities. Consider a variety of storage options when designing a kitchen island.
Use a combination of cabinets and drawers to provide easy storage for tables and cookware of all shapes and sizes. Further, consider adding open shelving to display some of your most unique kitchen essentials.
Further, choose an integrated island book-end to add a cozy touch. This will free up counter space and allow you to display your favorite cookbooks for an added layer of personality.
Use it to Make the Hob the Center of the Room
By positioning the hob on a kitchen island, you help to make it the focal point of the space. This allows a cook to face the rest of the room rather than turn their back, making it a clever, sociable design feature. Moreover, it provides plenty of space for food preparation around your cooker.
Add a Work Table to Create a Multi-Purpose Space
In an open plan kitchen, a kitchen island provides extra prep space while reducing footwork between key areas such as the sink, cooker, and fridge. It also serves as a barrier between the kitchen's work zone and the adjacent living/dining zone.
The rise of the "working kitchen" reflects a repurposing of the traditional kitchen as well as an increase in demand for multi-functional spaces.
Worktables provide additional space and can incorporate clever kitchen storage ideas to conceal kitchen items and office paraphernalia. They frequently include a seating area with high stools, which adds another valuable space to work or relax while also helping to zone the kitchen.
Make Space for Seating at a Kitchen Island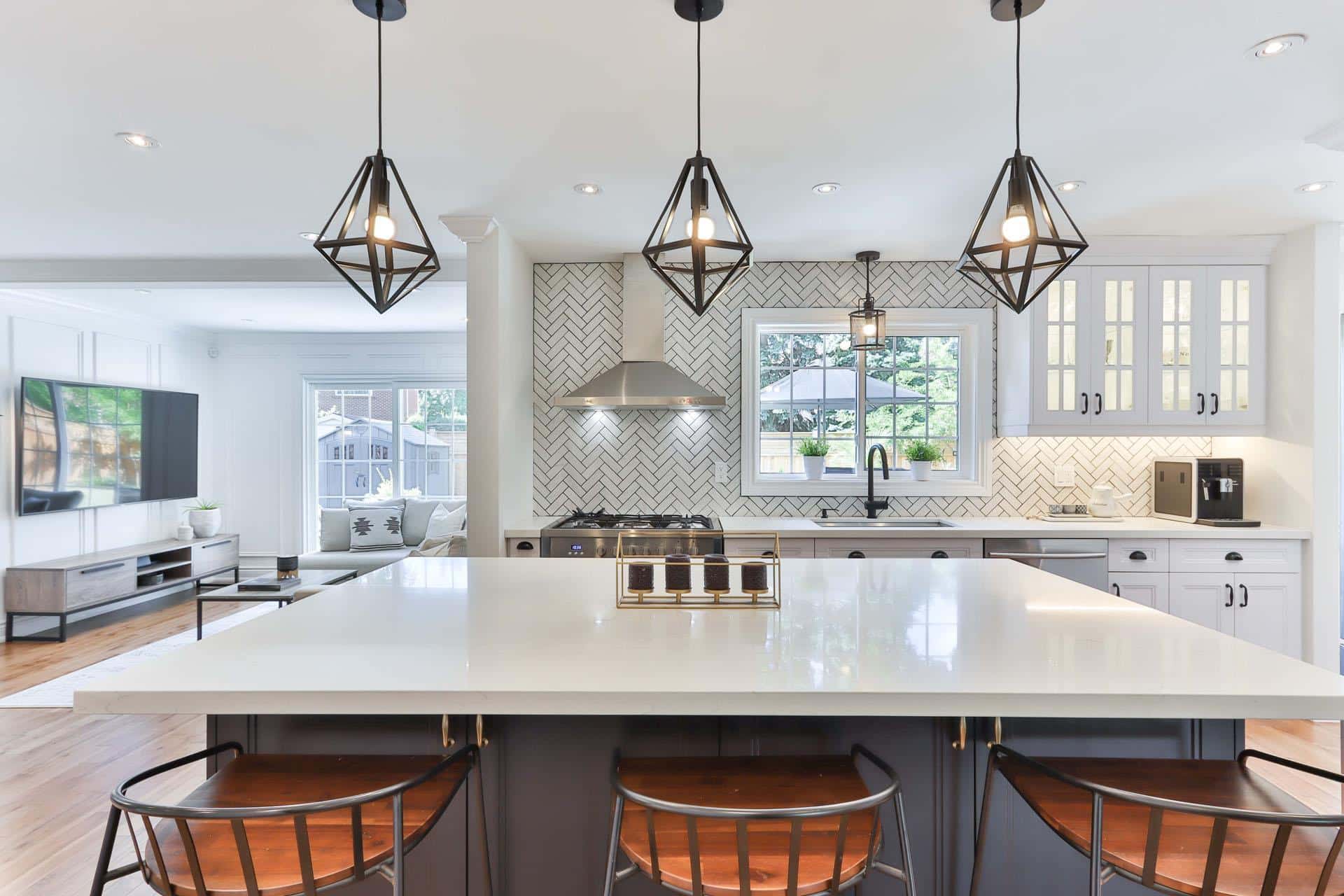 All types of kitchen islands include a place to sit. Long islands with built-in low-level, table-style seating at one end are an excellent option for family meals. Here, even the smallest space can accommodate an overhanging worktop and barstools.
More work surface area is a wish that many of us have. A well-designed kitchen layout is essential to maximizing available space and ensuring a smooth workflow.
Smart designs and appliances call for a veritable tech hub. For instance, hidden charging points and power sockets can make your kitchen island work even harder for you.
Add a Wine Cabinet
Prior to a few years ago, wine cabinets were only available to those with large kitchens and large budgets. However, with the decline in both prices and sizes, there is now something to fit every budget and size requirement.
Built-in wine coolers on a kitchen island are an excellent investment because they free up the refrigerator and worktop space while maintaining the quality of your wine.
Friends and family can help themselves with a glass of wine while you get on with the cooking if you enjoy entertaining. It makes sense to have a wine cabinet in your kitchen as your kitchens become more like theaters, thanks to the popularity of island cooking.
Add Color With a Kitchen Island
An island in the kitchen is a great place to experiment with new kitchen color schemes. You should cover the island's front in warm and inviting materials for a smooth transition from functional kitchen surfaces. 
Luxury materials, such as profoundly veined marble and mottled granites, exotic timber veneers, gleaming mirror, or burnished metal, make for a show-stopping centerpiece. Adding texture to the kitchen with raw or rough-sawn wood or honed or flamed stone tops is also among the popular kitchen island ideas. You can also use a different color or finish on the island than the rest of the room.