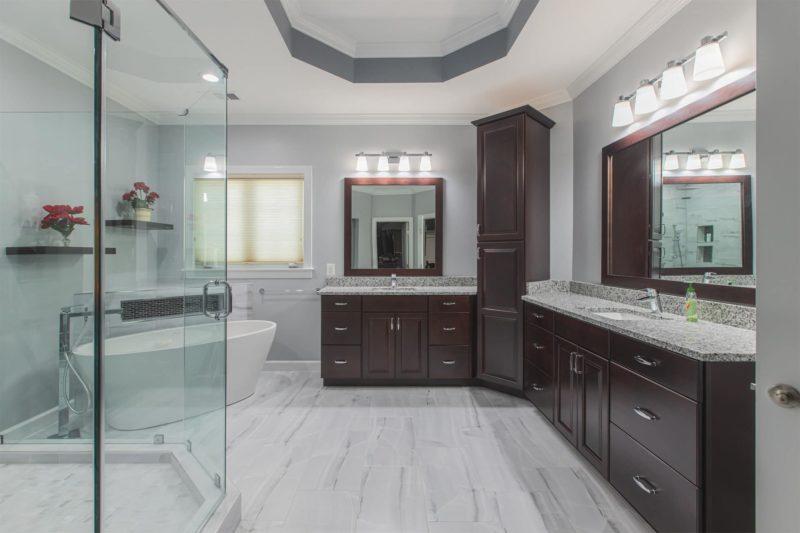 In most parts of our homes, choosing the right flooring mainly comes down to appearance. With the bathroom, the playbook changes, and you consider how it will perform, particularly when it comes to water. Hence, when you're choosing from different bathroom flooring ideas, you need to consider several things.
For instance, you have to consider other factors like moisture as that can quickly ruin the floor. And if the humidity were the only factor, then ceramic tile or sheet vinyl would win every time.
However, additional factors are considered, like durability, cost, appearance, and ease of installation. Let's look at some standard flooring options and how they fare when it comes to these factors.
Porcelain Tile
Porcelain tile has the best of all worlds for your bathroom flooring. It is water-proof, durable, and inexpensive. Besides this, just like stone, porcelain tile can achieve a rich, textured, and solid feeling.
Along with being water-proof, porcelain tile can match the look of wood flooring. Now you must be thinking, is there any difference between porcelain or ceramic tile.
Well, porcelain is just a part of the general ceramic family with only one difference, and that's the water absorption rate. The Porcelain Tile Certification Agency certifies a tile as porcelain if it has a water absorption rate of 0.5% or below.
Porcelain tile cleans up well and resists standing water. However, it is cold just like stone, but radiant tiles can be laid under them. Best of all, textured tile is non-slippery and smaller tile with more grouts can act as a non-skid surface.
Natural Stone
Natural stone is an excellent choice for bathroom flooring, but only if you can afford it. Along with that, there are a few moisture issues with granite, marble, and limestone. Interestingly, natural stones are hard, long-lasting, and aesthetically pleasing. Best of all, stone floorings return immense resale value.
Stone floorings are cold and slippery, but you can install radiant heat and anti-slip measures with textured stone. There's only one issue that pulls this bathroom flooring idea down is the price. Real stone flooring is by far the most expensive option.
Vinyl Flooring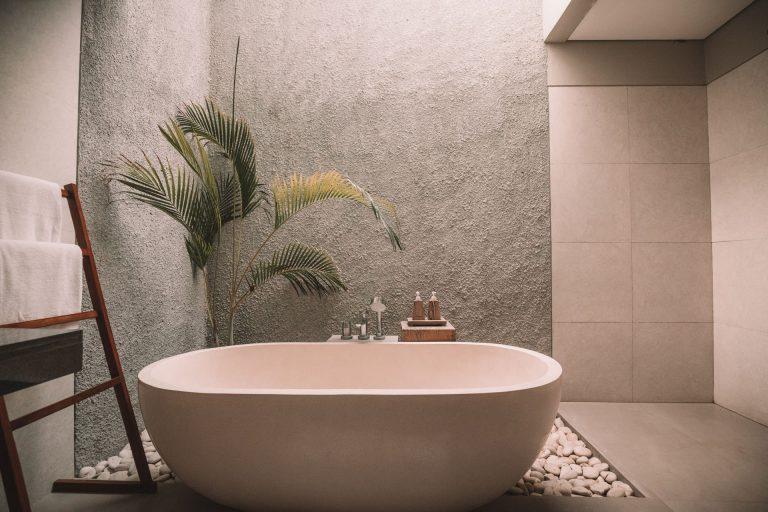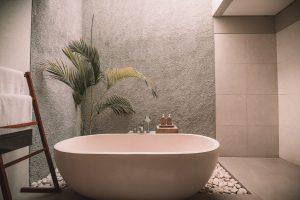 Vinyl flooring is good looking and supremely practical. As a result, for decades, vinyl has been a popular flooring idea for bathrooms.
In case extreme amounts of water are expected, sheet vinyl flooring is the best option. Since they come in large sizes, you can install sheet flooring with few to zero seams in a regular bathroom.
Likewise, luxury vinyl plank flooring is an increasingly popular choice in widths of around 5 inches and lengths of approximately 48 inches.
Vinyl flooring is 100% water-proof, durable, and cost-effective. Vinyl is a popular choice that comes with thousands of style options to choose from. However, the only drawback is that bums and gaps in the underlayment are visible on the surface.
Engineered Wood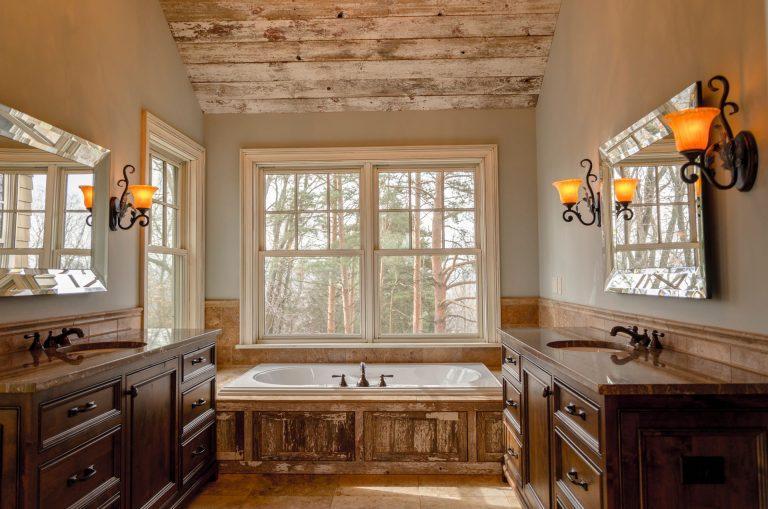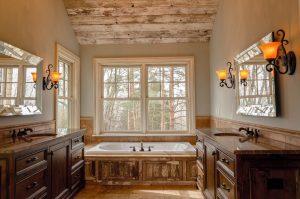 Engineered wood is better than solid hardwood due to its dimensional stability under high moisture conditions. Talking about engineered wood, it has a plywood base that holds up great against moisture.
Moreover, engineered wood flooring looks similar to wood because of the top layer, a real hardwood veneer.
For those who wish to have real wood as their bathroom flooring, engineered wood is the way to go. However, wood flooring, no matter how well protected, is prone to water damage in bathrooms.
Besides this, engineered wood, being moderate to highly expensive, isn't cost-effective than other bathroom flooring ideas.
Laminate Flooring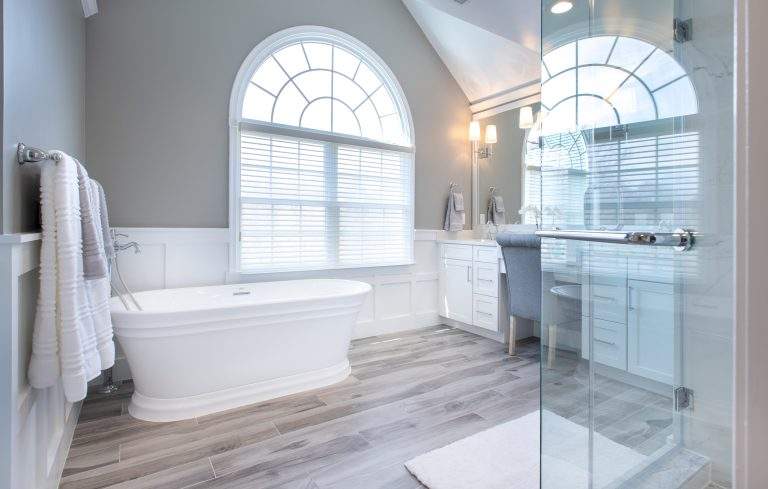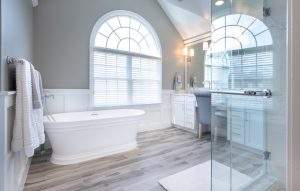 Interestingly, laminate is a better bathroom flooring choice over hardwood. Laminate floors are a hybrid floor covering consisting of a particleboard wood base, topped by an image layer, or a transparent wear layer. The laminate floor's surface is an image of oak, cherry, marble, or any other wood or stone.
Laminate flooring can work great in bathrooms if you take precautions to protect the baseboard from moisture. With tight seams between planks, it becomes difficult for moisture to make its way downward.
Along with that, laminate flooring is easier to clean and inexpensive. Best of all, you can install laminate flooring yourselves.
Cork Flooring
Cork flooring is a highly sustainable and attractive bathroom flooring idea. Besides this, being soft and warm, it is easy to install and feels good on your feet when you step on that. It is durable and requires low maintenance. Along with that, cork has anti-microbial properties that resist mold and mildew.
However, cork being a healthy flooring option isn't water-proof. You will have to seal your cork floors with multiple polyurethane layers to protect them from water and other damage. Or else, your cork flooring might crack or warp.
Linoleum Tile
Linoleum being an oil-based substance, repels water better than laminate or hardwood. As a result, it is a durable and eco-friendly flooring option. Moreover, it has a cushion-like feel to it, meaning that it compresses and bounces back when walked on.
Best of all, it is durable and can last over 25 years, and in some cases, if you maintain them well, they can last for more than 40 years.
Linoleum flooring has pigments throughout the body's thickness, unlike other materials like vinyl or laminate, which have that only on the surface. As a result, linoleum flooring maintains it's good looks and helps camouflage scratches and dings.
However, linoleum tile does have seams where moisture can seep in and can cause separation or warping.
As you can see, there are a lot of bathroom flooring ideas right now that you can consider for your remodel. There are plenty of different and unique bathroom flooring ideas trending that will likely stay around for years to come, and this means your possibilities are endless. In the end, to find your best bathroom flooring, you will want to consider your style, budget and form that will stand for the test of time.