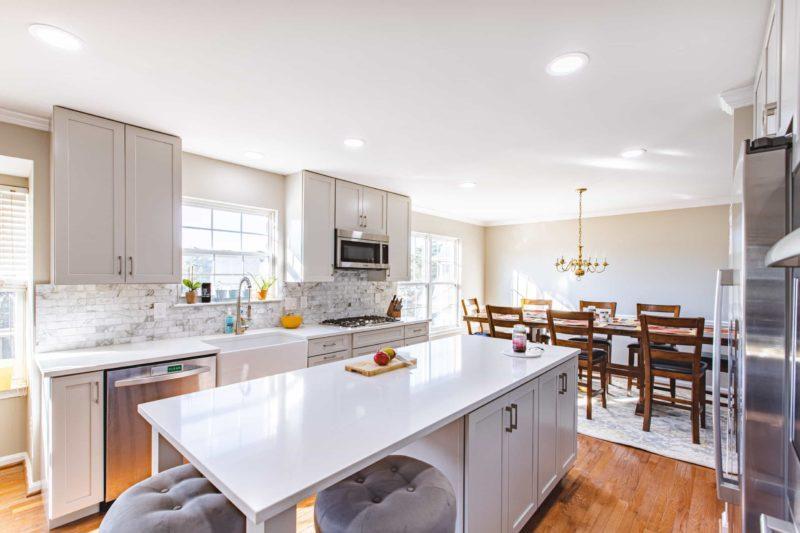 A kitchen remodel provides a lot of value to the daily life of a family. Not only does it improve the value of the home from a design perspective, but it is also a good financial investment.
What about long-term goals, in terms of investment and high ROI kitchen remodel ideas? Will your kitchen remodeling project make a valuable difference or will it undermine the value of your home? The answer depends on whether or not you choose kitchen remodel ideas that pay off.
One of the best ways to do this is to keep the basics in mind and avoid trends to maximize the financial return on your kitchen remodel. Trends are exciting, but they are also fleeting. The focus should be on solid features such as kitchen work triangle, countertops, ventilation, and good lighting fixtures.
One thing to remember is that premium kitchen remodels do not translate into better returns automatically. Even though buyers may retain your kitchen remodel in a positive light, your initial cost might prove to be so much that it can be difficult to make a profit.
Install An Interesting Backsplash 
When it comes to kitchen remodel ideas that pay off, adding an interesting backsplash is always a savior. You can use tile kitchen backsplash as they are waterproof and come in a variety of styles, sizes, colors, and patterns.
You can also choose from porcelain, ceramic, and even natural stone tiles now. If you want a low-maintenance option for your kitchen backsplash, opt for tile as it needs a regular cleaner and lasts long.
Fresh Paint Ideas
Be it walls or cabinets, paint your kitchen to introduce some freshness. You can experiment with several combinations while choosing your kitchen cabinet finishes and match them to the color of your walls.
Search inspiration online that will help you develop a palette of your choice and also suggest options for trendy hues that you can add to your kitchen cabinets. You can also use paint to create a wide range of finishes, from smooth to grainy, as well as different design textures.
Furthermore, it lasts longer than wallpaper and is easier to clean because it is washable. SImilarly, on the walls of your kitchen, use water-based paints rather than solvent-based paints to avoid any greasy stains.
Upgrade Kitchen Appliances 
Your kitchen is all about efficiency and thanks to modern appliances it is no longer a challenging task. Selecting the right kitchen appliances not only makes your life easy but also helps create a more organized and streamlined working space, which is functionally and aesthetically inclined.
Buil-in appliances are next on our list of kitchen remodel ideas that pay off. You can integrate them effortlessly and they're space-efficient. They also give your kitchen a perfect modern finish. For instance, instead of the stand-alone choices, opting for a built-in refrigerator will save you at least four inches of the much-coveted kitchen space.
Replace Your Countertop
You should design your kitchen according to your schedule, goals, and functional needs. You can choose a sturdy kitchen countertop that can withstand the demands of your workflow.
For example, a granite kitchen countertop is durable and easy to keep clean. Similarly, a marble kitchen countertop is timeless and long-lasting and its smooth and majestic white finish gives it a softer feel too.
You can also use a stainless steel countertop for a contemporary appearance. It's easy to clean and maintain and is also heat-resistant.
Update Your Sink
Before picking up a single, double, or three bowl sink, you must first assess your kitchen remodel needs. You should choose the sink based on how many people you have in your family as well as the size of your kitchen. You can choose ceramic and stainless steel sinks that have a sleek, contemporary look while still being extremely easy to maintain.
Install New Flooring
Tiles are a great choice for your kitchen flooring because they are solid, durable, and low maintenance. Wood, cork, vinyl, natural stone, and linoleum are also good kitchen flooring options. They come in various designs, colors, and textures and can instantly transform your kitchen.
Cork flooring is another excellent kitchen remodel idea that pays off, as it has a distinctly warm appearance, strong patterns, and textures. Moreover, it is environmentally friendly too if you're going for a green kitchen remodel.
Make A Statement With The Right Accessories 
When it comes to kitchen decor, it's all about visual appeal, as it can give your kitchen a stylish edge. You can use accessories like colanders, platters, pots, pans, ladles, and dishes to make a statement.
You can also certainly make an upbeat showcase in various shapes, colors, and sizes. Regardless of what you choose, pay attention to the finer details of the kitchen cabinets, such as the doors and handles, as you can also upgrade them for a distinct appearance.
Moreover, adding a wall shelf to any kitchen is among the top kitchen remodel ideas that pay off. You should allow the ledge to run the entire length of the wall to add more open storage and display area.
Add An Accent Light Fixture
While natural light performs well throughout the day, an excellent combination of basic lighting types such as task and accent lighting can elevate the look of the kitchen in the evening as well.
You should try to include one simple LED hanging light in a geometric pattern in the middle, or four gorgeous pendants above your breakfast nook, if you have one. A handy tip while choosing kitchen lighting is to keep the light design as elegant as possible and watch your kitchen come to life.
Add a Working Storage System 
Decluttering the kitchen is something that you can do on a regular basis. The goal is to become more organized and to have anything readily available when you need it.
You need to create kitchen storage solutions that can fit all of your storage needs. Essentially, you must re-evaluate your storage requirements every few months to see what's working and not.
You can start by installing tall units that expand the kitchen's space and gives it a more attractive appearance. Wherever feasible, incorporate an open shelving system and internal drawers to your list of kitchen remodel ideas that pay off.
Don't Forget Your Greens
While cooking, nothing is more fascinating than being surrounded by greenery. Create a small garden with herbs and if you have a window you could also place vibrant pots with seasonal plants.
However, if you have a small space, you can use wall-mounted shelves to display your tiny green pots while remodeling your kitchen. It's a great way to add vibrancy and a modest, functional garden to the kitchen.
Remember, a little sunlight makes a huge difference. If possible place your greens near the window to keep your plants alive for a long time.